Latin music has seen a global takeover of the music industry within the last decade thanks to the recent popularity of many Spanish singers. Well, more appropriately, Spanish language singers.
Spanish language music is now more popular than it has ever been (and it has always been incredibly popular).
From worldwide Latin pop hits to famous reggaeton artists to classical folk styles, Spanish is slowly moving to take over English as the most popular language for music. 
So if Spanish singers are so famous worldwide, are you familiar with the most historically well-known artists?
In today's list, we're going to be checking out some of the most popular music legends by country.
This is in no way meant to be a complete list (that would be nearly impossible), but instead, it should be a good introduction to check your cultural awareness. 
These are all going to be artists that every Spanish speaker knows. So get out your headphones for this list of the Top 15 Spanish singers. 
España
If it is a list of Spanish singers, then naturally we will start off with some of the most famous singers from Spain.
Of course, Spain is well known for flamenco music based on traditional Andalusian folklore. 
In fact, flamenco music could be a whole lesson itself, but today we're focusing a bit more on Latin Pop and worldwide hits.
So here are three of some of the biggest names in the music world from Spain:
Rosalía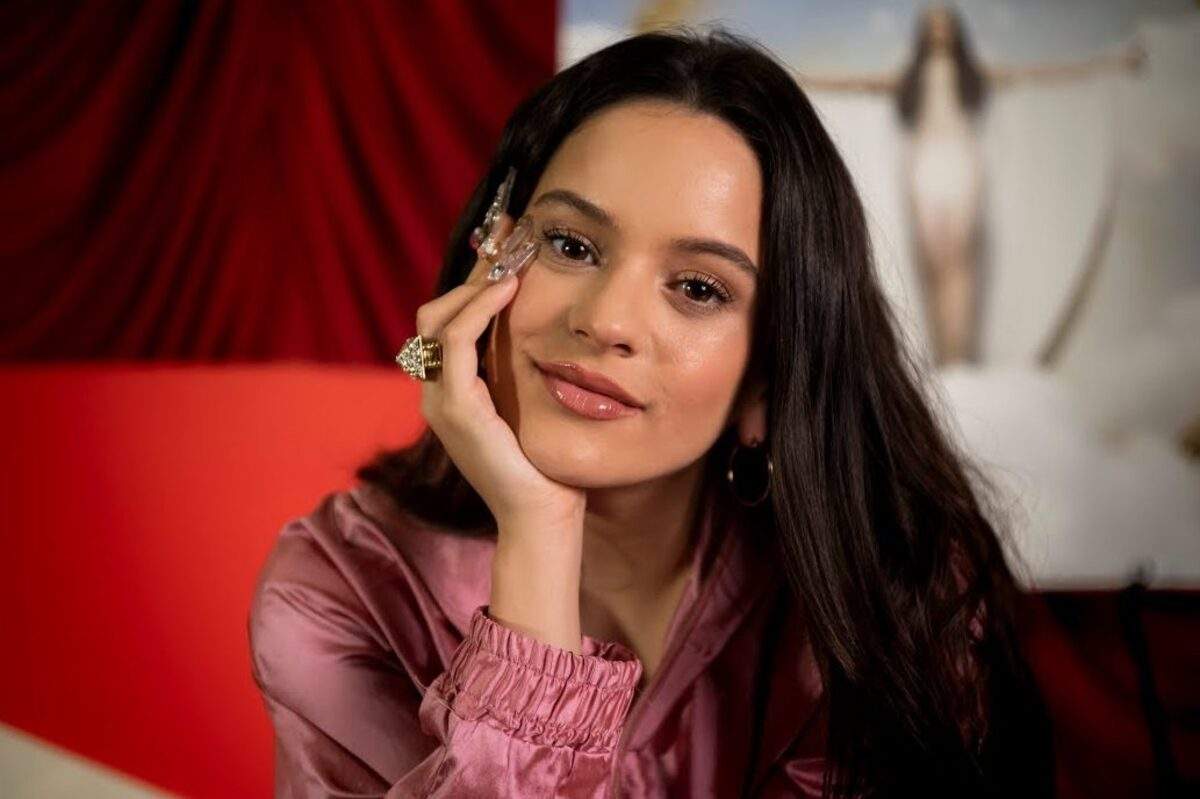 Rosalía, also known as La Rosalía is an up-and-coming Spanish singer and songwriter from Barcelona. 
Her music style mixes a modern interpretation of flamenco music mixed with urban and Latin pop.
She became famous when her 2018 album, El Mal Querer, won a Latin Grammy Award and made the list of Rolling Stone's Top 500 Albums of All Time (2020). 
The best part about this award – she created the album using a low-budget studio and was actually her final project to graduate from her bachelor's program!
Imagine finishing your class project and becoming an international superstar. 
At the moment, she has won 1 Grammy Award and 8 Latin Grammy Awards.
In 2019 she became the first Spanish-singing act in history to be nominated for a Best New Artist award at the Grammys.
She gets her nickname, La Rosalía, from her hit single Con Altura, a reggaeton style track where she collaborated with another current name J Balvin.
La Rosalía likely isn't going anywhere, so check out her music if you want to practice Spanish with some modern musical styles. 
Alejandro Sanz 
Alejandro Sanz is a Spanish musician, singer, and composer from Madrid who is one of the biggest names in the music industry.
Most of his music includes styles from Latin Pop, but he is most well-known for his Flamenco-inspired ballads.
Since his parents are from Andalusia, it makes sense that he would incorporate this style into his music. 
This legendary Spanish singer has won 4 Grammys and 22 Latin Grammy Awards and first made some commercial success in 1991 with his album Viviendo Deprisa.
His 1997 album Más is what really garnered his international success, though. 
Though he does have several different styles of Latin albums, his most famous songs are definitely ballads (Corazón Partío).
So if you're a fan of singing in the shower and are looking for Spanish singers, Alejandro Sanz is a good place to start. 
Enrique Iglesias
Anyone who was listening to music in the early 2000s knows the King of Latin Pop, Enrique Iglesias.
He is the son of the most commercially successful European singer of all time, Julio Iglesias.
It seems like anyone in this family is just destined to be some of the greatest Spanish singers. 
He first became the most successful Spanish language act of the decade in the 90s and then afterward started developing bilingual albums.
He is one of the best-selling Latin music artists of all time and currently holds the number one slot for the most number 1 hit songs on the Billboard Hot Latin Songs, at 27 hits.
Then, in 2020, he was awarded the "Top Latin Artist of All Time" at the Billboard Latin Music Awards.
So you can safely say Enrique Iglesias is a pretty good singer. 
His most famous song is the 1998 hit Bailamos.
And if you want to check out any of his music, the best part is every one of his English songs has a Spanish version to go along with it. Great news for Spanish learners!  
Colombia 
Heading across the pond, Colombia has a huge music industry.
In fact, the country is considered to be one of the world's largest contributors to the industry.
So you can bet that you'll find some of the greatest Spanish singers in Latin America come from this country. 
Here are some of the most well-known ones:
Shakira 
Honestly, if you don't know who Shakira is, then where have you been for the last 2 decades?
She has sold over 75 million records worldwide and is the Latina artist who has sold the most albums in history. 
She is from Barranquilla, Colombia, and has made a huge impact in the Latin music industry, recording her first album there at the age of 13.
But she became globally famous when she made English and Spanish versions of some hit songs, including Contigo, and Mi Vida (Whenever, Wherever).
At the time, she was considered a pioneer of Latin music in the US. 
She's known as one of the greatest Spanish singers of all time and has become one of the most well-known artists from Latin America.
She's currently the highest-streamed Latin Artist on Spotify, making her the only artist with Spanish songs totaling over 100 million streams. 
If somehow you haven't heard any of Shakira's music, then you'll want to start your playlist with some music from this legendary Spanish singer. 
Maluma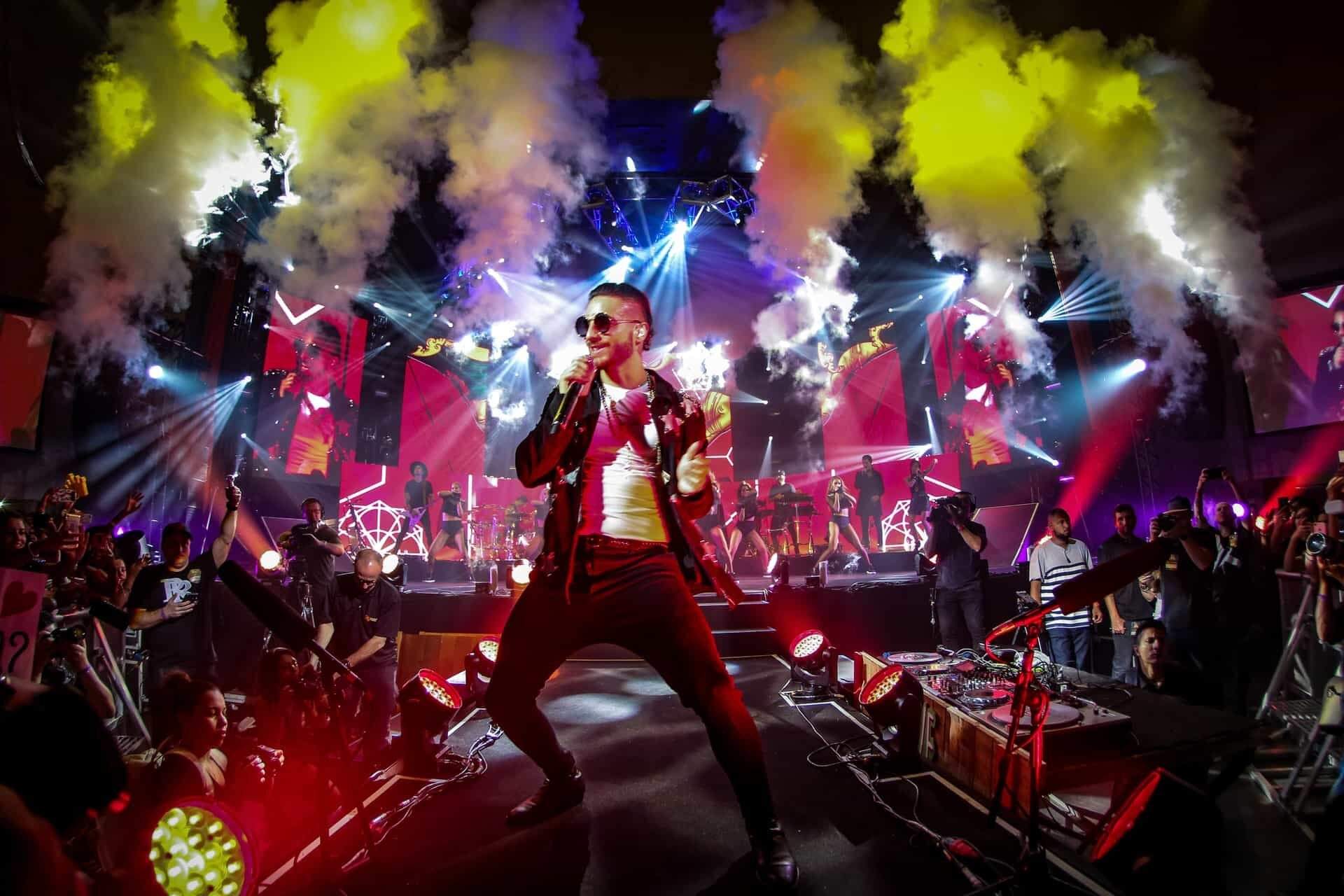 Maluma is another immensely famous singer from Colombia. His music style is described as a mix of reggaeton, Latin trap, and pop.
If you ever go dancing (post-pandemic), you're extremely likely to be hearing some of his music played. 
He's currently one of the best-selling Latin music artists and collaborates with a ton of other famous artists (like Shakira, for example).
One of his singles, Hawái, from his fifth album Papi Juancho, topped the Hot Latin Songs chart for 9 weeks in 2020 and even got a remix done with The Weeknd. 
To be fair, reggaeton isn't always a popular style with English speakers, but the fact is that it's not going anywhere – and Maluma is only becoming more and more popular. 
Juanes 
Juanes is one of the most diverse Spanish singers on the list, with his early music focusing on modern rock, heavy metal, and hard rock, while his current music genre is Latin-style Pop. 
He became internationally famous with his hit 2004 song La Camisa Negra and has since won a total of 20 Latin Grammy Awards.
All of his music goes over themes of social activism with very clear references to political struggles from both his home country of Colombia and worldwide.
For Spanish learners, another great thing about his music is that the lyrics are very clear and understandable, so you'll have no problem being able to sing along. 
Cuba
Moving along to some other countries, Cuba has some huge names in the music industry, like the Queen of Salsa, and Celia Cruz.
Afro-Cuban styles of music have shaped the evolution of music throughout the last century.
Unfortunately, we can't go over every one of the amazing Spanish singers coming from Cuba, so today's list is just a start.  
Gloria Estefan
Gloria Estefan is considered one of the main artists who broke down the barriers stopping Latin music from becoming popular internationally.
Not only is she one of the top Latina artists of all time, but she's also one of the highest-selling female singers of all time. 
Her hit song from 1985, Conga, is one of her most well-known songs, listed as number 11 on the Greatest Latin Pop Songs list.
Though most of her biggest hits are from the 80s, she has continued to make music and star in movies ever since. 
México
Mexico is another big name in the music industry, especially in recent years, with Mexico City being a hotspot for top music hits. 
Thalía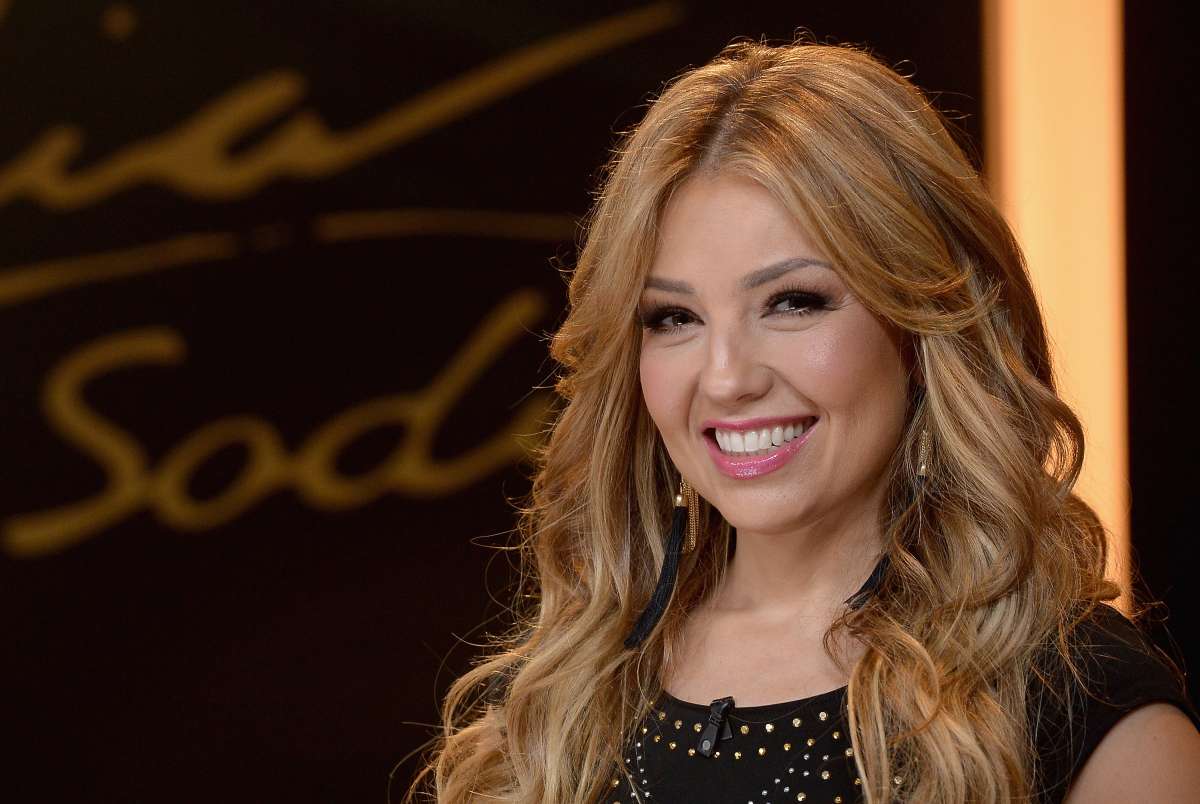 Thalía is one of the most famous artists to come out of Mexico. She is a singer, businesswoman, and actress.
In fact, in many ways her acting career is just as highly regarded as her music, often being referred to as the Queen of Telenovelas. 
She is another one of the best-selling Latina artists of all time and is the highest-paid telenovela actress in history.
As a solo artist, most of her music includes Latin pop styles, with her number 1 hit No Me Enseñaste being a great example.
So if you're looking for some typical early 2000s music to dance to, this is a great place to start. 
Argentina
Argentina is perhaps more well-known for its film industry than for music.
However, they have had several famous singer-songwriter artists over the last century.
There are a few notable Latin artists who reached international fame that is absolutely worth mentioning. 
Mercedes Sosa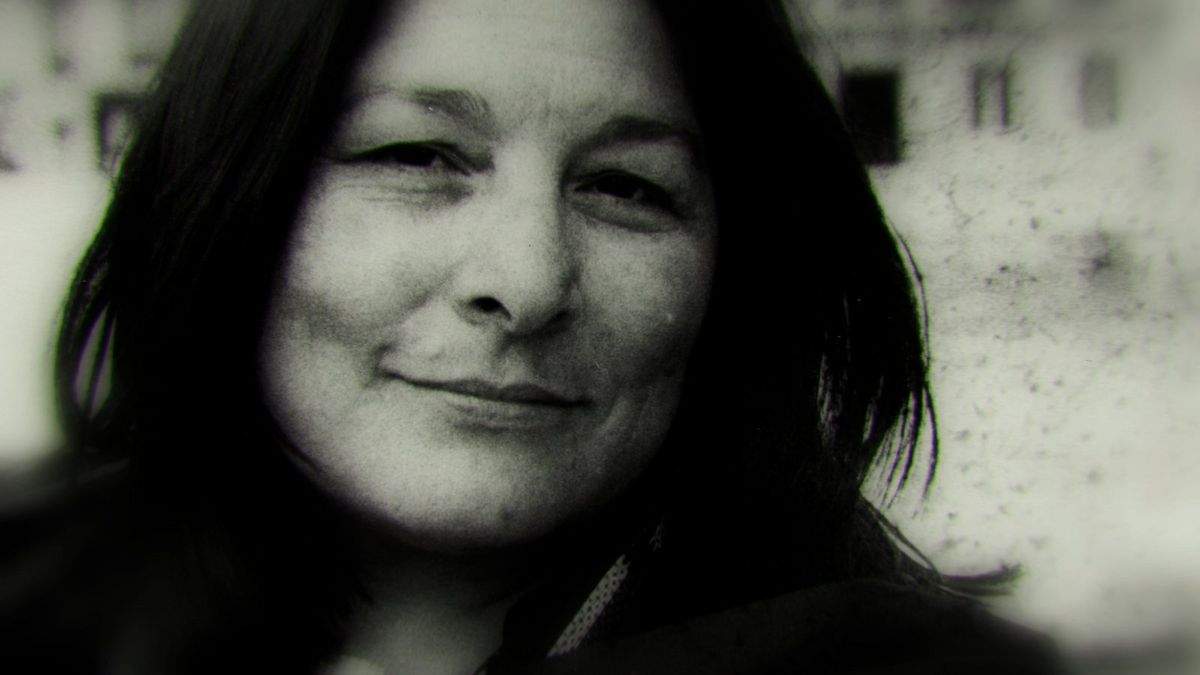 Mercedes Sosa might no longer be a household name, but she was one of the most influential singers of the 20th century.
Her music was popular throughout Latin America and Spain and was heavily influenced by Argentine folk music. 
Sosa was a huge social activist and all of her music contained themes of social justice, to the point where she became known as the "voice of the voiceless", speaking up for Latin artists.
She is known to be one of the biggest proponents of using music as a means of social activism. 
She has won six Latin Grammys and has performed in prestigious venues all over the world.
Her most famous song is "Todo Cambia" from one of her top Latin Albums, Será Posible El Sur? 
It's definitely a recommended song for Spanish learners since the lyrics are simple, but clear, and sung by a very powerful voice.
USA
The United States is obviously a huge force within the global music industry.
Considering there are currently 41 million people who speak it at home, it makes sense for many famous Spanish language artists to come from the US. 
As we mentioned before, this is a small list, but a good start. 
Christina Aguilera
You might be familiar with Christina Aguilera's English language music and her role on The Voice, but did you know that she also has some of her greatest hits in Spanish? She even won a Latin Grammy award in 2001. 
A lot of her famous English songs will have equivalents in Spanish, such as "Ven Conmigo" and "Genio Atrapado."
As one of the most well-known singer-songwriters in recent decades, you should definitely consider viewing her as not only a successful English artist but also as a successful Spanish singer. 
Marc Anthony
Marc Anthony is definitely one of the world's most legendary Spanish singers ever.
He is known for his danceable salsa records and is actually considered to be the top-selling tropical salsa artist of all time. 
He is a singer-songwriter, record producer, music producer, actor, and TV producer known for his Latin salsa dance hits and ballads.
The Spanish singer Marc Anthony got his biggest break to fame internationally after signing with Sony Records and doing several collaborations with Jennifer López. 
Jennifer López
Speaking of, Jennifer López is one of the biggest Latina artists of all time, having helped promote the boom of Spanish music globally.
The Spanish singer also known as J.Lo is also a celebrated actress and became the first Latina to make more than $1 million from a film.
She also went on to become the first woman to release a number 1 box-office hit and number 1 CD in the same week
So it's safe to say that J.Lo is pretty talented. She's also collaborated with several other famous Spanish artists over the years, like Marc Anthony, and cites Celia Cruz as an influence in her music career. 
In 2012, she was listed as the most powerful celebrity in the world by Forbes and remains to be a huge pop culture icon.
Her album, Como Ama Una Mujer, got the highest first-week sales for a Spanish debut album in the US.  
Jennifer Lopez is widely regarded as one of the biggest Latin Artists ever and is often thought of as a trailblazer for making Spanish music popular globally. 
Puerto Rico
Being such a small island, Puerto Rico has made a huge impact on the music industry.
Salsa, bolero, and reggaeton music are a crucial part of Puertorican music culture and so, naturally, there have been some big hits over the years.
Ricky Martin 
Ricky Martin is currently one of the best-selling Latin artists of all time, making international fame thanks to his hit Livin La Vida Loca.
Both his English and Spanish language music have become famous worldwide. 
He started at the age of 12 in the boyband Menudo, but ever since then has become considerably more famous when he left the band.
He is also referred to as the King of Latin Pop, thanks to the fact that Livin La Vida Loca became one of the songs that really made Spanish pop music possible. 
His style is definitely on the pop side and his debut album in English actually became his best-selling one.
But don't let that stop you from finding more of his music in Spanish!  
Luis Miguel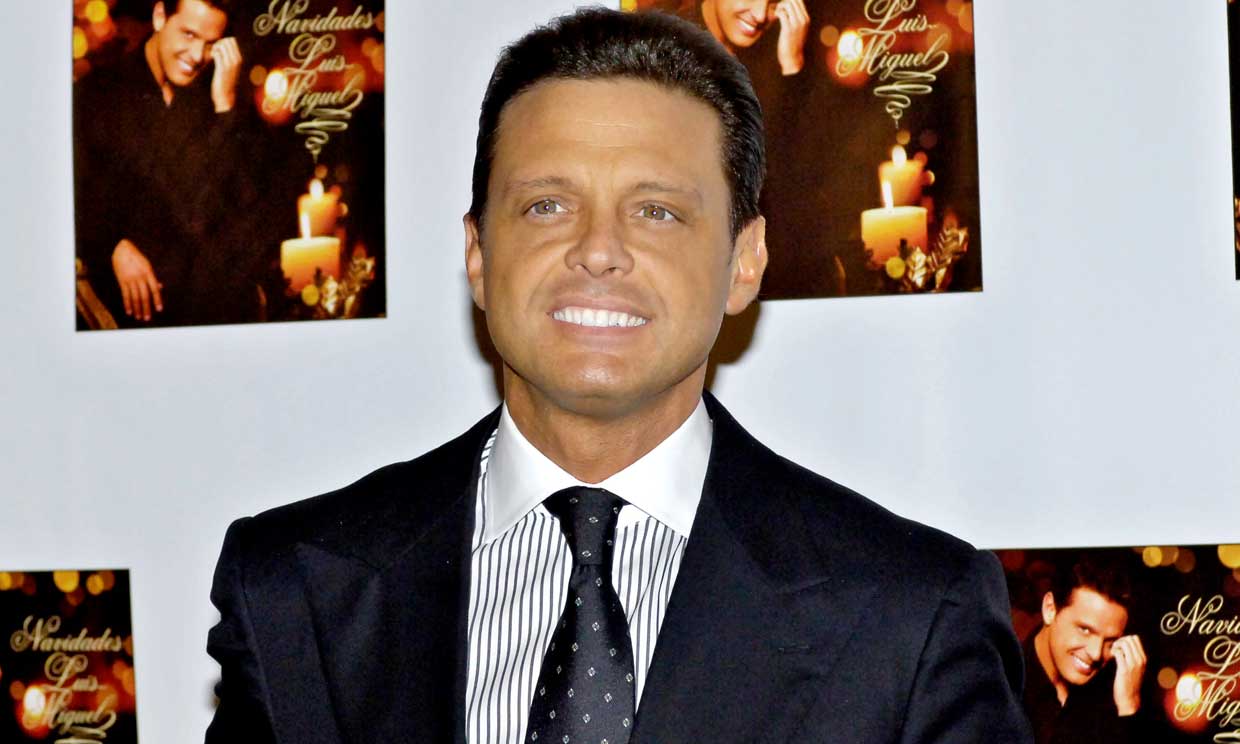 Luis Miguel is commonly referred to as El Sol de México, since he is half Mexican, as well.
He was one of the best-selling Latin songwriters in the 90s, despite only ever recording in Spanish.
In fact, he was one of the only Latin singers from the 90s that didn't become famous in the English-speaking world. 
He became famous because of his showmanship and his performance skills, definitely making a name for himself with his personality.
His performances are likely what has made him remain famous for his entire life.
He is the youngest male artist in history to have won a Grammy, winning it at just 14 with the song "Me Gustas Tal Como Eres."
Luis Miguel has certainly made a huge name for himself over the years by singing in many different styles – pop, ballads, bolero, mariachi, tango, jazz, etc. 
If you're more into that classic feel of the music, then Luis Miguel is the Spanish singer-songwriter for you. 
Daddy Yankee
Daddy Yankee is currently known as the King of Reggaeton. He is the rapper and singer-songwriter from Puerto Rico who actually coined the term reggaeton.
So you have Daddy Yankee to thank for the huge explosion of this genre. 
His first big international hit was "Gasolina" from 2004, which is actually the song that most people consider to have introduced reggaeton to the international community. Ever since then, reggaeton has become insanely popular globally. 
In 2017, he collaborated with Luis Fonsi and recorded Despacito (You absolutely know this one), which quickly became the most-watched video on Youtube and Daddy Yankee became the most listened-to artist on Spotify that year, too. 
So regardless of whether reggaeton is a style of music you like, you can't deny its international success – and a big part of it is because of Daddy Yankee.
All our best resources in one place to improve your travel Spanish. Hit that link for all our travel guides and other articles breaking down Spanish rich history and culture around the world.
Listen Up
That's all for today, but this list is only meant to just get you started. These are just some of the most well-known Spanish musicians that you have to know.
As you're learning Spanish, it's important to understand cultural references, and every Spanish speaker will have at least heard of all these artists. 
So take some time to listen to some of their songs and who knows – maybe you'll find a new favorite artist!
And at a minimum, you'll be able to say you know a little bit more about Spanish culture. 
Do you want to hear about some more Spanish musicians?  Go ahead and sign up for a free private class or a 7-day free trial of our group classes so you can tell us about your favorite music and so we can give you some more suggestions!
Want to learn Spanish, fast?
Download our e-book, Easy Spanish Shortcuts, and learn your first 1,000 Spanish words in under a day!