Wishing someone safe travel is part of almost everyday conversations in life, especially if you are a student of Spanish as your social circle will surely expand and you will have more reasons to wish your friends around the world a happy trip.
And, oddly enough, the expression "safe travels" is not used in Spanish. They have a different way of wishing for safe travels, as the direct translation of "safe travels" sounds quite strange to Spanish speakers.
Also, remember that Spanish is one of the most spoken languages in the world, so it is likely that on your adventures you will make some Spanish-speaking friends that you will have to say goodbye to and wish them a good trip.
So try these examples to make an impression on your Spanish-speaking traveling buddies before wishing them un buen viaje.
How To Say "Safe Travels" In Spanish
As we said before, the direct translation of "safe travel" in Spanish is not used because for Spanish speakers it sounds strange, as it would be "viaje seguro" and honestly, they don't wish you a good trip in this way. Instead, they have other ways of wishing you a happy trip, which we will see below.
¡Buen viaje!
The most common way to wish another person safe travel. It literally means "good trip!"
¡Te deseo un buen viaje!
It is the long version of "buen viaje" and means "I wish you a good trip!". If you want to make it more formal, you can change the "te" to "le" ("le deseo un buen viaje". On the other hand, if several family members or friends are going on a trip, its plural form would be "les deseo un buen viaje" (I wish you a good trip).
Que disfrutes el viaje
You will surely use this one for friends going on vacation, as you are wishing them to enjoy the trip. It would be unusual to wish this for a short business trip.
¡Que te diviertas!
As mentioned above, this is used for trips that are vacations, as you are wishing the person to have fun.
Espero que tu estadía allí sea placentera
This option is a bit more formal and is more commonly used in written texts, as it translates as "I hope your stay there is pleasant."
Que tengas un buen viaje
It is another way of wishing someone a good trip. Its translation would be "have a good trip", addressed to a single person. Its plural form would be "que tengan un buen viaje".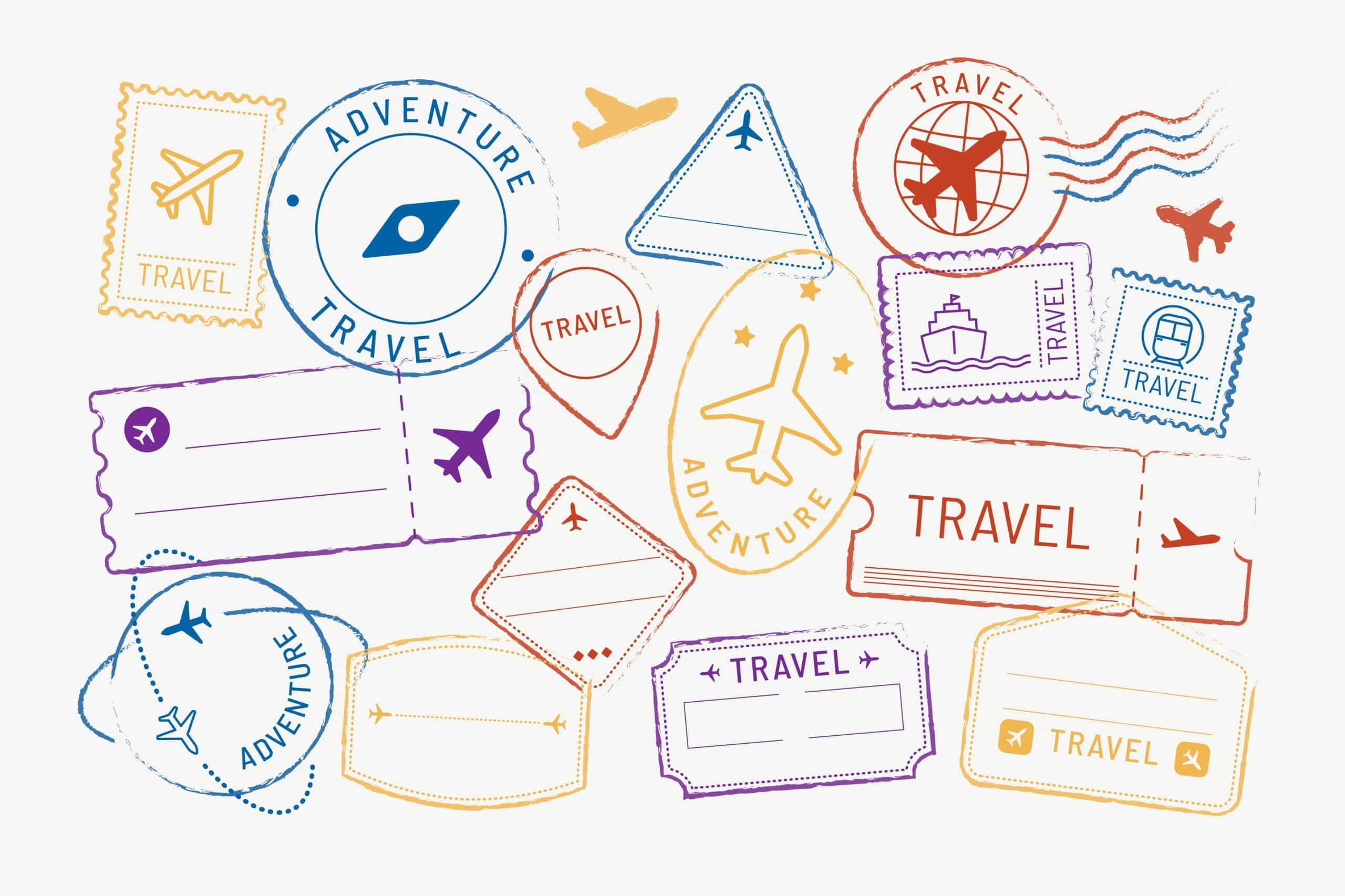 Safe Travels Quotes In Spanish
If you want to post some interesting phrases on your social networks or even wish a Spanish-speaking friend a happy trip with some slightly more profound phrases, these are ideal. Try some of them!
Hay lugares en los que uno se queda y lugares que se quedan en uno
This expression is appropriate if you have visited a place that has changed you. For it means that there may be places that you cannot get out of your heart. It translates as 'There are places where you stay and places that stay with you'.
Viajamos para cambiar de ideas
This is a very beautiful and easy travel quote in Spanish, and it means 'We travel to change our minds'. Particularly suited to distant journeys that will give you an insight into how other cultures are living.
Un maravilloso viaje de mil millas empieza con un solo paso
It is a beautiful quote from Lao Tzu, which highlights how wonderful it is to have started a journey and also motivates you to take the first step to travel. It translates as "A journey of a thousand miles begins with a single step".
El momento para viajar es ahora
Looking for a sign to travel? This is the sign. "El momento para viajar es ahora" simply means 'The time to travel is now' so take this as a sign and travel!
Disfrútalo, abrázalo y exprime la experiencia de todo lo que tiene para ofrecer
Esta hermosa frase se utiliza para desearle al viajero que le saque todo el jugo al viaje, ya que significa "Disfrútalo, abrázalo y exprime la experiencia de todo lo que tiene para ofrecer."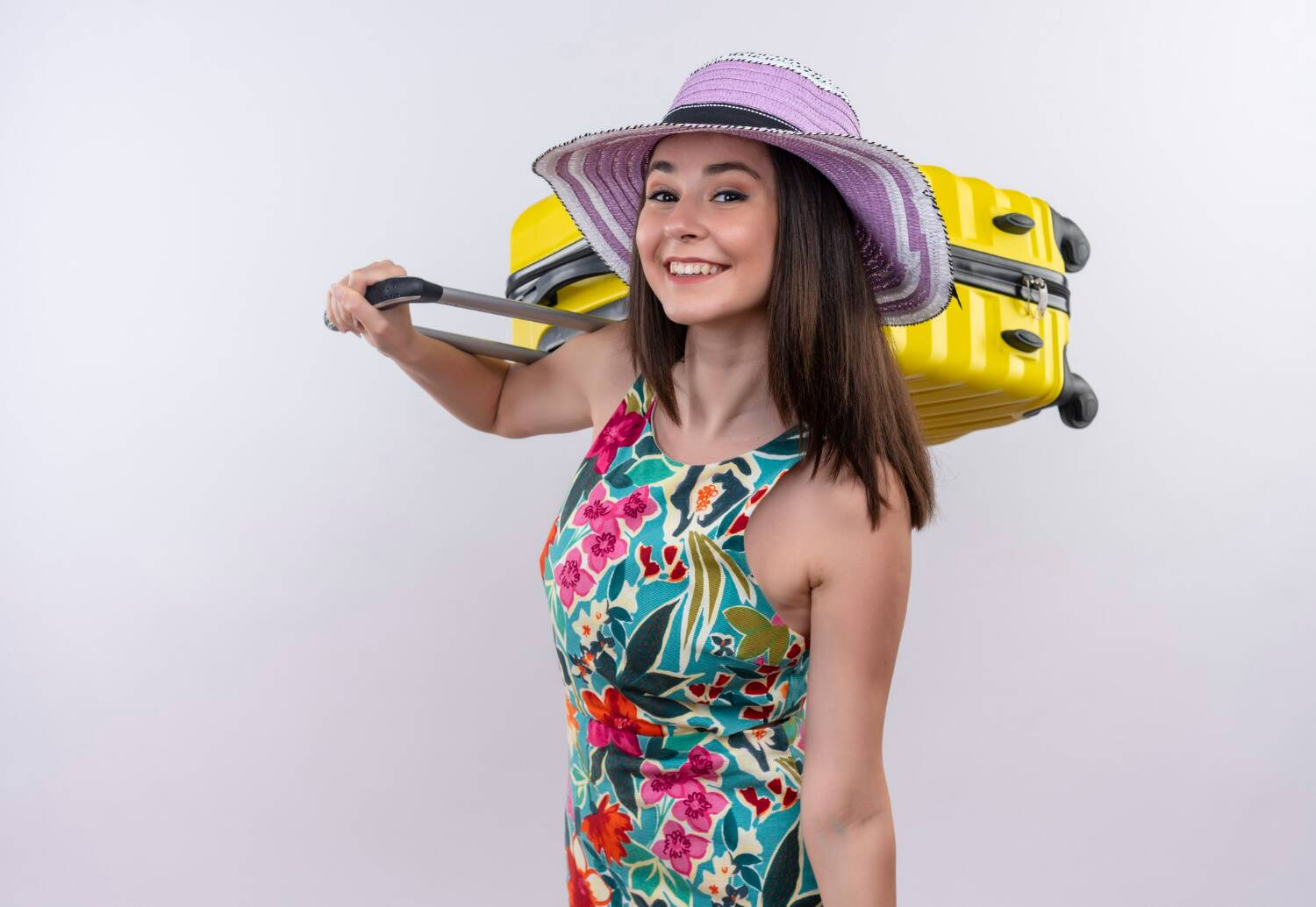 Viajo, luego existo
You have probably heard the expression "I think, therefore I am" popularized by the philosopher Descartes. A world-famous variation of this phrase is "Viajo, luego existo", translated as 'I travel, therefore I am'.
Use this phrase in a caption on your social networks in a photo of a trip! And make it clear that you are a true travel lover.
Viajar no te hará más guapo pero sí más feliz
This is a funny phrase that implies that traveling will not make you prettier but happier, although we don't agree, because happy people are always the prettiest!
Viaja porque la vida es corta y el mundo enorme
This is quite a motivating expression to travel, as it reminds you how big the world is and how long it would take to travel it all. This expression means 'Travel because life is short and the world is huge'.
Viajar es lo único que compras y te hace más rico
This quote indicates that traveling makes you richer, but it doesn't talk about monetary wealth, it talks about mental wealth. Definitely traveling opens your mind and makes you understand many other cultures and reasons for life.
Can be translated as "Traveling is the only thing you buy and it makes you richer".
El mundo es un libro y aquellos que no viajan solo leen una página
This expression implies that people who do not travel are not able to read and truly enjoy the book of life. It can be translated as 'The world is a book and those who do not travel only read a page'.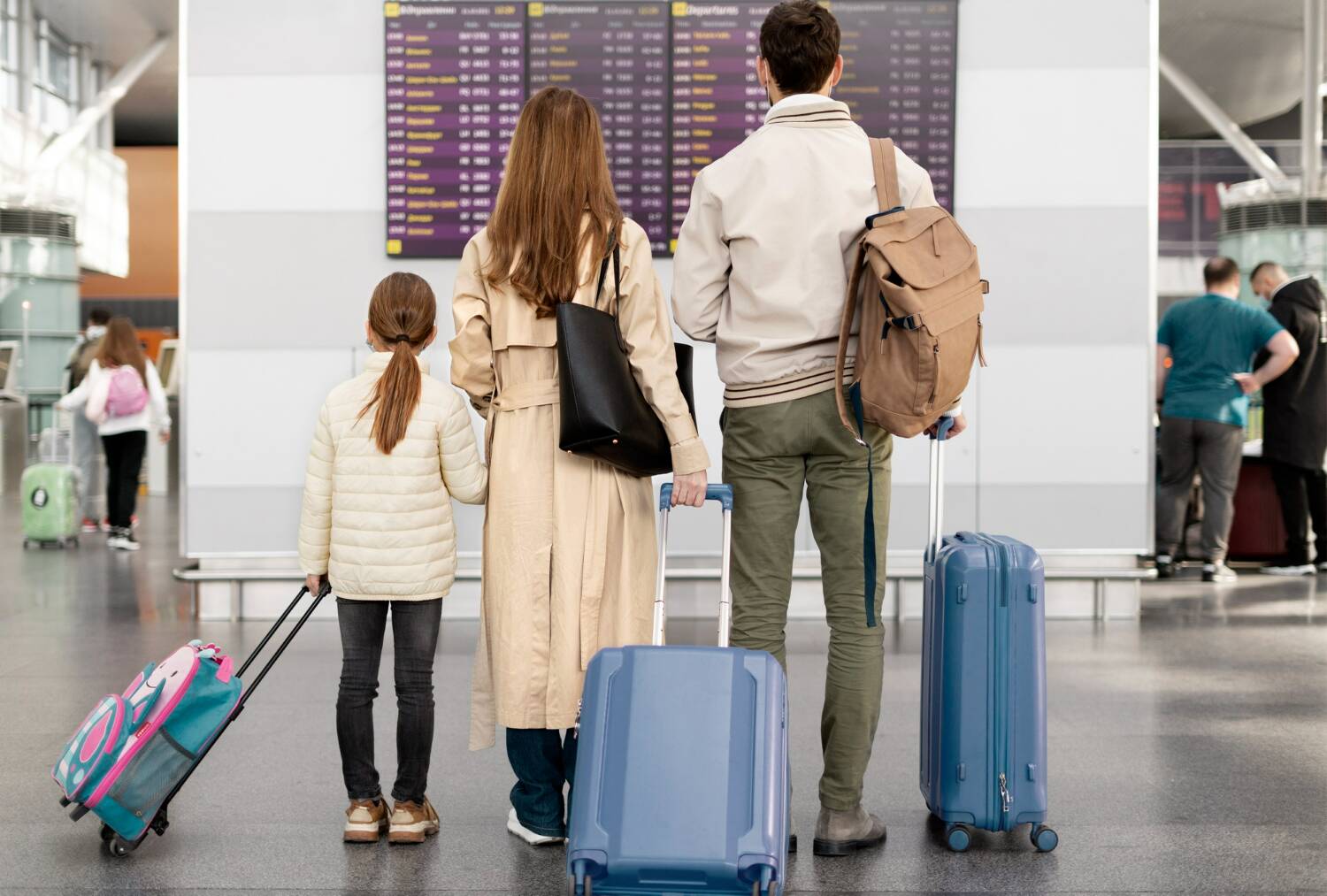 Conversational Ways to Wish Safe Travels In Spanish
If what you want is a slightly longer and more dedicated phrase to wish your friend or family member a happy trip, you can take one of these phrases as inspiration and edit it or just copy and paste it (but add their name!)
Me alegra enterarme que estarás viajando en unas semanas. No te olvides traernos algún detalle y tomarte muchas fotos, ¡me las envías!
This is an ideal message for a friend who will be traveling in a few weeks. For this phrase, you must have some trust in that person because you ask him/her to bring you some detail since it means "I'm glad to hear you'll be traveling in a few weeks.
Don't forget to bring us some detail and take lots of pictures, send them to me!"
Estar is one of the most important verbs in the Spanish language. If you'd like to get down to basics for a quick review, check this comprehensive Estar Conjugation Chart we prepared for you.
Que alegría saber que se te hará realidad el sueño de conocer ese país. ¡Espero que lo disfrutes mucho!
This is the ideal message for a friend who you know has been dreaming of seeing the country where he will be traveling, and you are happy to hear about his trip.
It translates as "What a joy to know that your dream of getting to know that country will come true, I hope you will enjoy it very much!"
Has trabajado duro por este viaje, ¡te lo mereces!
When we have that hardworking friend, who has saved and worked hard to be able to take that trip, we use this phrase. It can be translated as "You've worked hard for this trip, you deserve it!"
Te deseo un feliz viaje y no dejes de compartir las fotos de los lugares maravillosos que vas a visitar
If you are a person who likes to know other places also through photos, don't forget to ask your traveler friend to take some photos and send them to you, using this phrase.
It translates as "I wish you a happy trip and don't forget to share photos of the wonderful places you are going to visit."
¡Te voy a extrañar muchísimo! Pero estoy feliz de que vayas a cumplir tu sueño
This phrase can be used with friends who are going away for a long time or probably staying to live in another country, but who is going to fulfill their dream.
You will surely miss him or her, so use this phrase which means "I'm going to miss you so much! But I'm happy that you're going to fulfill your dream."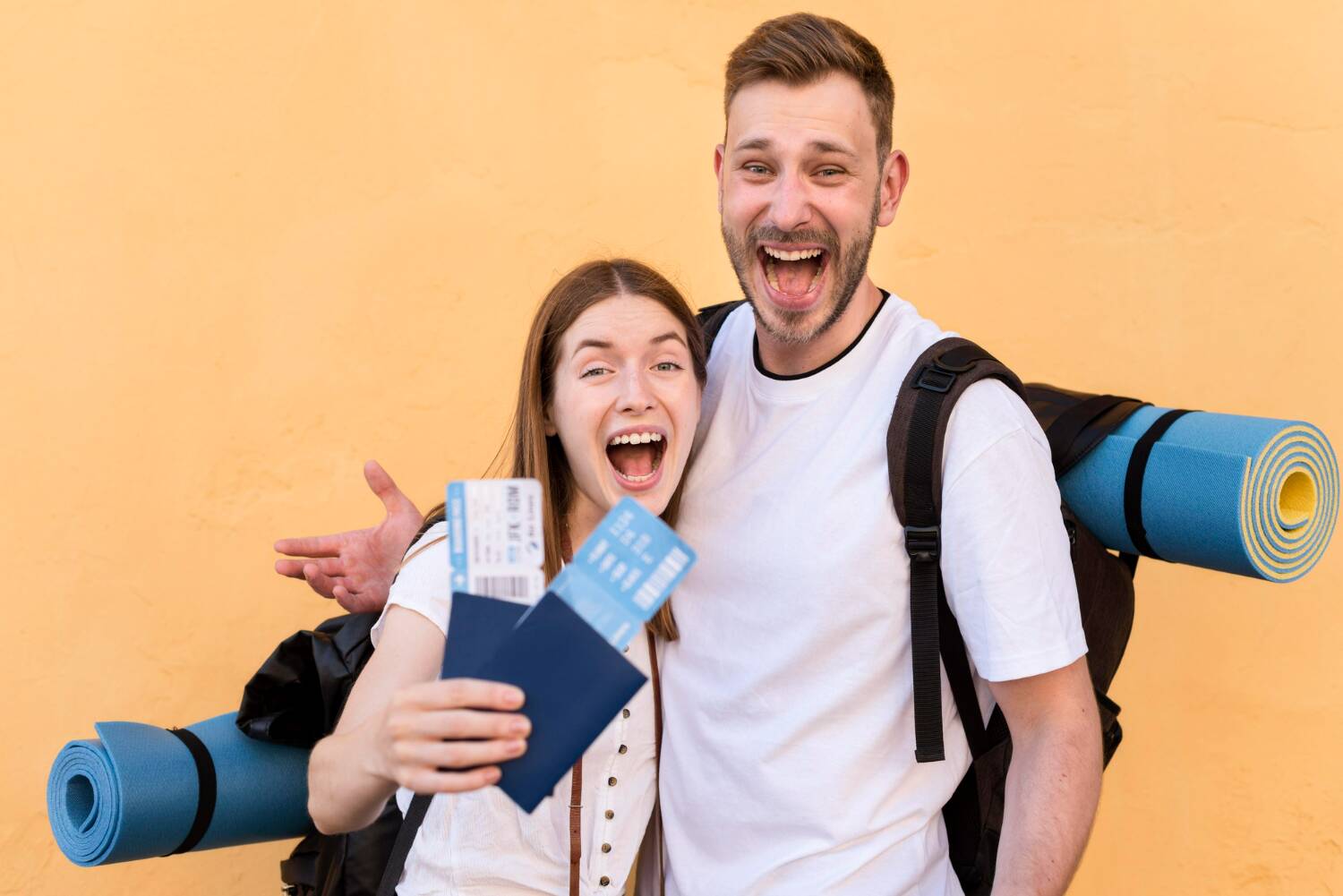 Aunque estaremos a muchas horas de distancia, prometo escribirte constantemente
This phrase is ideal to say to a friend who is going to a faraway place where there will be a significant time difference. Don't forget to write to her or him constantly so use this phrase that translates as "Even though we will be many hours away, I promise to write to you constantly."
¡Que estés seguro dondequiera que estés! ¡Disfruta el viaje!
A phrase to wish your friend safety and peace of mind on the trip, which can be translated as "Be safe wherever you are! Enjoy the trip!"
Cada viaje es un encuentro excepcional para siempre, así que espero que este también lo sea. ¡Cuídate y buen viaje!
We know that traveling gives you wisdom. This phrase hints at that, as it makes us understand that every journey is a great encounter. It can be translated as "Every journey is an exceptional encounter forever, so I hope this one will be too. Take care and bon voyage!"
¡Que tu avión te lleve a tu destino y de regreso a casa, sin problemas!
Another simple phrase to wish for a safe trip, and one that your friend will appreciate your good wishes. It means "May your plane take you safely to your destination and back!"
Te extrañaré en cada paso del camino, pero no puedo esperar para escuchar las historias cuando regreses
If you will miss that person who will be traveling a lot, but you are excited to hear about all of their experiences and stories when they return, this phrase is ideal. It can be translated as "I'll miss you every step of the way, but I can't wait to hear the stories when you return."
Ready To Wish Safe And Happy Travels In Spanish?
Now you are ready to say goodbye to that Spanish-speaking friend. But let's not get sad, because the world is smaller than it seems and you will surely see him or her again soon!
Wishing a good trip in Spanish is a part of the vocabulary that you should surely learn, as it is more common than you think, and when you speak another language, you will probably have to say goodbye to friends in that language you are learning more constantly.
So memorize or practice with some of these expressions, and try to create some using them as inspiration. You can do this even if you don't have anyone to say goodbye to, as it's another good vocabulary to practice.
But if you want to make your Travel Spanish learning more structured, remember that studying with professional native teachers will facilitate your learning process and make it much friendlier, faster, and more effective.
Get started today by trying a free 1:1 class or 7 days of free group classes and discover why the SpanishVIP methodology is so effective for many hundreds of students.
Want to learn Spanish, fast?
Download our e-book, Easy Spanish Shortcuts, and learn your first 1,000 Spanish words in under a day!