Welcome to Colombia, a country full of stunning landscapes, beautiful beaches, cities, and traditional Spanish culture.
Over the years, Colombia has gotten a bad wrap for being a drug-infested violent country, but we can tell you that's not exactly the truth.
Yes, Colombia has had a history of crime, but today, the government is actively trying to turn things around.
It's now become a massive hotspot for tourism and expat living. This article will show you everything Colombia offers its visitors and explain its history and culture that made it the Colombia we know today.
History And Culture
As we mentioned earlier, Colombia has had a turbulent history marked by:
Slavery
Political instability
Civil war
Drug-related violence
And appropriation of indigenous land
Despite all of these bad things, Colombia is rich in Spanish customs, Afro-Caribbean traditions, and tribal heritage.
Around 12,000 years ago, Colombia was inhabited by indigenous hunter-gatherer tribes, including the Tairona, Muisca, and Quimbava.
The tribes ruled the land until the Spanish came over in the 1500s, which is when the colonization of Colombia started. The places first colonized were:
Santa Marta (1525)
Cartagena (1533)
The New City of Granada or Santa Fe (1535)
As the European disease of smallpox spread through the indigenous Caribbean population, slaves were imported from Africa to build the cities.
They were mainly transported to the old colonial city of Cartagena, where you can still see the remains of Afro-Caribbean culture.
The Spanish rule lasted from 1525 until 1808, but even though their power ended, you can still see many of the Spanish customs they left behind.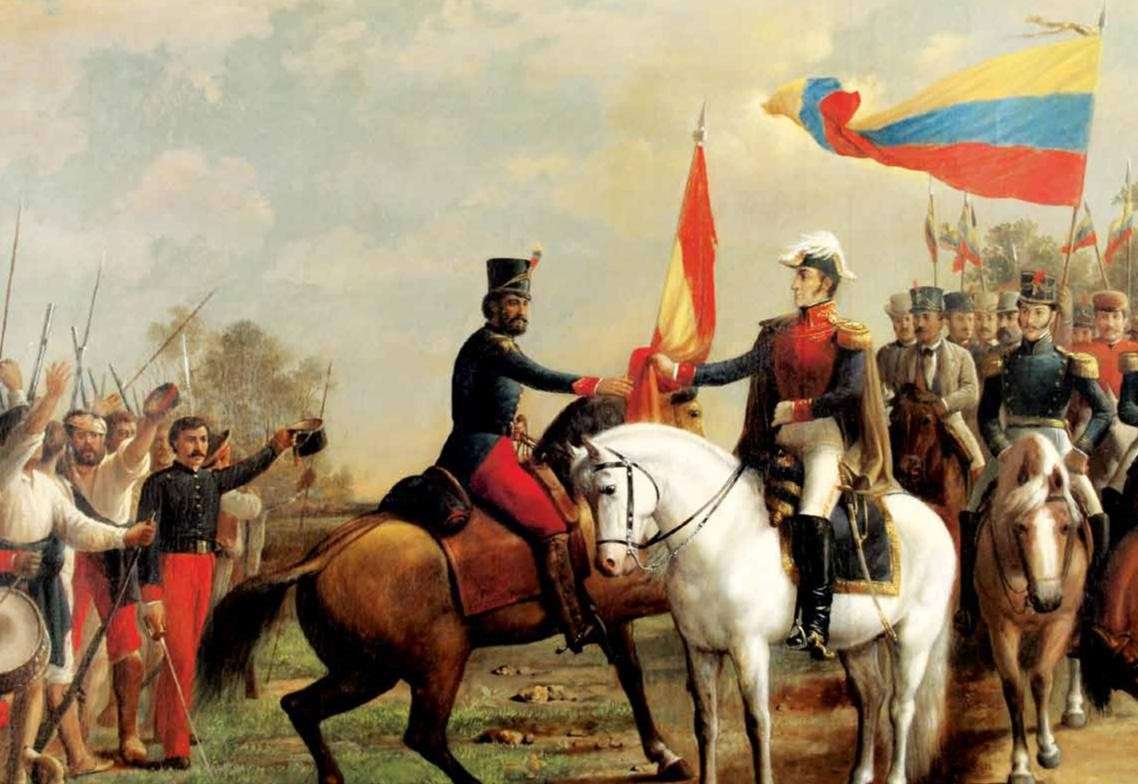 The next hundred years or so were plagued with civil wars where thousands of people died fighting conflicts due to political instability.
Fast forward to 1970, and you had the rise of powerful drug cartels from Medellin and Cali who influenced the politics and economy of Colombia.
As you probably know, Pablo Escobar was at the center of this and made millions trafficking drugs until he was eventually killed. This left warring factions, but luckily it was the end of an era of violence that saw thousands of innocent people murdered in cold blood.
Between 1999 and 2002, President Andre Pastrana attempted to reduce the power of illegal factions with military pressure. Since then, Colombia has seen a decrease in violent crime and an increase in tourism.
But what about the culture?
The turbulent history of Colombia created a very proud and racially tolerant culture of Spanish, African, and indigenous heritage.
If you ever make it out to Colombia, one thing you'll notice is the colorful celebrations showing ethnic diversity and unity.
You'll also notice many Colombians are happy to embrace foreigners but tend to dislike discussions about drugs and the turbulent history that came because of cartels.
Top Three Tourist Cities Of Colombia
Okay, so you know a bit of the history of Colombia and what the culture looks like in Colombia.
But the thing is:
It can vary a lot from city to city, which is why we want to talk you through three of the main cities in Colombia.
In this section, we're going to take a look at what the cities have to offer and what makes them different:
Cartagena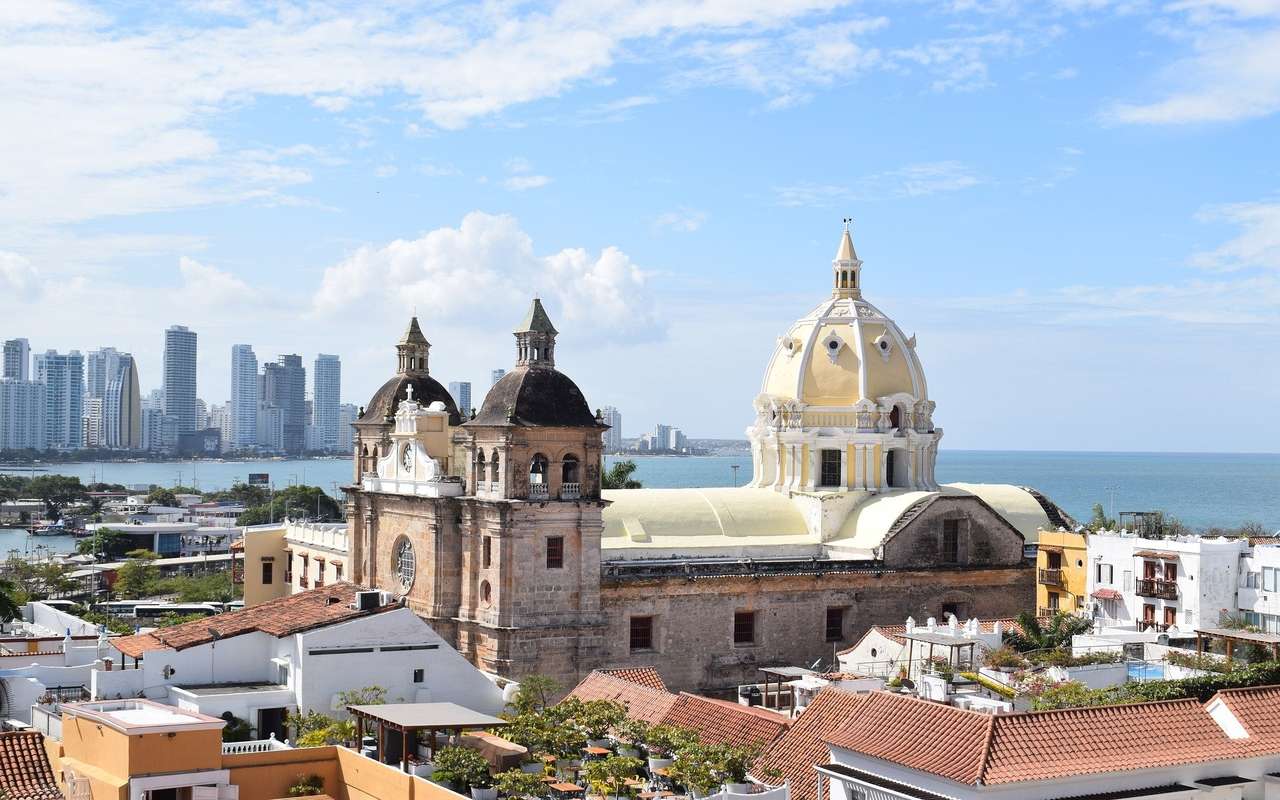 Cartagena is the oldest colonial city located on the shores of the Caribbean coast and the salsa capital of Colombia. You can find the city in the north of the county in the Bolívar region.
There are a few things that make this city super unique and definitely worth a visit.
One of these factors is accessing several archipelagos and islands, which lay in the Caribbean Sea. The Islas Del Rosario is only a short boat trip away and gives you a glimpse of paradise at a fraction of the price compared to The Bahamas.
Another beautiful part of Cartagena is the historic City which gives you a glimpse of the colonial architecture and the excitement of the vivid nightlife Colombia offers.
The colorful buildings and pristine streets are something special to behold and add to the excitement of your trip. And just outside of the city you'll find some amazing street art that will make your eyes water.
Along the beachfront, you'll feel like you've just touched down in Miami as you walk past the vast apartment complexes and golden sand beaches.
You'll be treated to beautiful shopping experiences from high-end retailers and local Colombian food that will blow your mind in the city.
Just outside of the city, you can go on day trips to the local mud volcano about an hour out of the capital.
You're also only a boat trip away from Santa Marta, which is another great coastal town to visit.
But if you want a real adventure, you can head off to the Lost City from Nevada de Santa Marta to see Colombia's "Machu Picchu" style location.
Medellín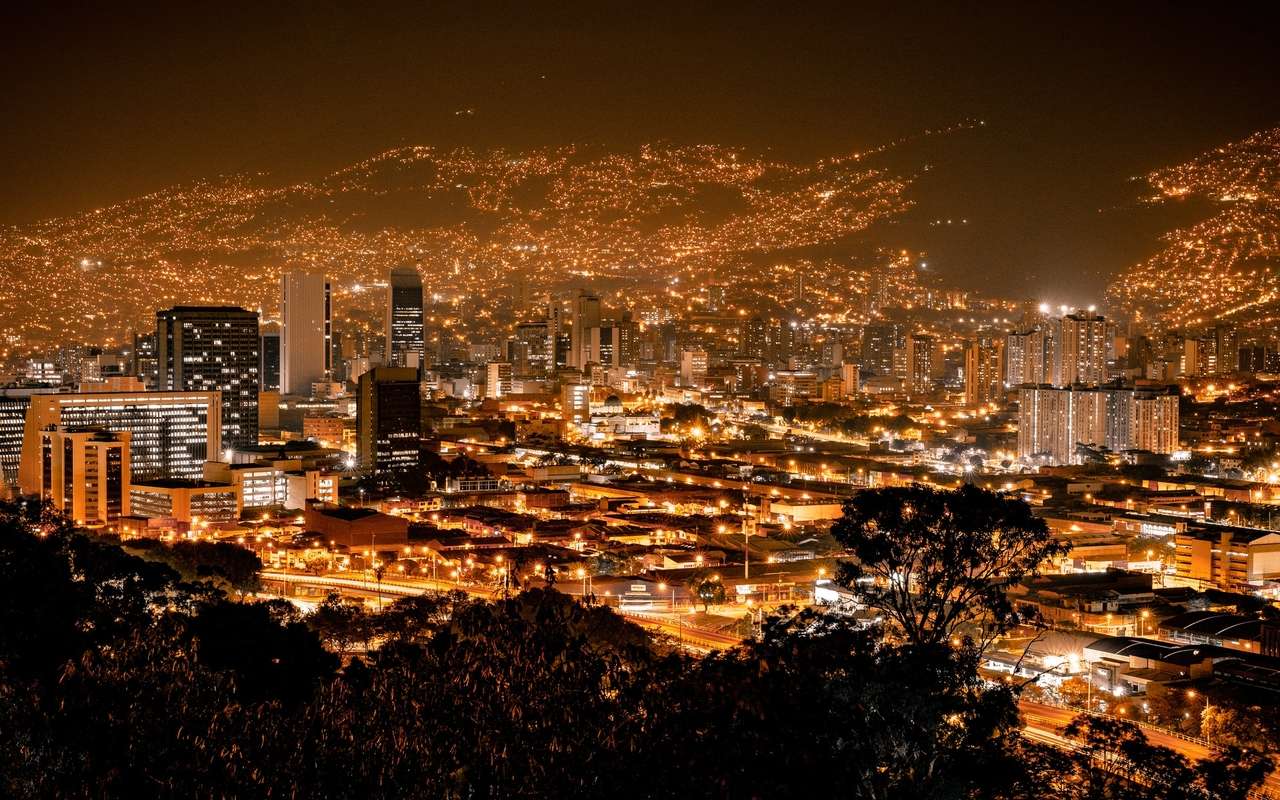 Medellín is known as the "city of eternal spring" due to its comfortable climate, which is around 19° all year round.
When you're in the city, you'll be welcomed by the kindness of the people, beautiful landscapes, and the incredible street food available on every corner.
The inhabitants are genuinely very welcoming, as you can see from the antioquenian troupes, typical dances, and much more.
When people think of the Medellín, they often think of the drug problems during the period of Pablo Escobar. But things in Medellín have changed a lot since he was around.
If you're interested in that period, there's plenty of tour groups that will show you around his zoo, prison, and old homes.
But in general, the inhabitants of Medellín don't like talking about that history, it wasn't that long ago, and many of the older generations had to live through it.
There's plenty of attractions to take your pick from during your stay; local restaurants and shopping come to mind.
You also have places like the Barrío park, the Lleras park, and the Botanical gardens, which you shouldn't miss out on.
Just outside of Medellín, you have towns like Guatape, an area of extreme beauty. Standing on top of the Piedra del Peñol while you look out over the Peñol-Guatapé Reservoir makes an Instagram-worthy picture.
Bogotá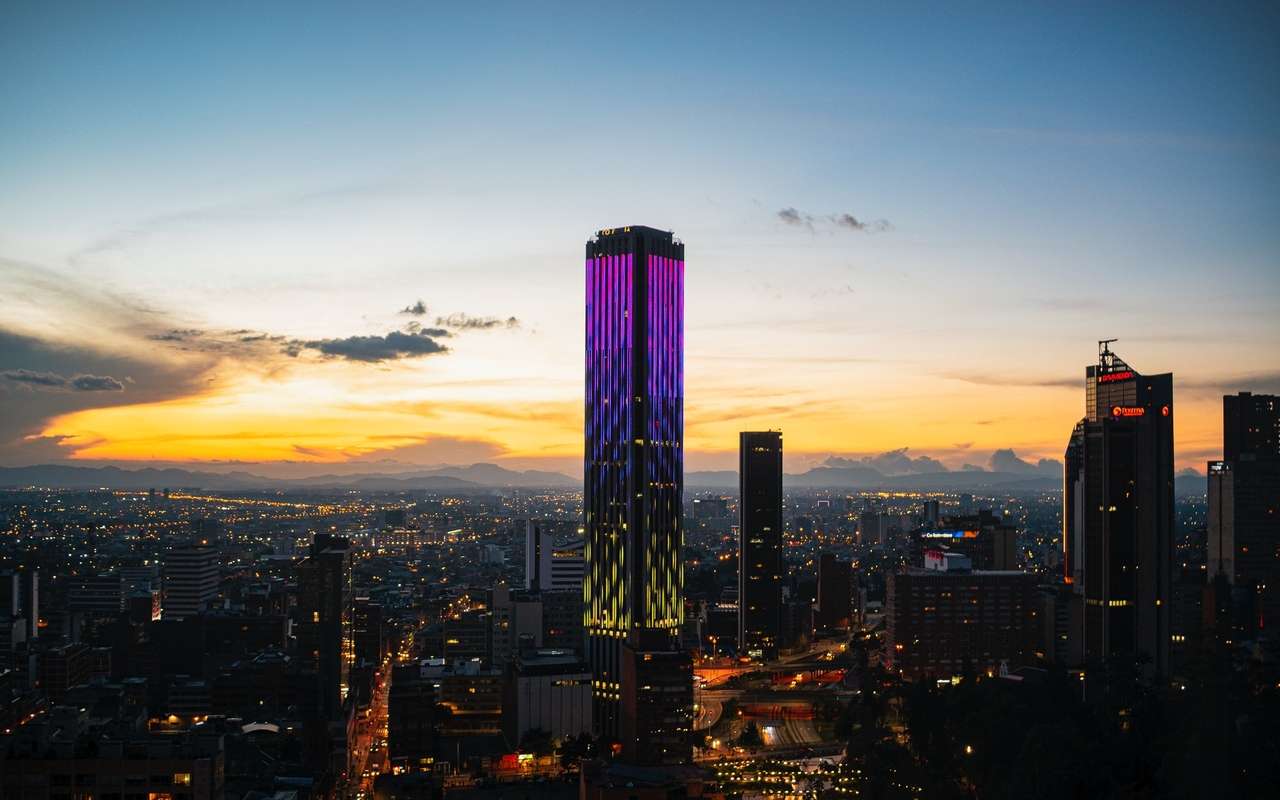 Bogotá is the largest city in Colombia; it's a similar size to New York city, to put it on scale. The city is located in the Andean region and is the fifth-highest city in the world, standing at around 8,500 feet (2,600 meters).
But what makes this city so special isn't the height; it's the abundance of mountains and green vegetation surrounding it.
Bogotá gets the green feeling from the parks and eastern hills that surround the city. On top of the mountains, you'll notice the dominating feeling of the sanctuaries of Monserrate and Guadalupe.
You can take a day hike up to the Monserrate and take a look around. You'll also be able to try local cuisines from one of the many vendors that inhabit that spot. If walking isn't for you, you can take the Teleférico (cable car) or the Funicular to the top.
And this isn't the only thing that makes Bogotá so unique:
While visiting the city, you can marvel at the blend between modern architecture, a stunning gold museum, and authentic colonial treasures.
Thanks to the fusion of past and present, Bogotá is a fantastic location for history, culture, gastronomy, and shopping.
Travel Destinations: The Top 10 Places
You've had a look at what the main cities have to offer you, but Colombia is so much more than cities. Throughout the country, there are some awe-inspiring places to visit and things to see.
In this section, we wanted to show you some of these beautiful places, so you don't miss anything during your stay:
1. Islas del Rosario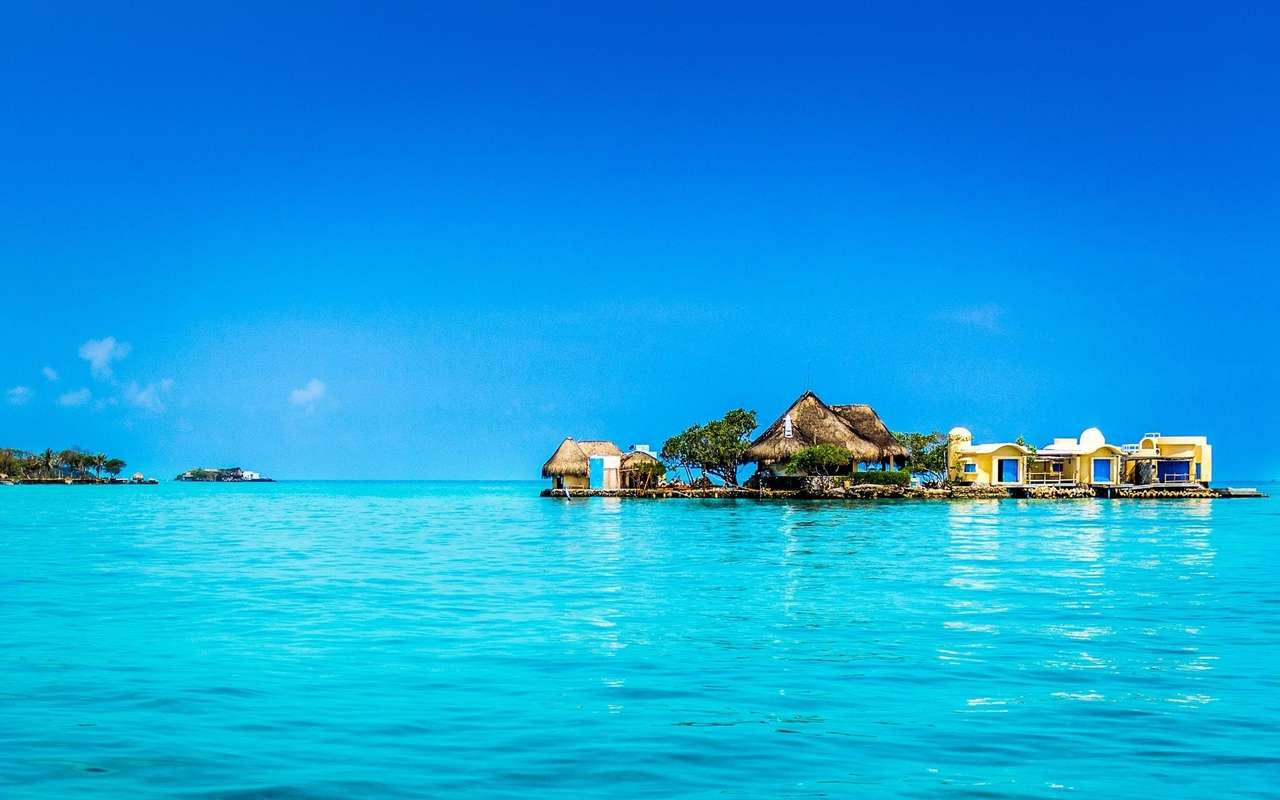 The Islas del Rosario is a small archipelago formed by 28 small islands about an hour away from the mainland of Cartagena and is surrounded by the Caribbean Coastline.
You'll find many companies offering day trips or overnight stays on the island, and they can be pretty forward with their sales tactics… so be warned.
You'll be treated to real Caribbean vibes on the islands without the cost of paying for a trip to the Bahamas.
The islands are covered in white sands and surrounded by crystal clear blue waters of the Caribbean Coast, making it a fantastic stay for snorkeling.
Most of the islands have very friendly inhabitants and welcome the tourists to the island with open arms.
2. Walled City Cartagena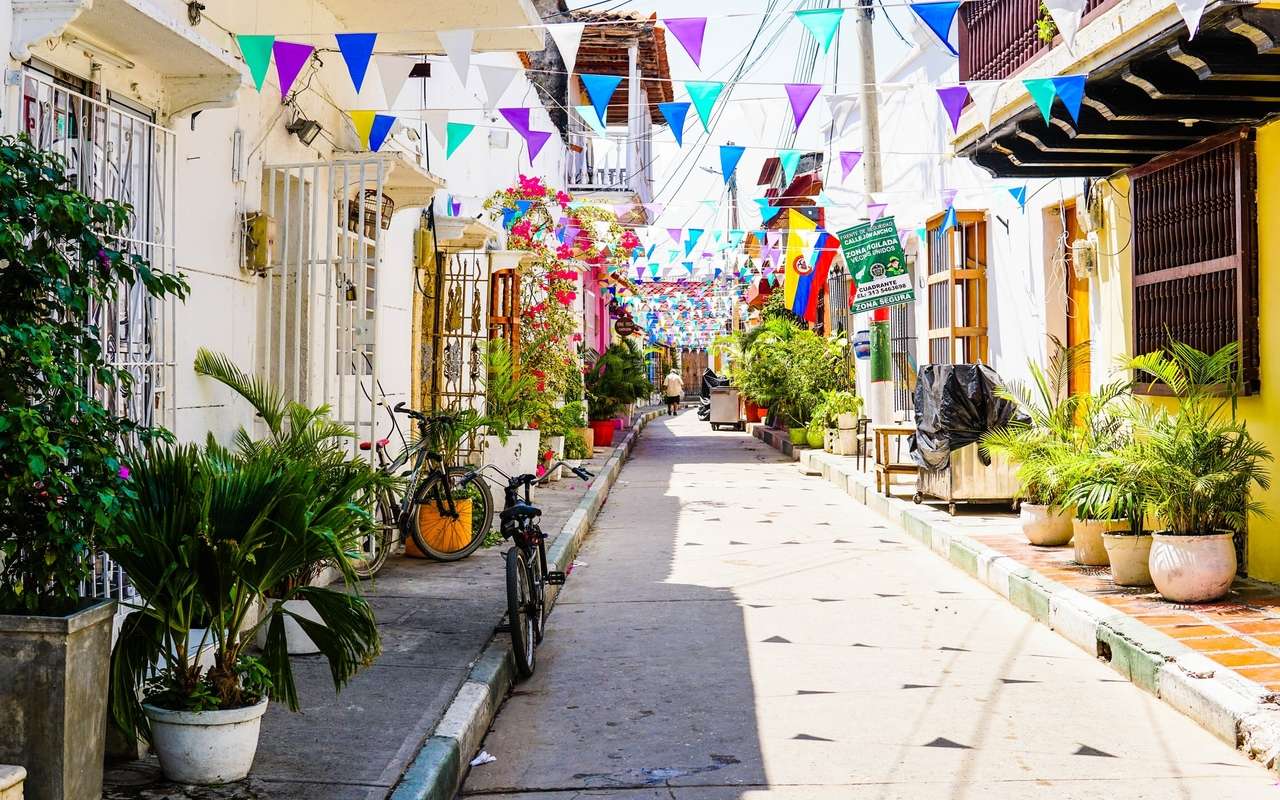 The historic city was built as a fortification in the colonial period to protect the city from the pirate attacks that plagued the area. The project took nearly two centuries to complete and finished in 1796.
There's so much to see in the City Cartagena, from colorful streets to classy rooftop bars looking over the city and stunning street art.
While walking around, you can feel the history of the incredibly well-preserved architecture and have views of the Caribbean Coast.
You'll also be able to find an abundance of small stalls with local food and drinks. On top of this, you'll experience Afro-Caribbean culture with fruit ladies walking around with bowls on their heads; you can even have pictures taken with them… for a price.
3. Guatapé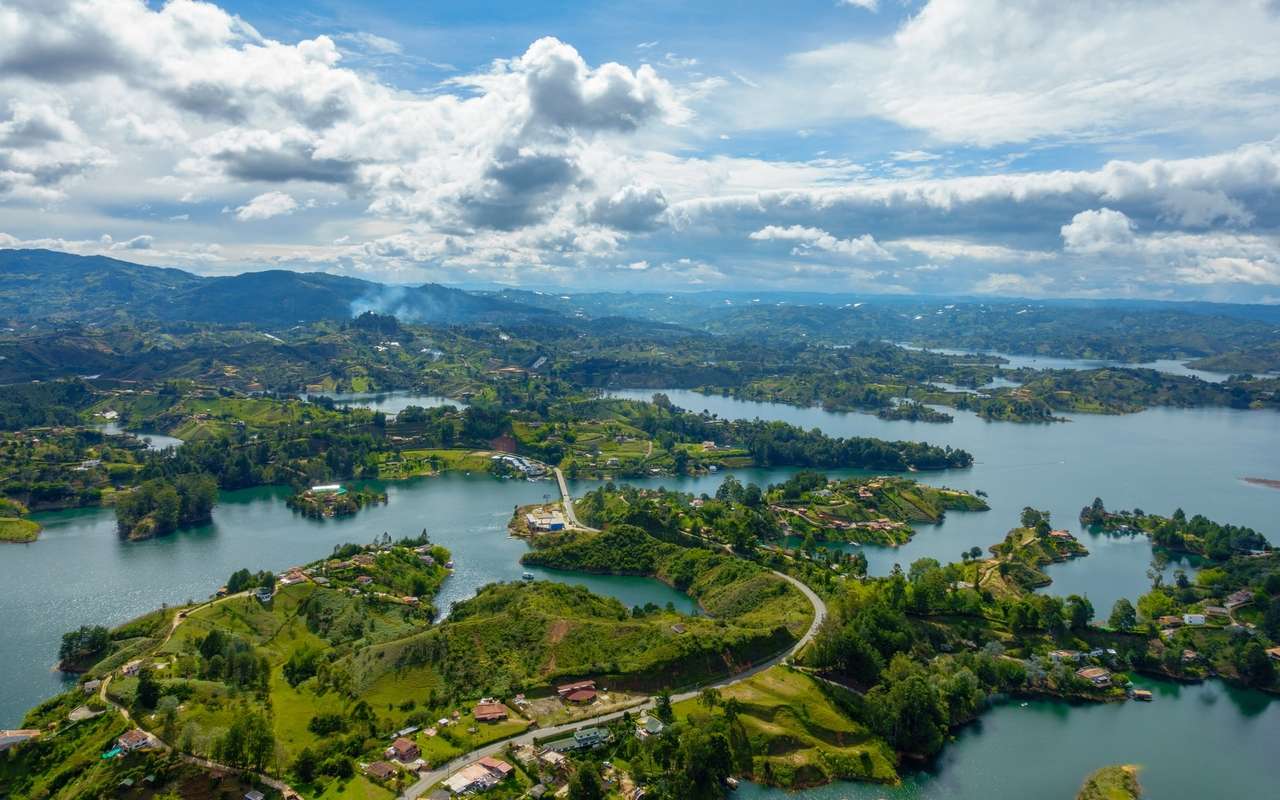 Guatapé is a small town located just outside of the Medellín. It's one of the most visited towns in Antioquia for one reason: the photo opportunities it provides.
Walking through the town, you'll see cobbled streets with houses painted in multiple colors and the wooden balconies attached to them.
Due to the town being so close to the reservoir, it gives you a chance to try out your water sport skills while taking in the vegetation surrounding it.
But what makes Guatapé really stand out to visitors is the walk to the top of Piedra del Peñol, the 220-meter high monolith. It takes 702 steps to reach the top, but once at the top, you're treated to beautiful views of the reservoir.
4. Playa De Belén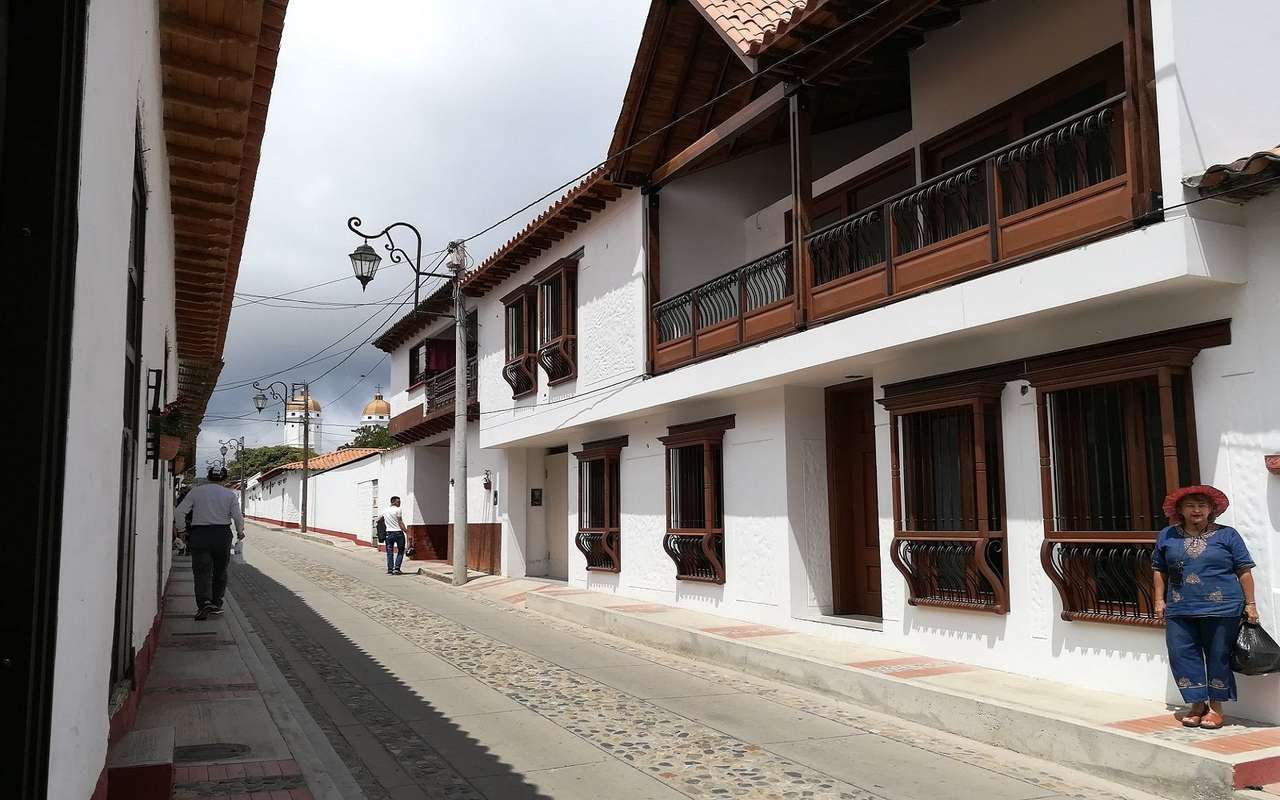 La Playa Belén is located 200 km northwest of Cúcuta in an area not many tourists make it to, but we can tell you it's worth the visit.
The streets are made with stone, and the buildings are pristine white with clay tile roofs. In the center of the town lies a beautiful church that towers above the rest of the village.
The town itself consists of three streets, but it's not the town people go for.
Surrounding the small town is the Los Estoraques Unique Natural Area, a rugged nature park with fantastic hiking trails.
Throughout the nature walk, you'll see a wide range of high-altitude viewpoints and dramatic rocky pinnacles you won't see anywhere else.
5. Chicamocha Canyon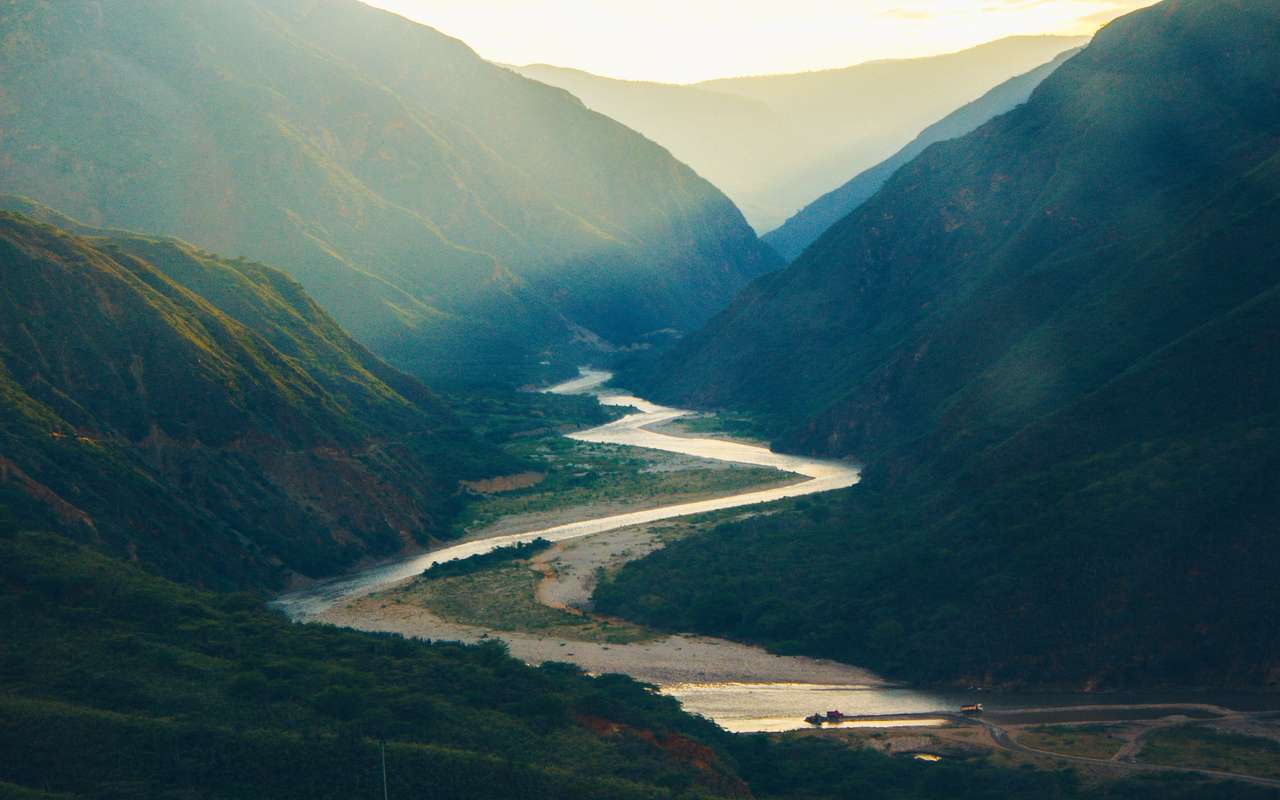 The Chicamocha Canyon is an awe-inspiring location and part of a geographic accident. It's located in the Santander region and isn't far from the city of Bucaramanga.
Many tourists describe the location as the Grand Canyon of Colombia. While driving to the canyon, you'll experience breathtaking views as you reach the top of the mountains.
The canyon sits at 1,450 meters above sea level and stretches 227 km. With a depth of two kilometers, the canyon is deeper than the Colorado Canyon.
At the heart of the canyon, you'll find the Chicamocha National Park, which offers copious extreme activities, including ziplining, helicopter rides, and paragliding.
6. Tatacoa Desert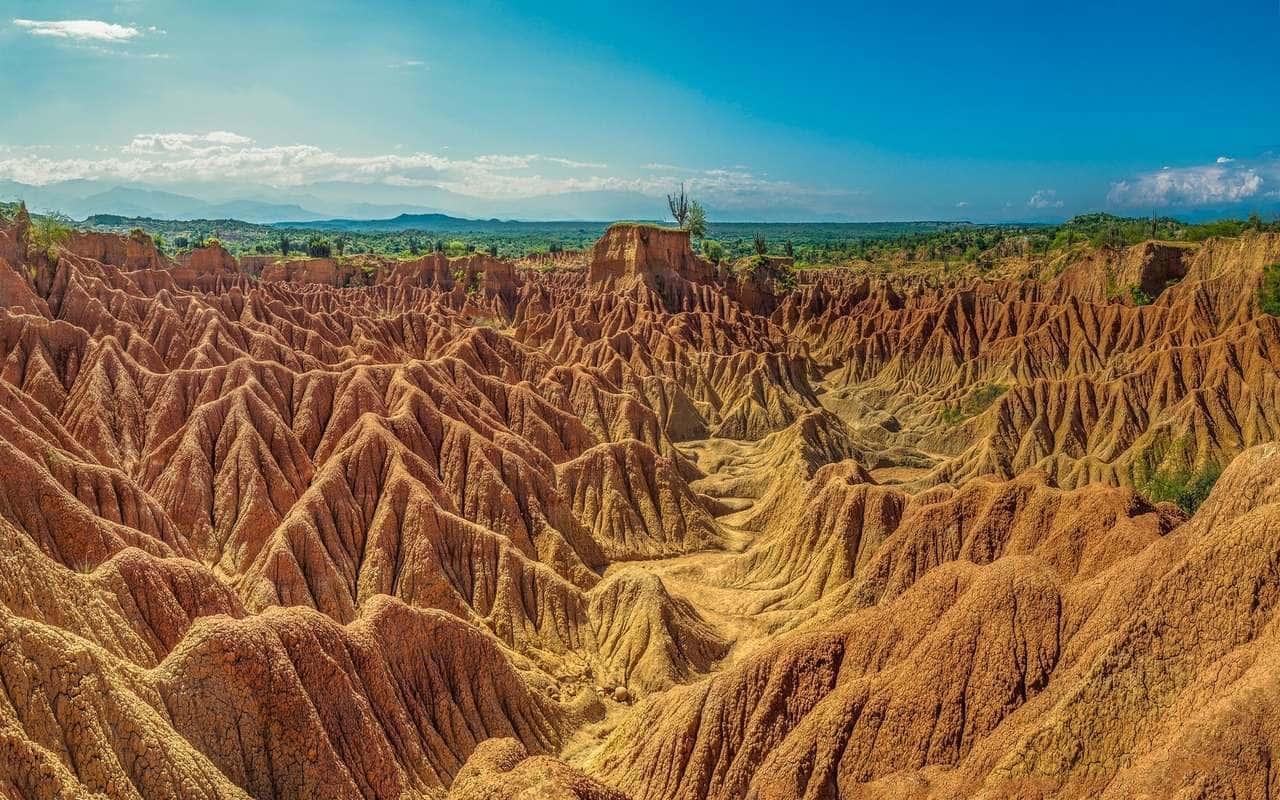 The Tatacoa Desert covers over 300 km² of ochre soil and cactuses. It is also the second driest place in Colombia and features one of the country's most attractive landscapes.
You won't see much livestock on your journey due to the lack of vegetation and high temperatures. That being said, you will find wildlife like eagles, turtles, snakes, scorpions, and lizards.
The area has been heavily eroded during the minor rainy season, but this has created a maze of mysterious shapes that give the Tatacoa Desert its charm.
One thing to check out is the plethora of hotels with swimming pools in the middle of the desert.
7. Leticia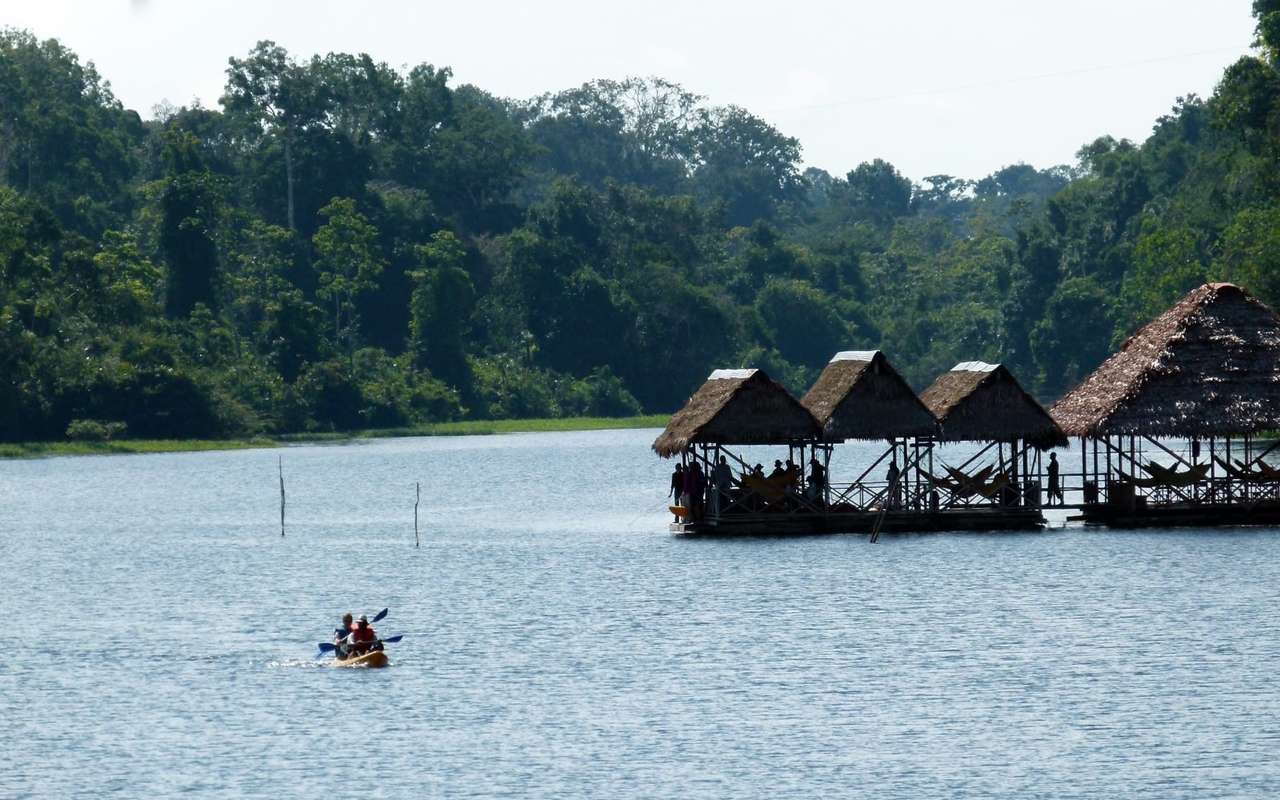 If you're looking for natural beauty, Letica should be one of your number one locations. As you're landing in the plane, you're welcomed to a carpet of trees surrounding the longest river in the world.
The main attraction to Leticia is, of course, the Amazon River, which you can use to reach remote locations of beauty.
It's home to a wide variety of animals and plant species which includes:
85 mammals
147 reptiles
140 amphibians
6,800 species of plants
You can thank this to the locals who work tirelessly to keep this area one of the most beautiful locations on the planet.
8. The Lost City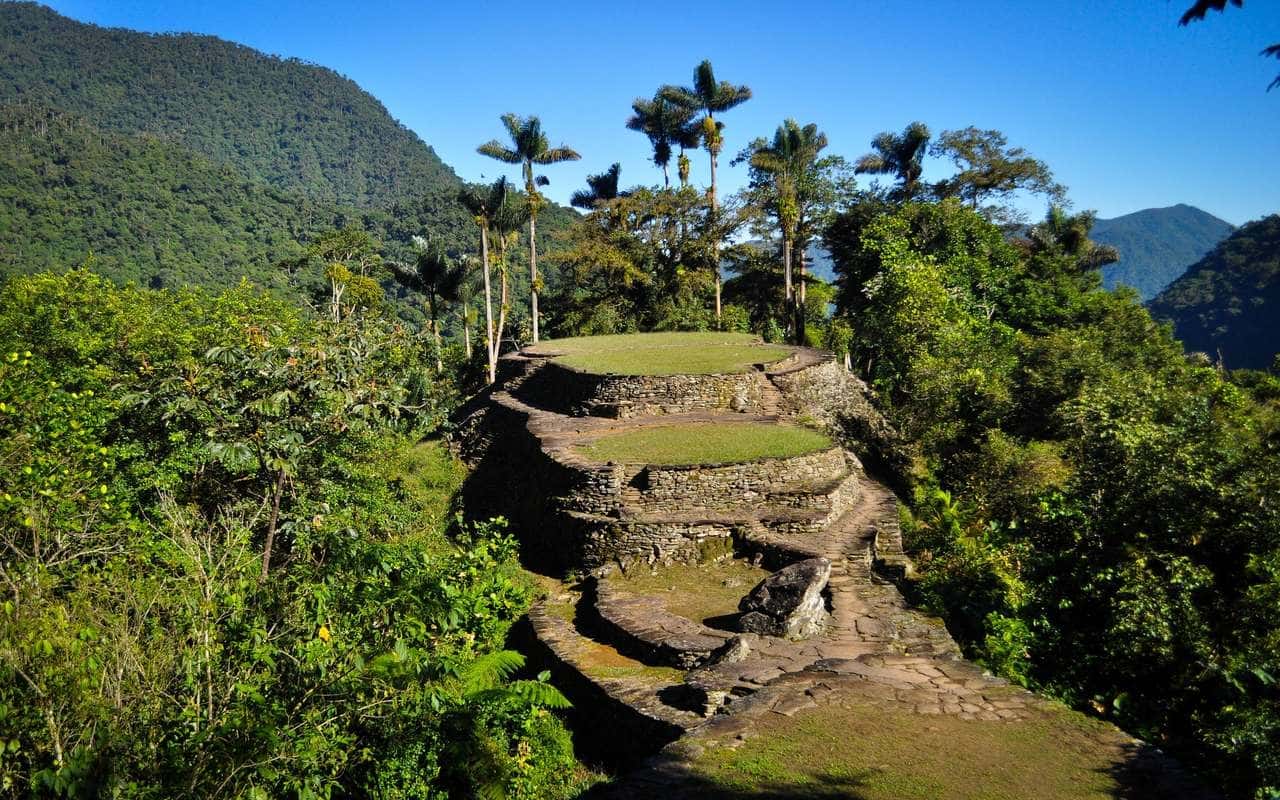 The Lost City is located deep in the jungle just outside of Santa Marta in the Sierra Nevada de Santa Marta. The archaeological park consists of 170 stone terraces that have been carved into the mountain.
The remains of this city were carved into the mountain around 800 AD, which is 650 years before Peru's Machu Picchu… incredible, right?
The trek through Sierra Nevada de Santa Marta takes four days to get there and back and reaches 18,700 ft (5,700 m) which is the world's highest coastal mountain range. You'll usually start and end the tour in Santa Marta
If you're interested in old indigenous history, there's no better location than The Lost City. It's thought that over 8,000 people lived in Nevada de Santa Marta before they had to flee due to the Spanish Conquest.
It's thought that the inhabitants of the Lost City fled further into the mountains to escape the Spanish.
It remained lost until 1972 when treasure hunters found the steps to the city, which was then covered in jungle. Archaeologists only found out about it when items started turning up on the black market.
The indigenous tribes Koguis, Wiwas, and Arhuaco, who were descendants of the original tribe, claimed they knew the location all along but wanted to keep it a secret.
9. Hacienda Nápoles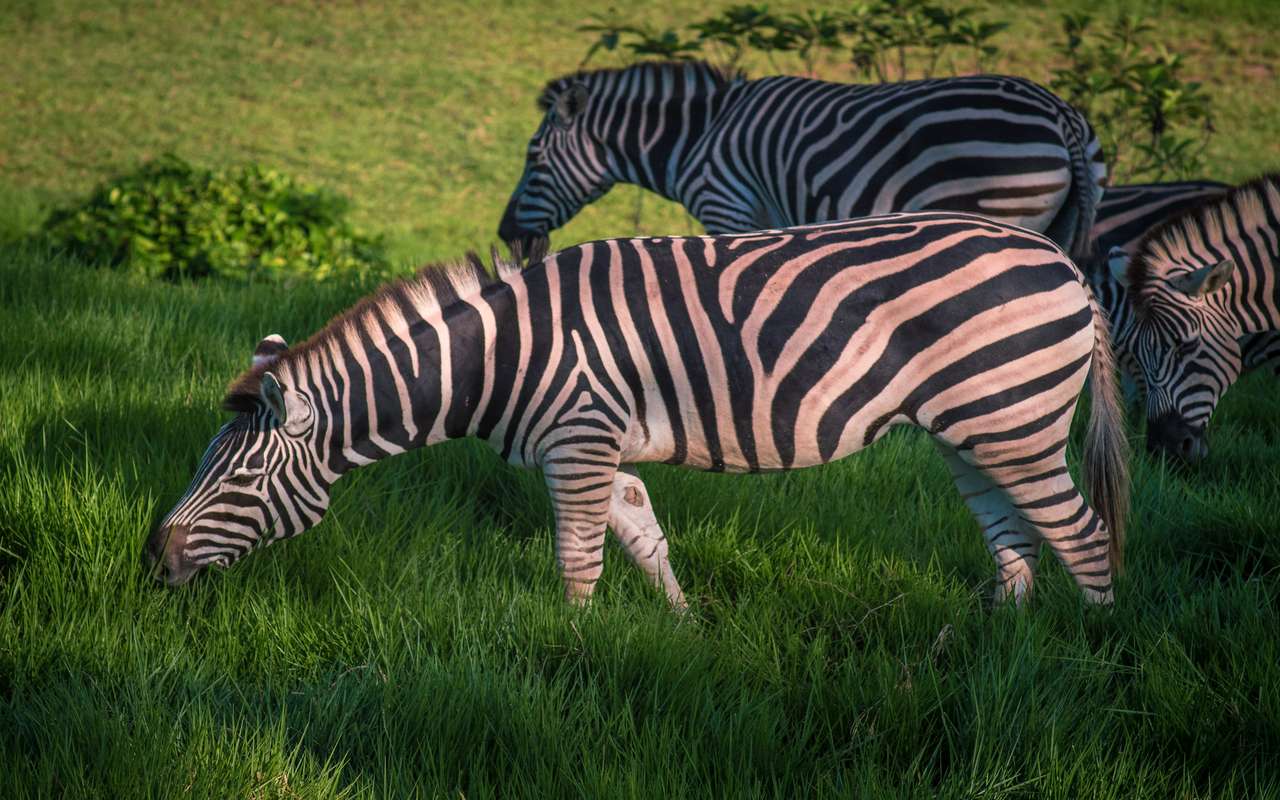 If there's one name that rings through the history of Colombia, it's the man Pablo Escobar. But what you might not know is that you can visit his huge estate about 110 miles from medellín.
After his death, the estate fell apart, but the municipality took over in the mid-2000s and turned it into an amusement park of all things.
At the theme park entrance, you'll see one of the planes the drug smuggler used to get his drugs across the border.
Now you can enjoy the themed zones, hotels, a water park, and even a safari zoo. You can actually visit the famous hippo herd that Pablo Escobar purchased and has since grown to 40+; this represents the largest herd of hippos outside of Africa.
10. Caño Cristales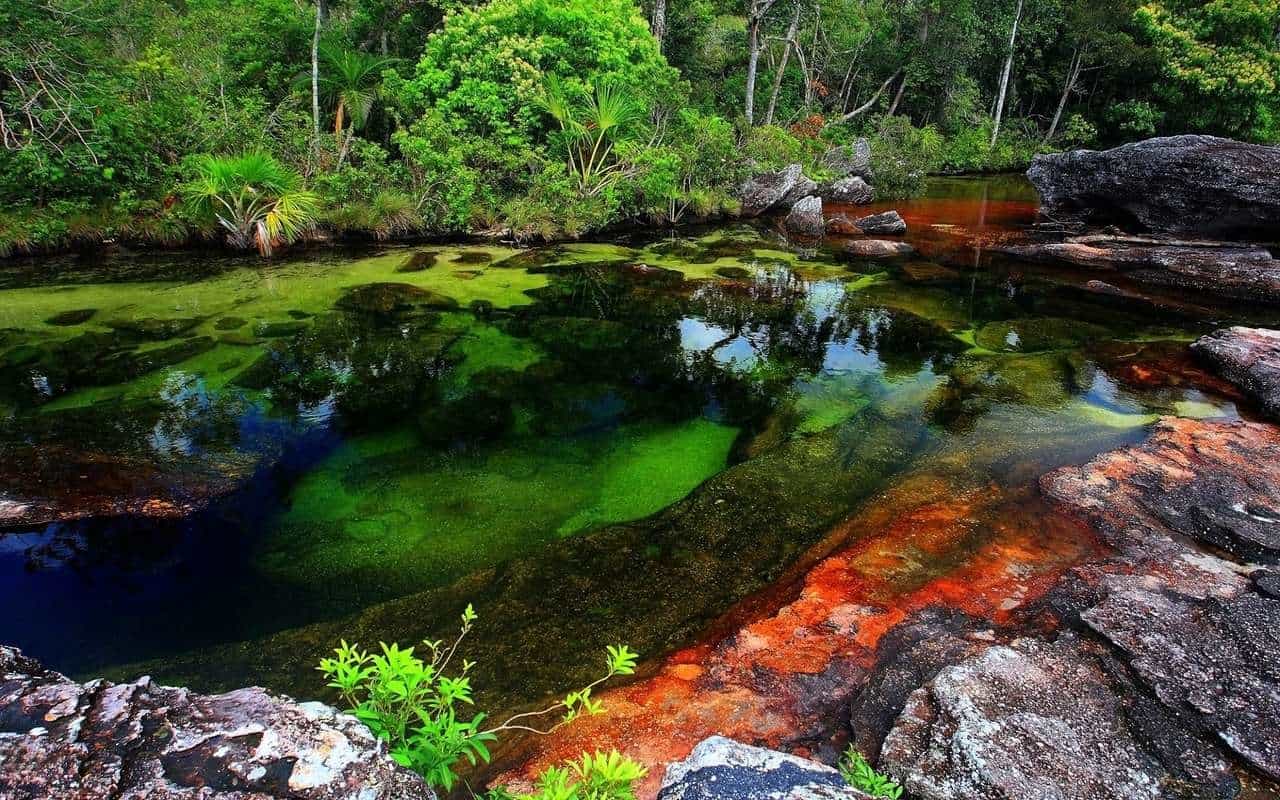 For years Caño Cristales was off-limits due to the guerrilla fighters having a stronghold in the area. But now, with peace finally starting to stabilize, the site is open and accepting more tourists than ever before.
Most people hike through the rivers to the waterfalls and bathe in the natural swimming holes.
But…
If you time your trip for July or November, you'll be treated to an extraordinary location. The algae bloom and turn the riverbed into a rainbow of colors during these months, which is something to behold.
What To Expect When Visiting Colombia
As you can see from the previous sections, Colombia is a country full of mysteries and wonders, but what can you expect from your trip?
Here are three things you can expect from your journey:
1. Forget Your Diet
Colombia has fantastic food, but to put it mildly, you will have to adjust your diet.
Most street food is fried, and it's rare if you find some vegetables with your meal. They also have a very meaty diet with plenty of carbohydrates.
If you're a vegan, you won't have any troubles in the major cities, but you will be limited if you want to try street food.
As you go out of the cities, vegan food is nearly impossible to find.
The great thing about the food in Colombia is you can pick up a very hearty meal for around 10,000 – 12,000 cop, which is about $3.
Coffee is also a huge part of the staple diet, pretty much every meal is served with Coffee (you can check out an organic coffee farm as a day trip).
2. Learn Some Spanish Before You Go
Unlike countries such as Costa Rica, English isn't widely spoken. Even people in the tourism companies don't speak English which can make things challenging to say the least.
Before you go, you should try to learn the basics: like booking tickets, ordering food and drink, and just casual greetings and farewells.
3. Colombians Are Very Helpful
Overall the people in Colombia are very friendly and want to help. Obviously, you do get some rotten eggs, but you can usually spot these people a mile off.
If you ask for help, the locals will immediately try their best for you. Although this can be annoying when they give you the wrong directions… but at least they try.
Another thing to note is the average Colombian hates thieves. If you're unlucky enough to get robbed, shouting the phrase "Ladrón" will usually get locals to notice and help you get your stuff back.
4. Watch Your Step
While walking around some parts of Colombia, you'll notice many parts of the pavement missing, and some manholes are missing.
Due to the missing parts of pavements, it makes it very easy to trip over, especially when it starts to get dark.
The upside is, the roads are pretty well maintained, so if you're driving, you don't have to worry too much about potholes.
5. Driving Styles Are Crazy
As we just mentioned driving in Colombia, we should probably talk about what it's like to drive in Colombia.
There aren't many potholes on the road; that's not the main danger on the streets. One thing we can say about driving in Colombia is that the main threat is other people.
Driving in the cities is an experience not everyone is prepared for. There are many cars on the road, and no one really cares about what lane you're in. People will pull out on you, overtake you, cut in front of you, and do anything else you can think of.
To make it worse:
You have to contend with motorbikes coming from all directions and buses that randomly pull out on you.
When you get out of the city, things are a bit easier. There's less traffic, and people respect your space a little bit more.
That is until you get to the mountains. If you get stuck behind a truck/lorry, people will overtake you in the craziest places.
You could be driving up the mountain with a 500-meter drop to the side and a blind corner coming up, but that won't stop them overtaking 2 to 4 cars at a time.
That also means you have to watch out for people doing the same coming towards you.
The key to driving in Colombia is to take it steady, stay alert, and be ready for anything.
6. Street Performers And Vendors Are Very Common
And it's not just dodgy driving you'll see while you're traveling around in the car. When you're stopped at red lights, it's not uncommon to see street performers dancing, juggling, or performing magic tricks in front of you.
When they've finished, you'll see them go over to several cars asking for tips. It's entirely up to you whether you want to tip or not, so don't feel pressured. If you have some spare change, please do give it; these guys are actually hustling for money instead of begging.
Another thing you'll notice is people selling fruit or drinks or washing windshields for a tip.
You'll find these people at most traffic lights and even tolls in the middle of nowhere.
When I was driving through Colombia, one man asked me if I wanted to buy a drink. I kindly declined, so he pulled a turtle out of his pocket and tried to sell me that.
7. You Should Great People Differently Depending On Their Gender
Many countries in Latin America are the same, so it's something that you can use as you're traveling around Central and South America.
When greeting women, they often give one kiss right cheek to the right cheek. When you're welcoming a man, this is often done with a shake of the hand.
8. You Can See A Military Presence In The Streets
It's not uncommon to see the military on the streets in their full gear. This is especially true in Bogotá and Cartagena. But you'll also see them in the middle of nowhere sometimes.
Some people feel very concerned when they see them walking the streets, but it's very typical here, so don't be worried.
9. The Fruit Is Fantastic
The fruit in Colombia is delicious and incredibly fresh. While you're walking around, there's no doubt that you'll see people selling fruit.
And it's worth taking some time out to try it. Many of the street vendors will cut the fruit up for you to eat as you walk.
But one of the best places to get fruit is at the local markets, it's incredible.
10. Public Transport Is Slow
Although there are plenty of public transport options when traveling around Colombia, the buses are incredibly slow.
This makes traveling between cities a long and tiresome adventure full of mountains, winding roads, and lots of bumps.
When you're traveling by bus, make sure you're ready for a long trip. On average, the buses travel at 40 km/h.
11. Weekends And Holidays Are Very Busy
Colombians love to travel in groups and take vacations. On the weekends, you can expect the local beaches and parks to be packed with people. It's something that you can't get away from.
It's great to see so many families having fun together, but it can make it quite hard to get accommodation during the weekends.
If you're traveling on Friday or Saturday, make sure you book your accommodation well in advance.
You should also avoid long journeys on a Sunday; the roads are packed with people trying to get back home from their weekend adventures.
12. Technically, Uber Is Illegal
Although Uber is technically illegal, they still operate, and most people use them to get around. To avoid any problems with the police, the driver will ask you to sit upfront, so it looks like they are with a friend,
Make sure you remember your driver's name; if the police stop you, it will cause a lot of problems if you don't know who they are.
You should also try to avoid paying cash, but if you have to, don't flash the money around or make it obvious you're paying them for a service.
13. Having An "M" On The Toilet Doesn't Mean It's For Men
As a man, this one can get you in huge trouble. The toilets don't work like they do in English. If you see an M on the door, it stands for Mujeres (women in Spanish).
If you're a man, you should be looking out for H, which stands for Hombres (men in Spanish). If this wasn't confusing enough, it gets worse:
Sometimes they use D for Damas (ladies in Spanish) or C for Caballeros (gentlemen in Spanish).
14. Talking About Pablo Escobar Can Be Considered Offensive
Okay, we all know Pablo Escobar played his part in Colombian history, but talking about NARCOS and Pablo as a hero isn't a good idea.
You have to remember, the man decimated the country with violence and destroyed many families. You'll find pretty much every Colombian will know someone that was directly affected by his antics.
Bringing up these painful memories isn't respected in the country, so just leave it alone. You weren't there and can never comprehend the pain he brought local people.
The TV glamorized the events far too much, and the local people weren't happy about it.
You can go on plenty of tours, which show you what life was like during those times. Some tourists/expats will tell you not to take them because they feel it shows disrespect.
But I feel differently; for many people, it's their source of income, and it helps them lead a better life. So go on the tours if you're interested in the history, but don't brag about seeing where he partied with the locals.
Is It Safe To Vacation In Colombia?
Colombia has quickly become one of the top backpacker and tourist destinations in South America. In 2017 alone, the country saw well over three million visitors, around a 3x increase over the last ten years.
You've probably heard about the turbulent past with drugs and crime in Colombia, and for many people, it's enough to put them off traveling there.
But here's the thing:
Over the past decade or two, the Colombian government has been working hard to dispel the violent image the media and the drug cartels painted.
That being said, Colombia isn't perfect, but it's come a long way since your parents were born.
Violent crimes have always been a problem. Murders and kidnapping were always a concern for people traveling to Colombia.
The good thing is kidnapping has declined by 92%, and homicides have been down by 50% over the past two decades.
And we can only expect this to continue over the following decades.
Safety Tips For Colombia
Although Colombia is relatively safe now, there are still criminals out there you need to be careful of; here are our top 7 tips for staying safe in the country:
Take a taxi at night – The prime time for robberies is night; make sure you take taxis home.
Use taxi apps – Use apps like Cabify to pick up your taxi so you're not waiting on the street.
Learn basic Spanish – Colombians don't really speak English; knowing the basics will help you out a lot.
No dar Papaya – A Colombian phrase that translates as "don't give papaya" basically, don't make yourself an easy target.
Keep an eye on your drink – Just like anywhere else in the world, drink spiking happens; make sure you stay aware.
Avoid drugs and sex workers – Most crimes on tourist happens because they look for these things; make sure you stay away.
If you get robbed, don't resist – Most thefts don't result in injury unless you fight back. Just give them your phone and sort it out later.
Buy travel insurance – If God forbids anything does happen, it's nice to know someone has your back. With a good travel insurance company you know you'll find the medical treatment you need or give you money to replace stolen goods.
World Nomads
Why Choose Them?

Click Here for More Details

Located At Most Airports In The Country
Travel Accidents
Overseas Dental
Delayed Baggage
Digital Nomads
Pregnancy
Stolen Credit Cards
Stolen Passports
And Much More…
Keep your valuables separate – Never carry all your stuff together. If you go out, leave some cash or a credit card at the apartment. If anything disappears, you know you have a backup at home.
Download the Prey app to your phone or laptop – If your device gets stolen, you'll be able to track it and turn your camera on to take a photo of the thief. You can even wipe the data and send a message to the thief. It does cost a small fee, but it does provide extra protection.
Is Colombia Safe For A Solo Traveler?
Colombia is very safe for solo travelers, which I'm sure is great news for anyone planning to take a trip there.
Petty crime can still be a problem, but as long as you don't "Give Papaya", it's unlikely you're going to run into any issues. To avoid any issues, you should try to avoid going out with all your equipment.
If you start to feel uncomfortable, you always have the chance to try and meet other travelers. It gives you the opportunity to explore the area together. It's also an excellent way to deter pickpockets and petty criminals.
The one time Colombia can be a bit sketchy as a solo traveler is at night. It's best to avoid quiet streets and walk through town by yourself.
Use taxi apps to get yourself home at night and avoid sketchy-looking taxis.
Is Colombia Safe For Solo Female Travelers?
Unfortunately, female travelers tend to have to take extra precautions when traveling. The good thing is, Colombia is pretty safe for female travelers.
The main thing for female travelers is to avoid walking around at night by themselves. And the same goes for taxis. Many female travelers won't have any problems taking a taxi at night, but it's something you need to think about.
What Is The Best Month To Travel To Colombia?
When it comes to the best months to travel to Colombia, it really depends on where you want to visit. For example, Cartagena is around 30°C all year round. In this section, I'm going to explain everything you need to know about the weather:
Cartagena and the Caribbean Coast is extremely hot all year round, but you can expect a rainy season during May and June. But even during these months, you can expect the average temperature to be around 30°C.
December to March
During these months, it's the best time to visit the Andes. It's usually a lot drier; that being said, you can still expect some rain.
February to March
If you're looking for festivals, this is the best time to come and visit Colombia.
Easter Weekend
Colombians are very religious, and during Holy Week, they have many celebrations across the country.
Tayrona National Park is Closed in February
In February, the local indigenous communities are performing rituals there, so they leave them in peace. They also take this month to repair and clean the park.
May to July and October to December
You'll find these months extremely wet in the highlands, so it's not the best time to visit.
August
This is the best month to visit if you're planning to check out the mountains. The rain tends to die down a little.
July to November
This is the best time to go and visit the Pacific Coast if you want to see humpback whales migrating from Antarctica to mate and give birth.
This is just a rough guide for the best times to visit Colombia, but of course, weather conditions are constantly changing.
How Much Should You Budget For Colombia?
One thing you should know about Colombia is it's a pretty cheap country. Colombian food is excellent, and the price is even better. And when it comes to services, it's incredibly affordable, but it can be pretty expensive when it comes to imported goods.
In this section, I'm going to give you an insight into what you can expect to spend for a week in Colombia:
Costs Per Day: $30-$40 per day
Solo Traveler: $200-$800+ per week
For A Couple: $508-$1,600 per week
As I always see, these prices are just estimates; it always depends on how you like to travel. If you're trying to save money, you'll have no problems getting by in Colombia.
And if you like to travel in luxury, there are some stunning places to stay throughout the whole of Colombia.
Let's break the prices down a little bit further:
Accommodation: $12-$210+ per day
Meals: $5-$50 per day
Drink: $5-$30+ per day
Travel: $2-$14 for local travel
Entertainment: $15-$50+
As you can see from the prices above, it really depends on what you want and how you want to travel. But that's the best thing about traveling in Colombia; there's something for everyone to enjoy, even budget travelers.
What's The Best Way To Travel Around Colombia?
Colombia is a vast country, which can make traveling around pretty challenging. But, you do have a few options at your disposal. And let's what we're going to be looking at in this section, so let's get started:
Public Transport
One of the great things about public transportation in Colombia is it's very cheap. You can find metros in Medellín that only cost a few dollars per trip.
You'll also find plenty of taxis, which are also very cheap, making it super easy to travel around the cities.
Uber is also very cheap and very efficient. The problem is:
Uber isn't exactly legal in Colombia, which means you have to be careful. Most Uber drivers will ask you to sit in the front to avoid suspicion from the police. They'll also be hesitant to take cash in public areas.
Rent A Car
Renting a car is a great option when you're traveling around Colombia. You get to see plenty of the country, and there's a lot to see.
Discover Car Hire
Why Choose Them?

Book Your Car Now

Located At Most Airports In The Country
No Hidden Fees
24/7 Customer Service
Free Cancellation
Provides Information You Can Trust
Must Be 22 Years Or Older
One of the good things about renting cars in Colombia is you don't always need a credit card to rent the car. This makes life a lot easier for people that don't like using credit cards.
Another good thing about driving through Colombia: the rentals don't cost a lot of money, and the fuel is very cheap.
Fly
Due to Colombia being so large, there's plenty of direct flights to help get you around the country. To make things better:
The locals tend to fly between cities, which means the prices of the direct flights are very low. If you're looking for flight prices, you can check them out here.
Kiwi.com
Why Choose Them?

Plan Your Trip Here

Competitive Prices
Plan Your Full Trip From The Website
Provides Excellent Support
Get Price Alerts On The Move
Manage Your Bookings
Colectivo
A Colectivo is a shared taxi, minibus, or large jeep. They are privately owned and usually deal with shorter trips from town to town. You'll have to negotiate on the price beforehand, but they tend to be a lot quicker than traveling on the bus.
InterCity Buses
Intercity buses are probably the cheapest and best way to travel around Colombia. From Bogotá to Medellín will cost you around $20.
You can use companies such as Expreso Palmira, Trejos, or Bolivariano. Just do your research beforehand to see which one is best for you.
Wrapping Up!
Colombia is a beautiful and colorful country, with friendly people and many wonders to visit. Learning Spanish before planning your trip not only will help you get around your destinations more easily and help you communicate fluently with the locals but totally enrich your travel Spanish experience.
Try a free private class or sign up for a 7-day free trial of our group classes to see how thousands of students are dominating the Spanish language with SpanishVIP.
Want to learn Spanish, fast?
Download our e-book, Easy Spanish Shortcuts, and learn your first 1,000 Spanish words in under a day!