Did you know that one of the most common reasons people stop learning a foreign language is the lack of motivation? In our online Spanish conversation classes, you can find insanely practical lessons, fun activities, and friends. Even better, classes now run 24 hours a day!
Learning Spanish is a continuous process that takes a lot of time, but everything feels worth it when you realize you understand what someone is speaking about, a part of a song or even a whole movie!
We have all felt magical moments where we feel a sense of pride after memorizing a new world and slipping it into a real-life conversation.
It's the best part of this journey!
When you're learning a new language, there will be frustrating moments and complicated topics that make you question why you're learning Spanish. And in those difficult times, you must remember something: You're not alone!
Things get a lot easier when you have the right company around you. You see, sometimes you'll feel "stupid" or like you're not learning anything. But when others have the same questions, you start to feel a little more comfortable in your abilities.
And that's how you feel when you join our SpanishVIP online classes. It's the fastest, most effective and fun way to learn the language.
SpanishVIP gathers people from all over the world, with one specific purpose:
Learning Spanish, of course!
We have students from:
The United States
Canada
Singapore
The Philippines
France
China
India
Germany
Russia
And even from some Spanish-speaking countries.
The best thing is:
You'll get to make new friends and learn about interesting political, social, economic, and technological facts from their native countries.
In other words, you won't just be learning Spanish but also a whole new world!
So, How Does It Work?
The whole process is quite simple.
You will have access to our public schedule, where you'll be able to see all the classes we have available. The schedule changes every week with new and recurring lessons, allowing you to attend classes that best suit your interests and availability.
All you have to do is click on the online Spanish courses you want to attend, and immediately,  you will receive an email with the Zoom link to join the meeting.
We now offer classes 24 HOURS a day, from Monday to Friday. The best part is: you will have UNLIMITED classes! See what people say about our unlimited Spanish classes.
Yes, you get to decide the number of lessons according to your preferences, availability, and needs. You can book your classes 1 week in advance or as little as 15-minutes before any class starts.
And if you can't attend the meeting, just click on the "Cancel reservation" button, and that's it. That means you'll be able to manage your Spanish lessons quickly and efficiently around your schedule.
To help you progress, your teachers will send you all the resources and course material of the lessons you just learned so you can continue in your own time and at your own pace.
And if you want to have some homework, they'll provide you with some extra exercises to speed up your progress.
We have a max 10 student per class policy that ensures you can participate and ask questions in a safe, small group environment.
Our students love having the opportunity to make friends with their peers. One thing is for sure; you will have a lot of fun… and that's a promise!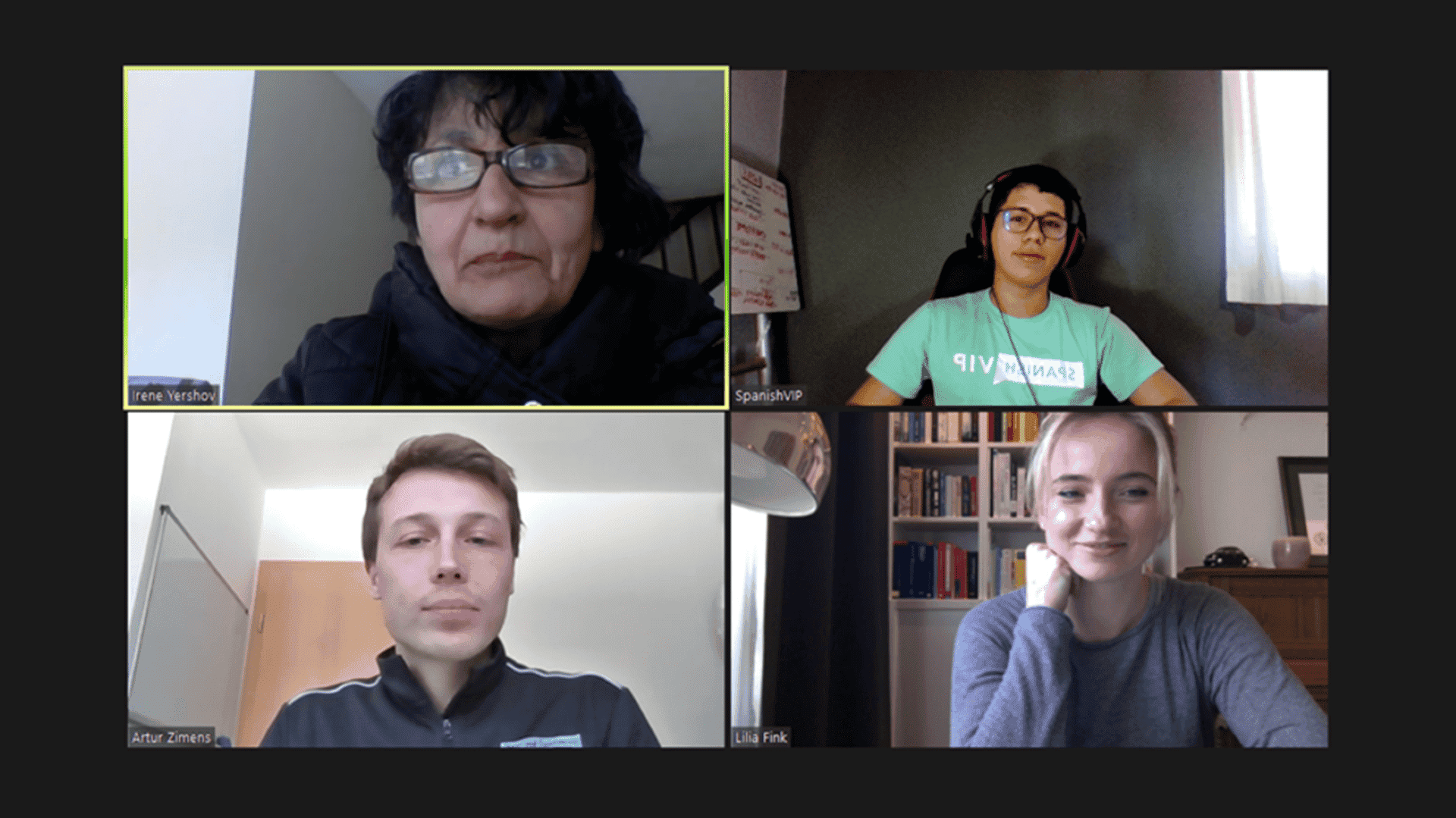 Our Spanish Teachers
We provide you with two excellent native Spanish tutors, Jesús and Viviana.
Our teachers are trained to help people of all levels to learn Spanish with audacity and experience, making every topic simpler to understand.
Both are native speakers, fluent in English, and have different teaching styles that will make every lesson special, engaging, and of course, fun.
Each teacher keeps an eye on your process, and at the same time, they include you in a wide variety of activities and group dynamics.
That means that even though you will be taking group classes, Jesús and Viviana will be aware of your learning experience, adapting activities and examples according to your individual needs.
Just wait to see how quickly you learn Spanish in our 50 minutes classes with a native Spanish speaker from Colombia who can teach you grammar, vocabulary, and cultural and life facts of Latin America.
Our online Spanish classes and lesson plan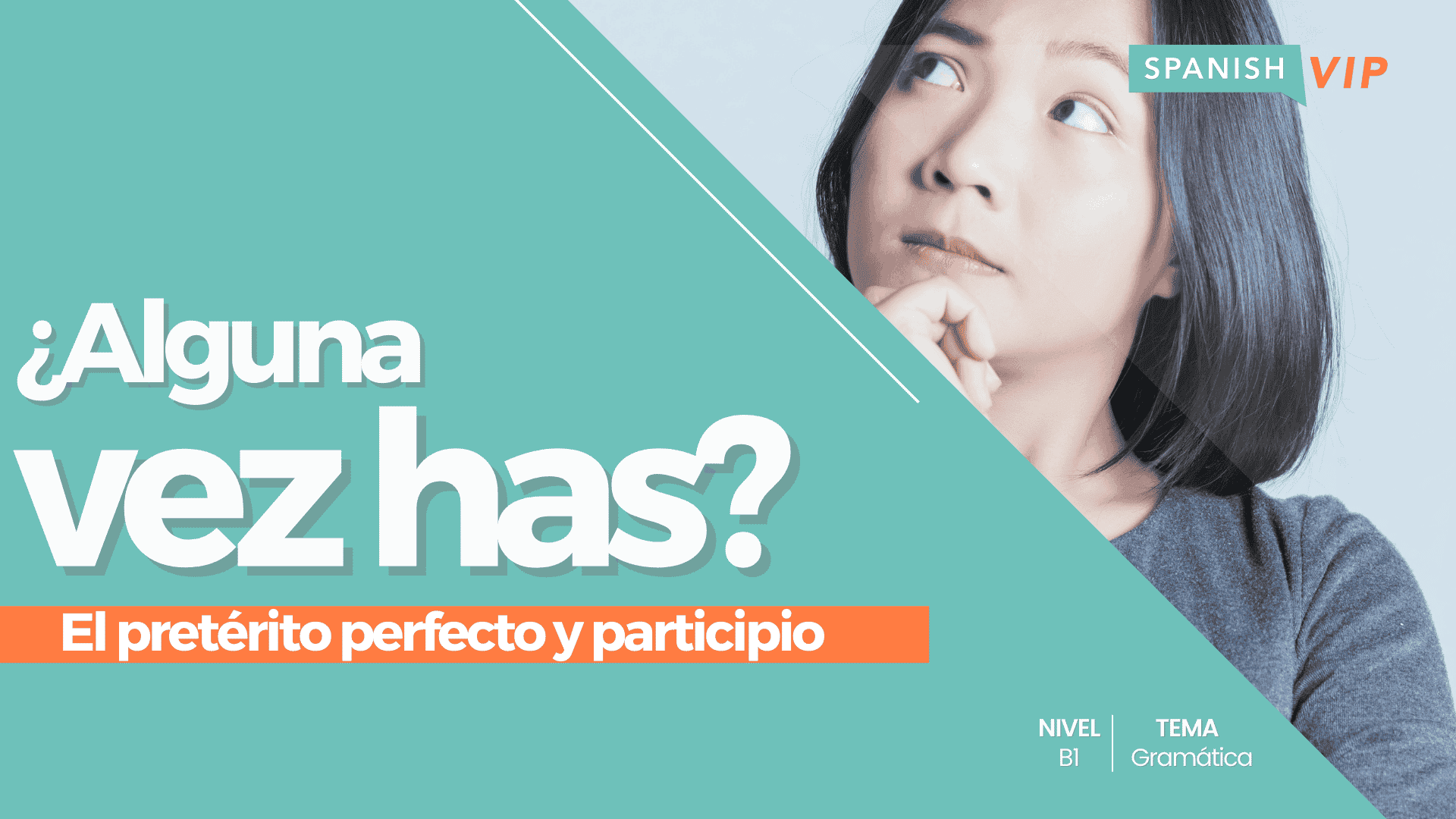 We genuinely believe that each of our group lessons offers a unique experience.
We usually start the classes by introducing ourselves to create a comfortable environment for everyone.
We then discuss a bit of the previous knowledge of the main topic, and then the fun begins.
Sometimes your Spanish teacher will share the screen to show different resources to help you learn Spanish or use Nearpod, so you have the activities and presentations on your device.
And for some activities, you use Google documents to practice your spelling and grammar. We also use audio recordings and songs to make it more interesting.
Now every situation in your life will be an excuse to practice your Spanish!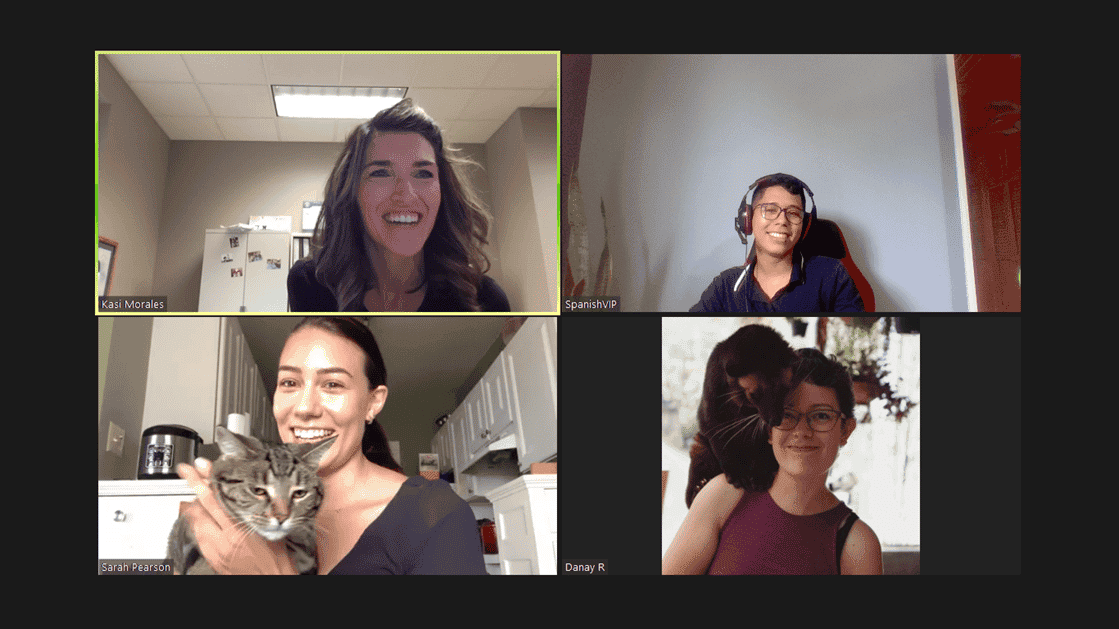 In our online Spanish group classes program, we break down lessons into difficulty and topic, so you never end up somewhere you shouldn't be.
We have a comprehensive curriculum designed according to each Spanish level based on the Common European Framework of Reference for Languages (A1, A2, B1, B2, C1), including presentations with grammar topics, vocabulary, conversations, exercises, etc.
We also have some unique lessons to practice specific skills (listening and reading comprehension classes, conversational classes, and even karaoke classes).
Every level has different content and outstanding special classes to help your progression in Spanish.
In our online Spanish conversation practice, we use our breakout rooms so you can interact with your classmates directly, have deeper conversations, and have more chances to practice what you have learned.
And this is how you get to know more about your new "amigos"!
If you're wondering what our classes are all about, here's a brief description of each level:
👉A1 Classes
We are aware that learning Spanish for the first time can be demanding, which is why we have designed a unique curriculum for this level to make everything easier.
It includes basic vocabulary to attend a class, essential grammar tenses and rules that will allow you to create basic sentences and have a regular A1 conversation in Spanish.
All the material is in Spanish so that you can have a complete immersion in the language, but don't worry; your teachers will explain everything in English as well if necessary.
We also have special classes designed only for A1 so you can practice what you've learned during your process and share your resources and tips with your classmates.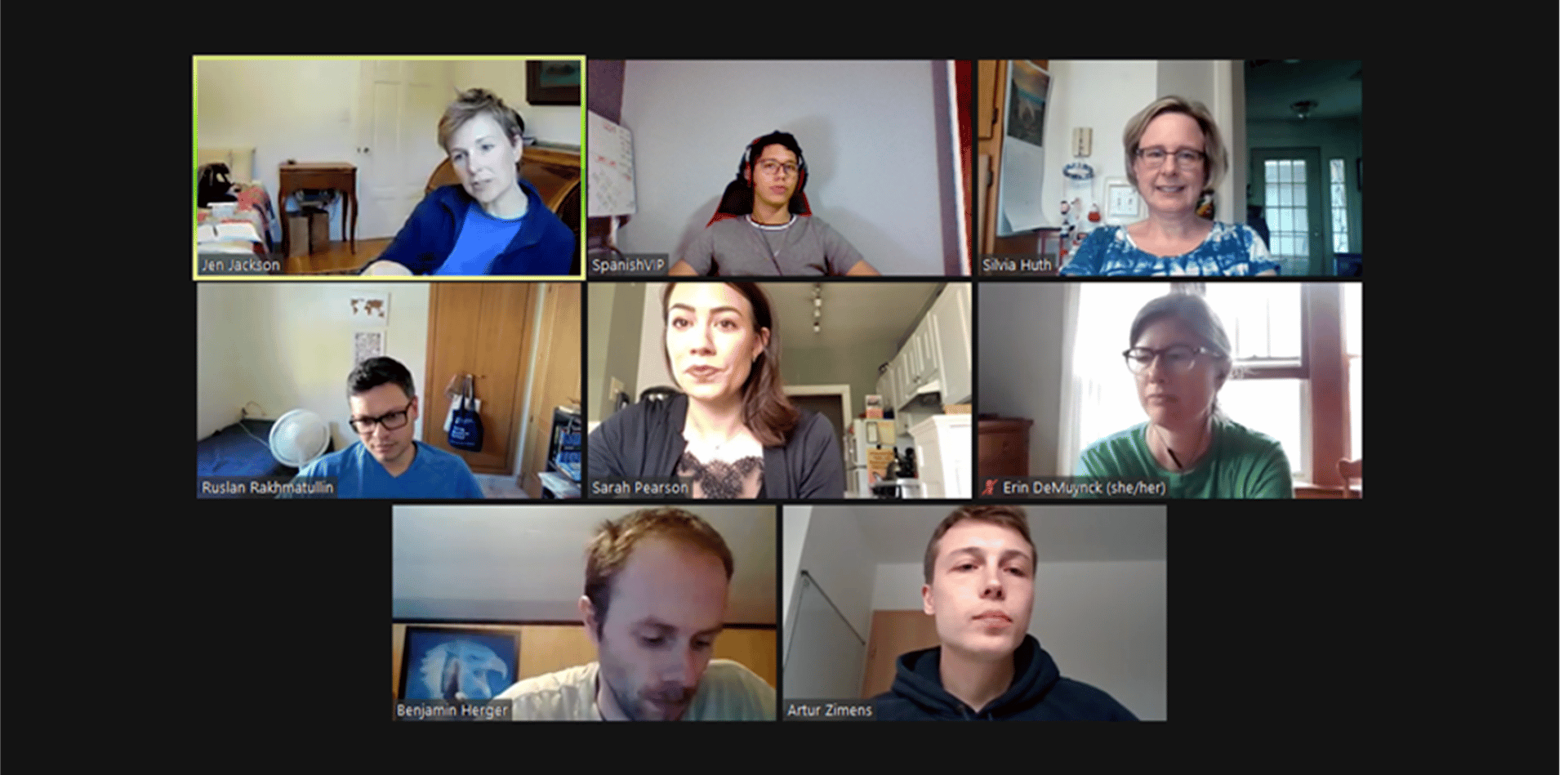 👉A2 Classes
You will have appropriate classes to practice for this level and review what you should know if you're an A2 student.
Apart from that, you will have a wide variety of tenses in the indicative mood to learn in Spanish, and each of them will have a "Clase práctica," which is a lesson to practice what you learned in the previous theoretical class.
This is the perfect level to build a solid base for your conjugations while learning vocabulary about different topics to express yourself in a more advanced way while using the correct tense.
👉B1 Classes
It's time for you to get serious about Spanish. These classes will be the introductory level for new tools you'll start using.
In these classes, you'll learn the subjunctive mood along with some new prepositions, adjectives, and grammatical structures.
We offer some classes focused on unusual and more advanced vocabulary. You will have more resources when speaking or writing so you can express complex topics more clearly.
We will provide you with more conversational Spanish classes to practice all the conjugations that you have learned.
Your teachers will also help you correct some mistakes that might lead you to review some A2 topics if needed, but don't worry!
We have UNLIMITED classes.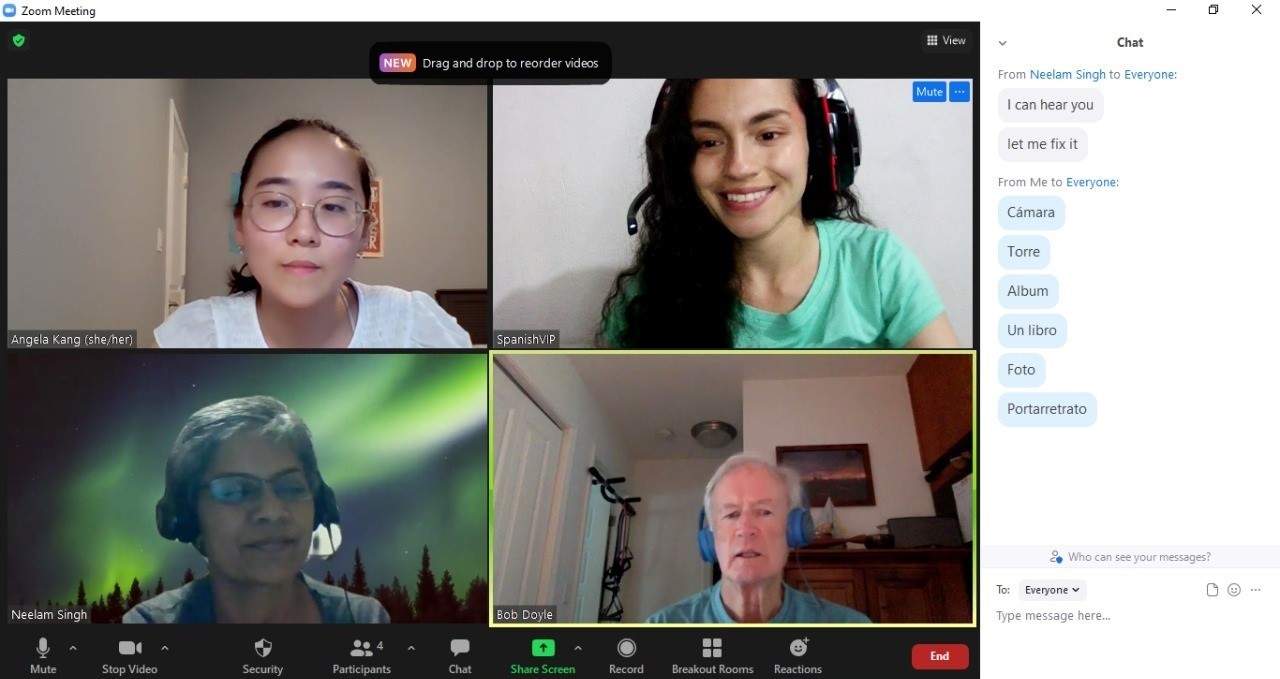 👉B2 Classes
Congratulations! You're now in a B2 class, which means you've learned and practiced your Spanish for a long time, and now it's time to polish it off.
Here you will learn native expressions and tips that will help you to communicate effectively. On the other hand, Spanish grammar tenses are more complex, but you will realize how important they are when speaking Spanish.
We understand that the Spanish language has a lot of tenses, and that's why we also have some special B2 classes designed for this level.
We will motivate you to debate by opting for genuine and solid arguments based on our actual context.
That means that you will acquire new vocabulary while you're exposed to real-life situations. We have a simulation class that will make you defend yourself in an unexpected situation.
How to schedule your online Spanish classes
The best way to schedule your online Spanish classes is by reading the description of the lessons on the platform to get an idea of what you are going to learn.
We also include notes of the online Spanish courses to ensure you're in the right place.
We have these "Clases prácticas," which show you what you need to know about specific topics, but don't worry; you can request it if it's not on the current schedule so you can take it next week.
If the topic you want isn't available this week, don't worry. You can request to take it the week after.
Your teacher can help you with this, too; just send them an email with the online Spanish classes you're planning to take so they can guide you, considering your level, needs, and prior knowledge.
Learn Spanish online with our special classes
Spanish is by far the most valuable second language to learn.
It's the second most widely spoken language globally, with more than 400 million speakers, and becoming one of them is a challenging experience.
That's why SpanishVIP has created some recurrent special group Spanish lessons for you to practice every single skill according to your current Spanish level.
Check this out:
📙Conversational Club
Our conversational Spanish classes are designed to enhance your speaking skills. Your teacher will provide you with different questions and material to discuss various topics based on your level.
You'll work in pairs with your classmates in our breakout rooms. Once you've finished, your tutor will give you the corrections/recommendations so you can improve your Spanish conversation skills.
📙Listening comprehension class
During this lesson, you will learn exciting vocabulary related to the audio or activity you're listening to.
After that, you will listen to different resources so you can answer questions, give feedback or discuss a specific topic.
Every class is an opportunity to enrich your Spanish vocabulary.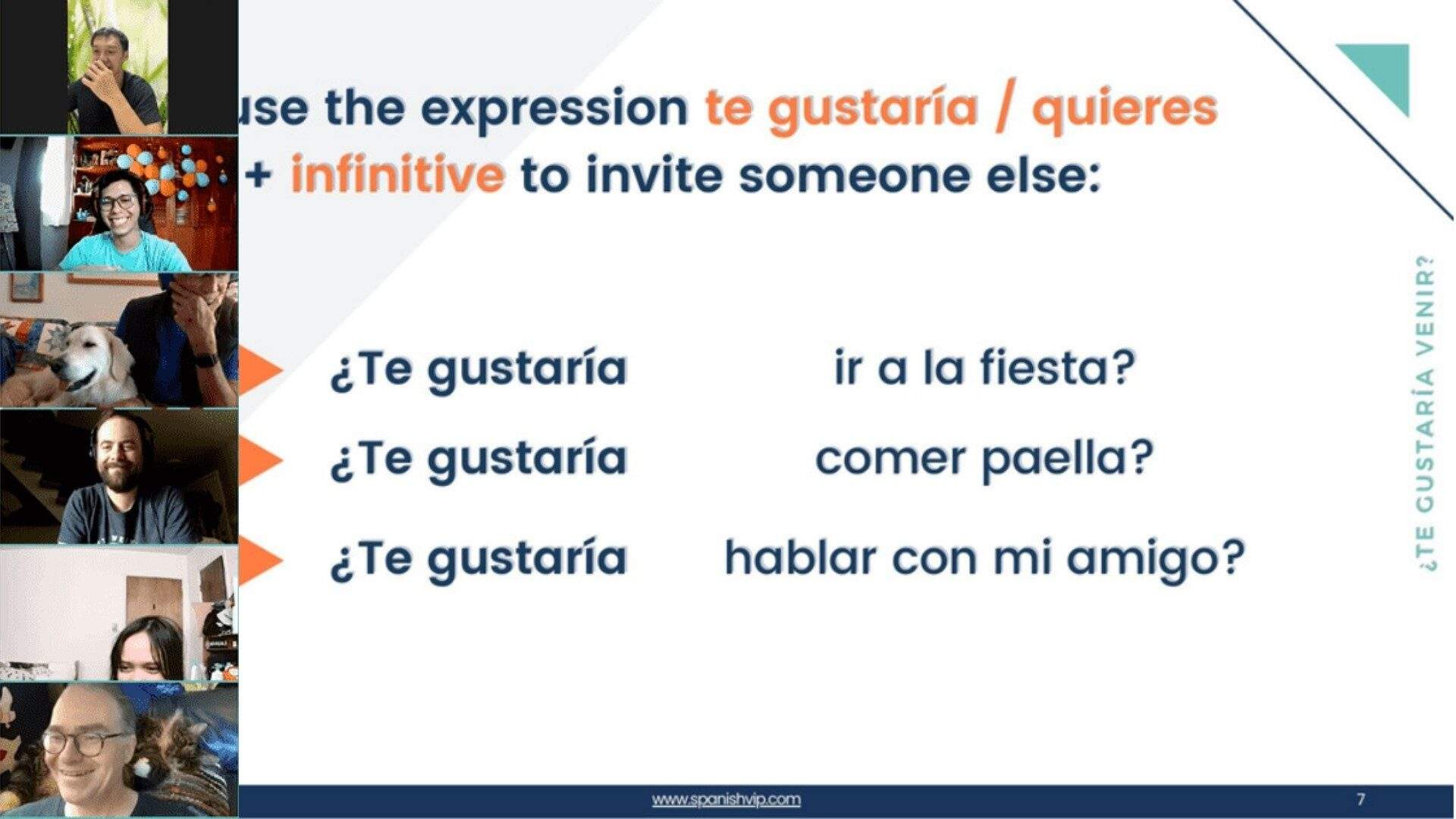 📙Reading comprehension class
Now it's your time to take control. Your teacher will provide you with some worksheets that contain reading activities about a wide variety of subjects.
The class will be divided into smaller groups to read and understand the text with your classmates. After that, you have to do activities that your teacher can revise.
📙Simulation class
This class is created for B2 students who want to challenge themselves by using all the Spanish tools they have acquired during their process.
You will participate in different role plays according to some information and material your teacher gives you.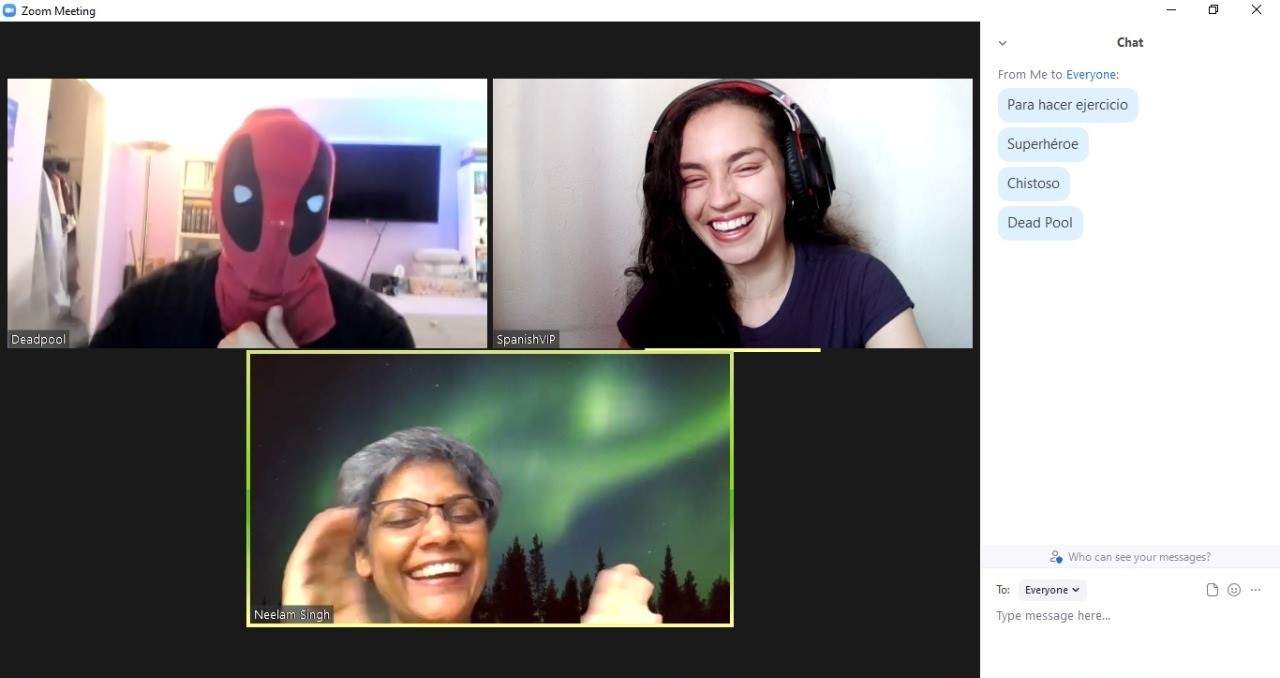 📙¡Vamos al Karaoke!
It's time to sing! We know that listening to music makes everything easier, and it's an excellent way to learn native expressions and words.
In this recurring class, you will be listening to Colombian songs while trying to discover their lyrics, absorb new cultural information, and learn more about our lifestyle. And don't worry, you don't have to sing.
The best part is that our curriculum is continually being built! That means: if you have an idea or suggestion for a class, we can create it. You are a valuable part of our language learning program.
Group classes + Private lessons: the perfect combo
SpanishVIP wants you to improve your Spanish speaking skills as much as possible, and that's why we have created a bundle program that allows you to take group classes with a dedicated teacher or take part in our private lessons.
This is the perfect combination for a person who wants to learn Spanish faster and dedicate more time to this incredible language.
You will realize how much progress you can make in a few months by opting for this experience.
Group and private lessons are designed to work in unison.
All of our private Spanish teachers also have access to the material we use during group classes, allowing you to go into detail with them and practice what you learned in group classes.
The best part is that your qualified private tutor will help you to schedule your group classes. That way, you will be able to have a more systematic approach to the language.
We are blown away by the progress Sarah has made in Spanish in just 4 months. Starting from basically zero knowledge, it's a testament to how far you can come in a short period with the right attitude and support. Hear Sarah's incredible progress speaking Spanish.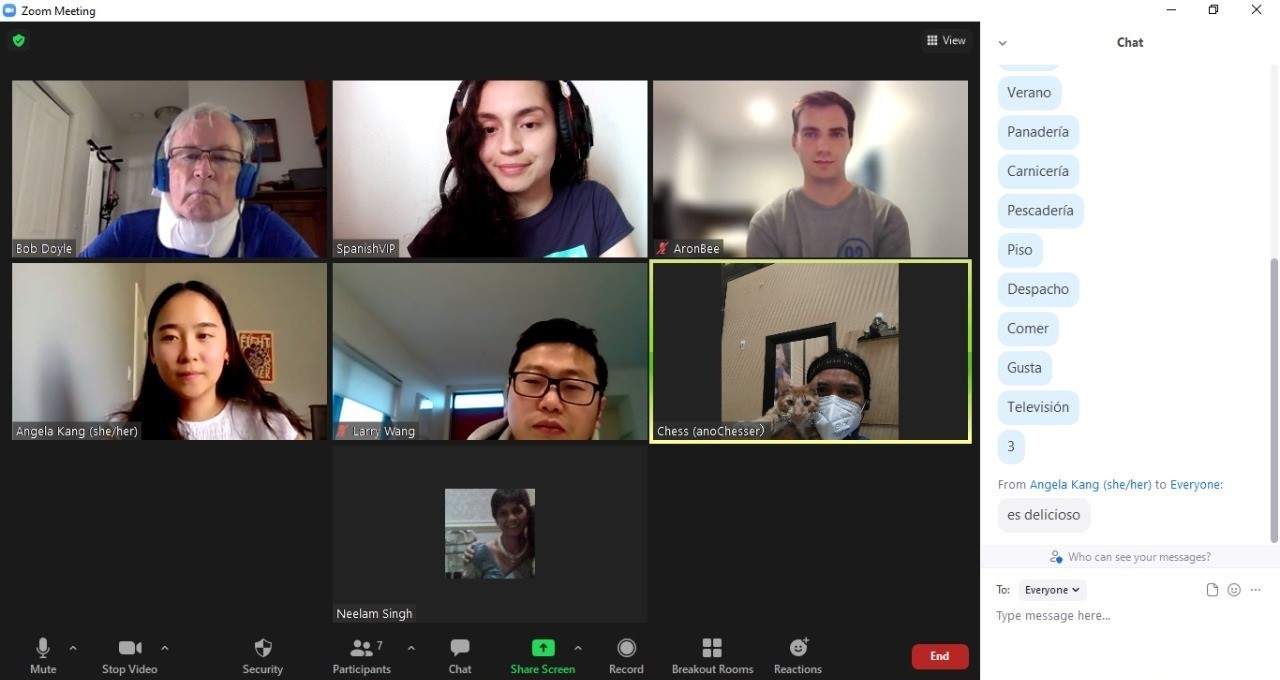 Remember, SpanishVIP is also a family, and all the teachers (group and private) are constantly communicating with each other.
In other words, they can design a unique plan for you according to what you already know and what you need to improve.
As a SpanishVIP student, you can join one of our group classes per week when purchasing our Conversational and Fluent Private packages.
This unique experience will allow you to practice your speaking and listening comprehension if you want to try our Conversational Club for each level.
Basically, you can put into practice all the grammar you've learned during the private lessons… Now that's a bright idea!
Here's a recording of a full SpanishVIP upper-beginner (A2) group class. The topic in this class was "verb periphrases" — which are verb combinations made up of an auxiliary verb and the main verb.
We're confident that you will have an incredible experience while you learn from excellent native Spanish speakers but also your classmates.
You can even create your study group with them so you all can share your tips and tricks.
Don't be afraid to give it a try; it's going to be fun!
Speak Spanish fluently! What are you waiting for?
Spanish doesn't have to be boring and strict. Join our group classes and have the opportunity to talk with new people, learn from others, and of course, improve your skills through amazing lessons.
Given the success of our group classes program, we are now taking this endeavor, zero-knowledge, to the next level by offering classes 24 hours a day! From Monday to Friday. Don't miss this opportunity!
¡Te esperamos!
Want to learn Spanish, fast?
Download our e-book, Easy Spanish Shortcuts, and learn your first 1,000 Spanish words in under a day!