The Dominican Republic is the second-largest island and the most visited in the Caribbean. This sun-blessed island is a playground full of long stretches of sandy beaches, crystal clear waters, tropical rainforests, lofty palm trees, and lovely locals.
The island is surrounded by the Atlantic Ocean and the Caribbean sea. Its tropical landscape is a paradise for anyone that comes to visit.
Let's take a look at what this beautiful country has to offer in this extensive Dominican Republic travel guide:
History And Culture
The original inhabitants of the Dominican Republic were the friendly Taínos and cannibalistic Caribes. But as you can imagine, the population was dramatically diminished during the six years of the Columbus invasion in 1492.
In 1503, the first African slaves were brought to the Dominican Republic to replace the thousands of Taino who lost their lives due to starvation, massacres, diseases, and overworking.
In 1605, the Spanish had to move their settlement from La Hispaniola to Santo Domingo to stop the slaves illegally trading with the Dutch, who they were fighting at the time.
In 1844, the Dominican Republic gained its freedom after the Dominican Independence War. Their independence started off shakily, to say the least. During the 1860's it briefly reverted to Spanish rule and was twice occupied by the US.
The first occupation by the US was from 1916 to 1924, and the second was from 1965 to 1966, with several volatile dictators ruling between these periods.
The 30-year rule of Joaquin Balaguer's presidency came to an end in 1996, and since then, the Dominican Republic has had a brighter, more stable future.
So, what about the Dominican culture?
The three cornerstones of the Dominican Republic are food, music, and family. You can expect 80% of the population to be a mix between Taino, Spanish, and African.
As for the language, there are still some Taino words that survived, but you can expect most people to speak Spanish as it is the official language.
You'll notice that the locals tend to live paycheck to paycheck and usually share their wages between families and take care of the neighbors when needed.
And at the end of a tough day, you'll see the locals dancing in front of the convenience stores called Colmados.
The most popular local dish is the La Bandera Dominicana, a mix of white rice, stewed beans, beef, salad, and much more.
Dominican Republic Travel Guide: Travel Destinations
So you've decided you want to go to the Dominican Republic. You've seen some pictures, and they look amazing, but you don't really know where to go or what to do.
Well, there is where we can help. In this section, we're going to point you in all the right directions, so you know exactly what tourist attractions you should check out:
Punta Cana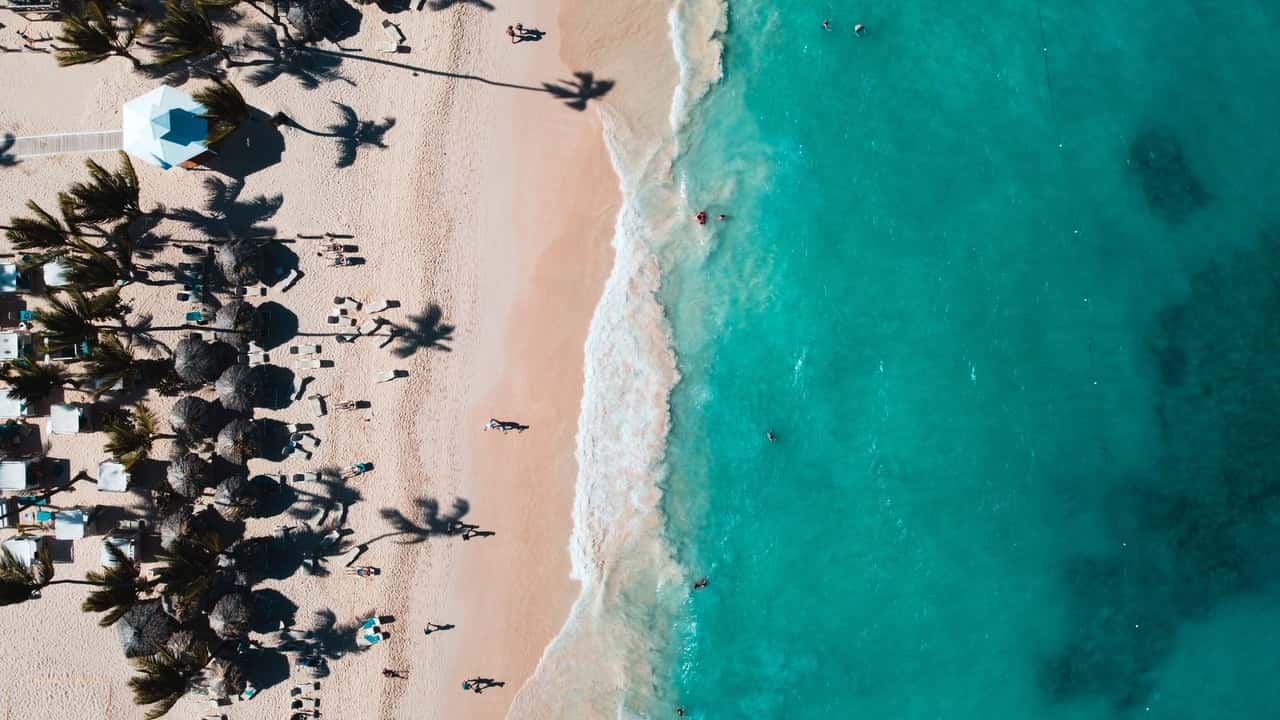 Punta Cana is an area where white-sand beaches meet the crystal clear waters of the Caribbean Sea. The premier all-inclusive resorts are a must-go for all visitors and are perfect for couples or families.
The most impressive stretch is Bavaro Beach, which gives you the chance to stroll through the ocean and relax on pristine beaches.
While on the beaches of Punta Cana, you can participate in a host of water sports activities from parasailing, swimming, snorkeling, and much more.
For many people, Punta Cana is a place where they start their Dominican Republic journey, thanks to the international airports.
The 27 Waterfalls Of Damajagua
One of the most exciting places in the Dominican Republic is the narrow gorge of waterfalls where you can jump from the top into the pools below.
If you've got a faint heart, then this adventure might not be for you. It gives you a serious adrenaline rush.
You'll be taken on the tour with a qualified guide and given a life jacket and helmet to keep you safe on your adventure. You'll climb a series of ladders as you watch people jump into the pools below you.
Some of the drops can be relatively high, so don't worry if you change your mind; you can always climb back down the ladder.
Jarabacoa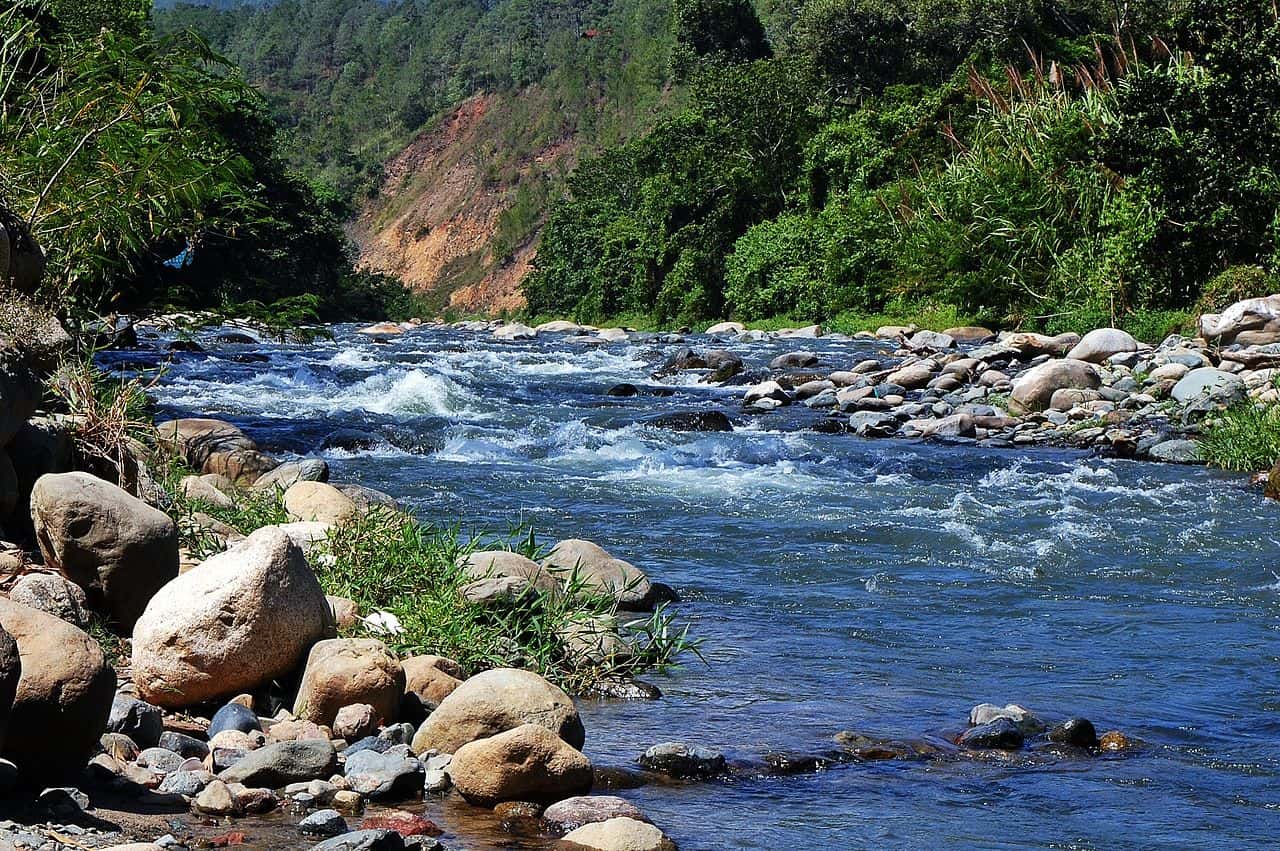 Thanks to the tropical climate, Jarabacoa is known as the "city of everlasting spring." But the area is really known for its mountains and scenic beauty. The primary reason people visit this area is to go and look at Jimenoa and Baiguate waterfalls and the Ebano Verde Scientific Reserve.
Jarabacoa is a stunning area full of adventure opportunities, including hiking, biking, rafting, and much more.
TIP…

You can expect the days to be cooler thanks to the 500-meter elevation, and nights can be rather chilly.
If you are not looking for adventures, you can chill out at the 9-hole golf course or visit the Cistercian Monastery.
El Limon Waterfall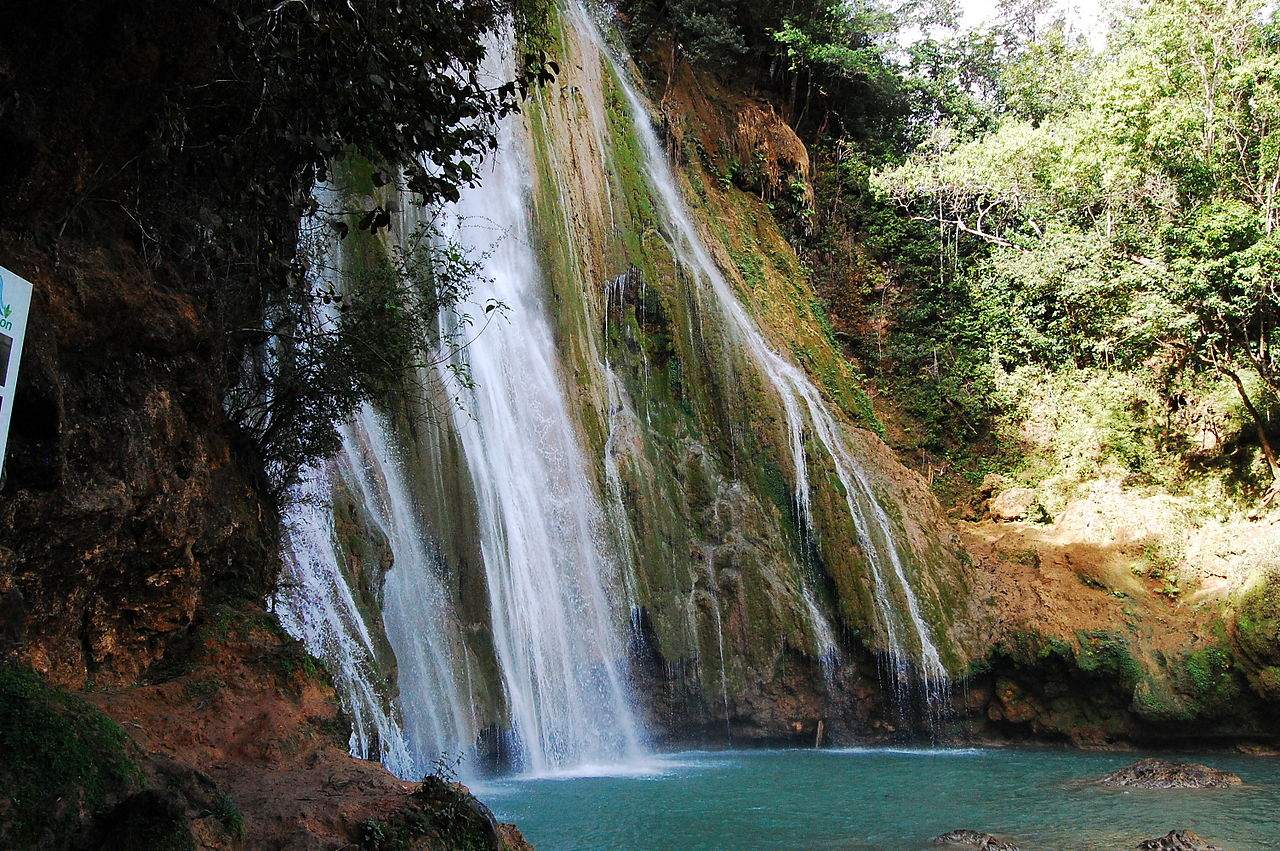 If you love waterfalls, this is an excellent place for you to come and check out. The waterfall drops 50 meters into the pool below. It lies on the Atlantic Coast side of the Dominican Republic, which gives a different filling from the Caribbean.
Getting there is no walk in the park. It can be a terribly sweaty ordeal; you have to cross several rivers, which you can do on horseback.
Luckily, once you're there, you can cool off in the stunning swimming hole at the bottom of the waterfall.
If you decided to walk, it would take a 40-minute hike through rivers and over steep terrain, which is why many people opt to travel via horse riding.
Lake Enriquillo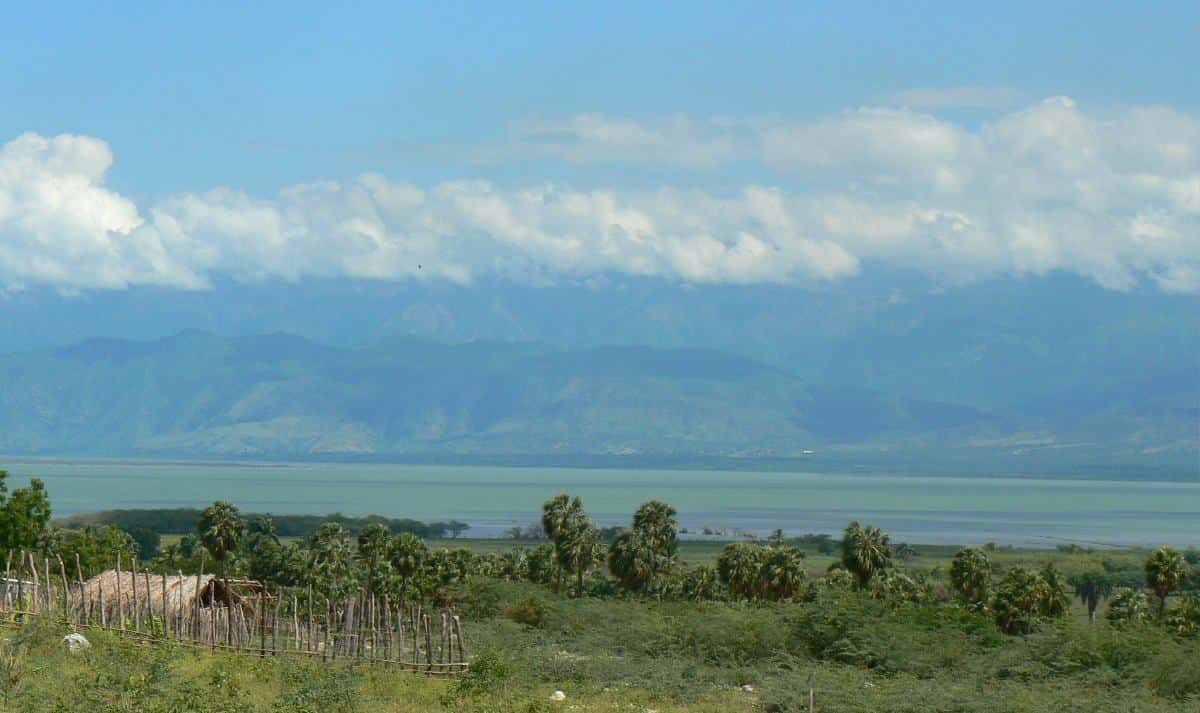 The main charm of Lake Enriquillo is the flock of pink flamingos and iguanas. It's known as the largest saltwater lake in the Caribbean. And that's not the long thing that makes it unique; it's also the lowest point in the Caribbean, sitting at 45 meters below sea level.
You can take ferry rides across the lake, which is infested with reptiles, to Isla Cabritos, a tiny island at the center of the lake.
From here, you can look at the famous rock art left behind by the Taino tribe hundreds of years ago.
Samaná Peninsula
If you've been dying to see whales in their natural environment, then head to Samaná Bay from December to March.
Thousands of humpback whales enter Samaná bay to mate and give birth in warmer climates. Making this one of the best places in the world to see beautiful giants in the wild… you won't be disappointed.
You can book your trip on the Samaná Peninsula, the main departing point of the whale-watching tours.
TIP…

The city of Samaná holds little else for visitors other than whale watching, which doesn't make it the best place to stay.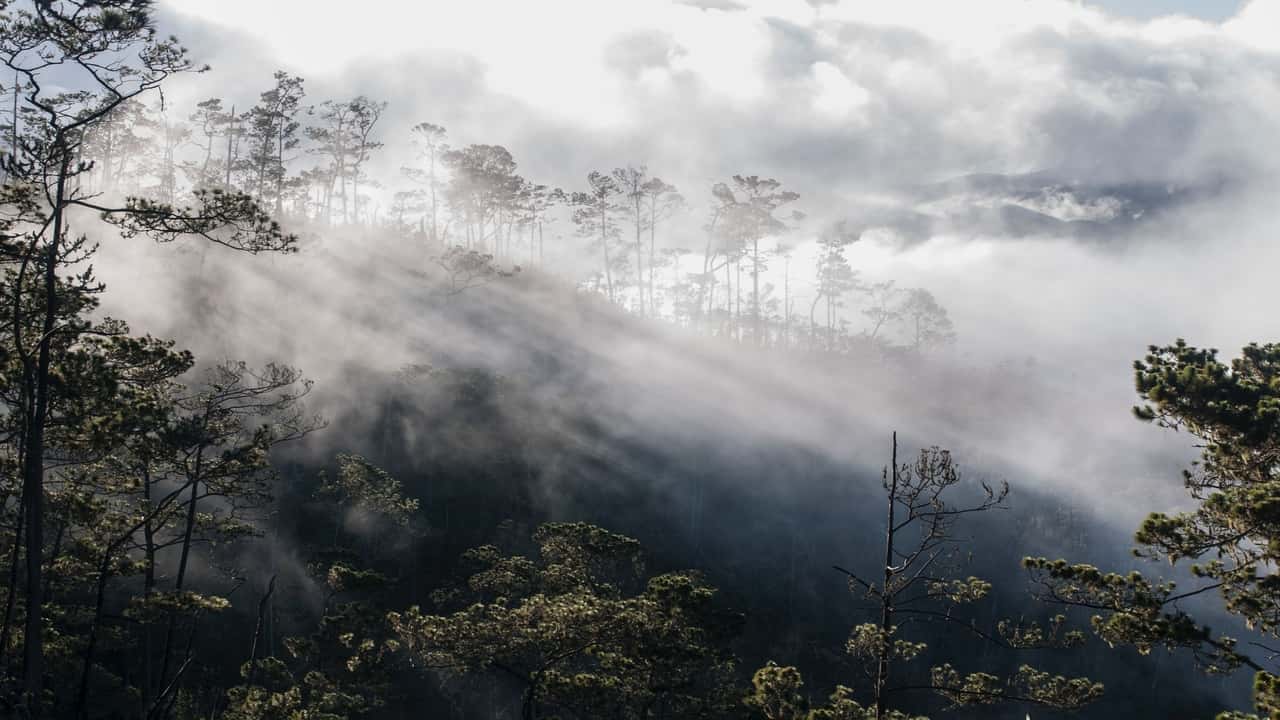 Not only is the Dominican Republic home to the lowest point in the Caribbean, but it's also home to the highest mountain ranges. The mountain range is located in the Cordillera Central area and is a very popular location among adventurous nature lovers out there.
The trek will take you about two and four days to summit, but that depends on the route you decide to take. The peak lies 3,098 meters above the Caribbean Sea; once you're at the top, you'll be left in wonder by the stunning views the mountain offers.
Not only will you have breathtaking views of the Dominican Republic, but you'll also be filled with pride after climbing the highest peaks in the Caribbean.
Santo Domingo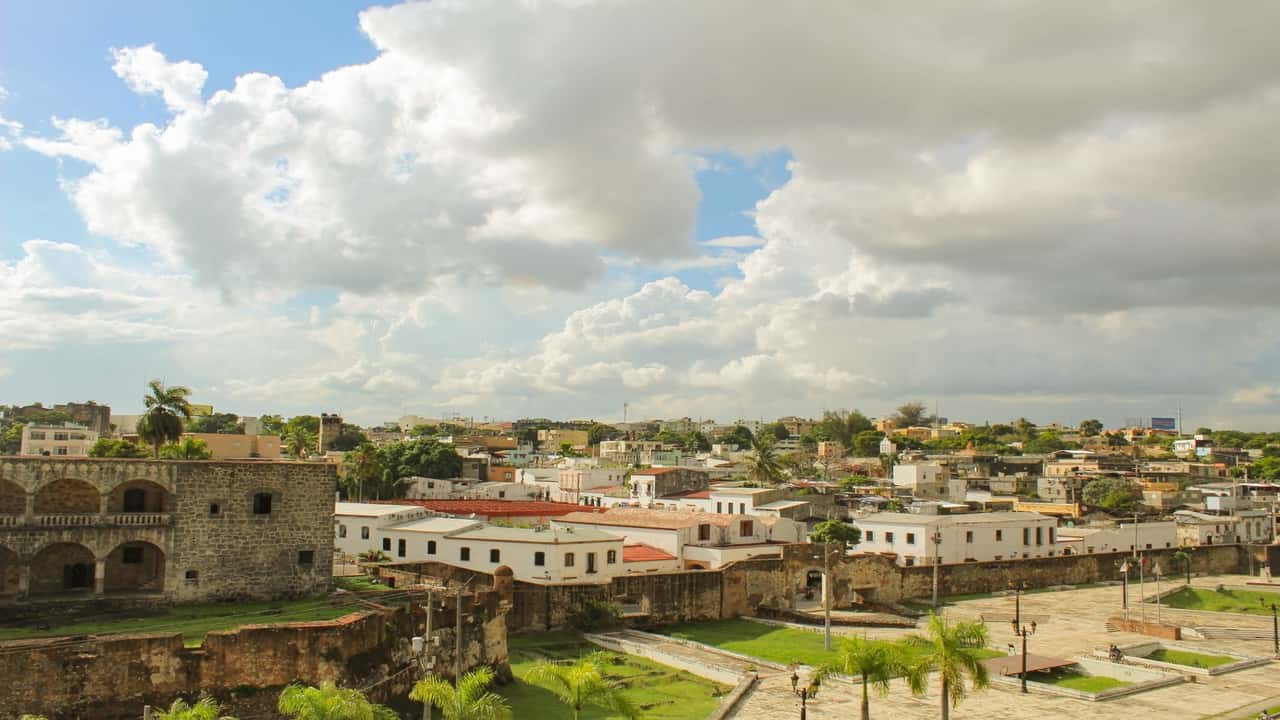 It's thought that the capital city of Santa Domingo was where Christopher Columbus first landed in America. But today, you'll see the hustle and bustle of everyday life in one of the major cities and a UNESCO World Heritage Site.
If you love exploring old colonial buildings, then Santo Domingo is the place to be. You'll find stunning architecture, museums, shops, hotels, and beautiful squares in Zona Colonial.
They have a mixture of crumbling ruins like Monasterio de San Francisco and beautifully preserved places like the Catedral Primada de América.
Puerto Plata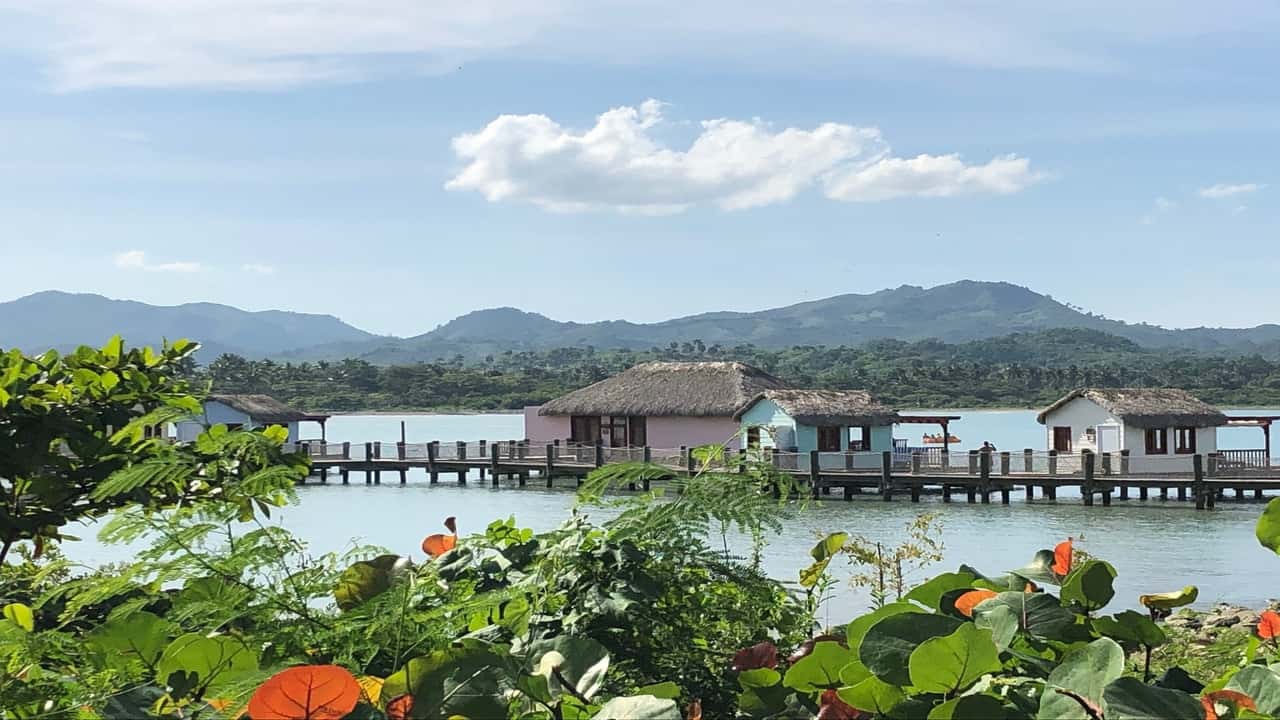 Puerto Plata is a beautiful destination with the stunning beach resorts of Playa Dorada (known for its wealth of Victorian architecture) is one of the biggest tourist draws.
Take a walk along the north coast and look over the Atlantic Ocean from Puerto Plata
The golden sand beaches of Puerto Plata are packed with luxury inclusive resorts but less densely packed than the other most visited destination, Punta Cana.
Thanks to quiet, beautiful beaches and resorts, you'll get the wonderful feeling of tranquility in Puerto Plata. The best thing is, the waters are calm too, which means swimming and snorkeling are easily accessible.
La Romana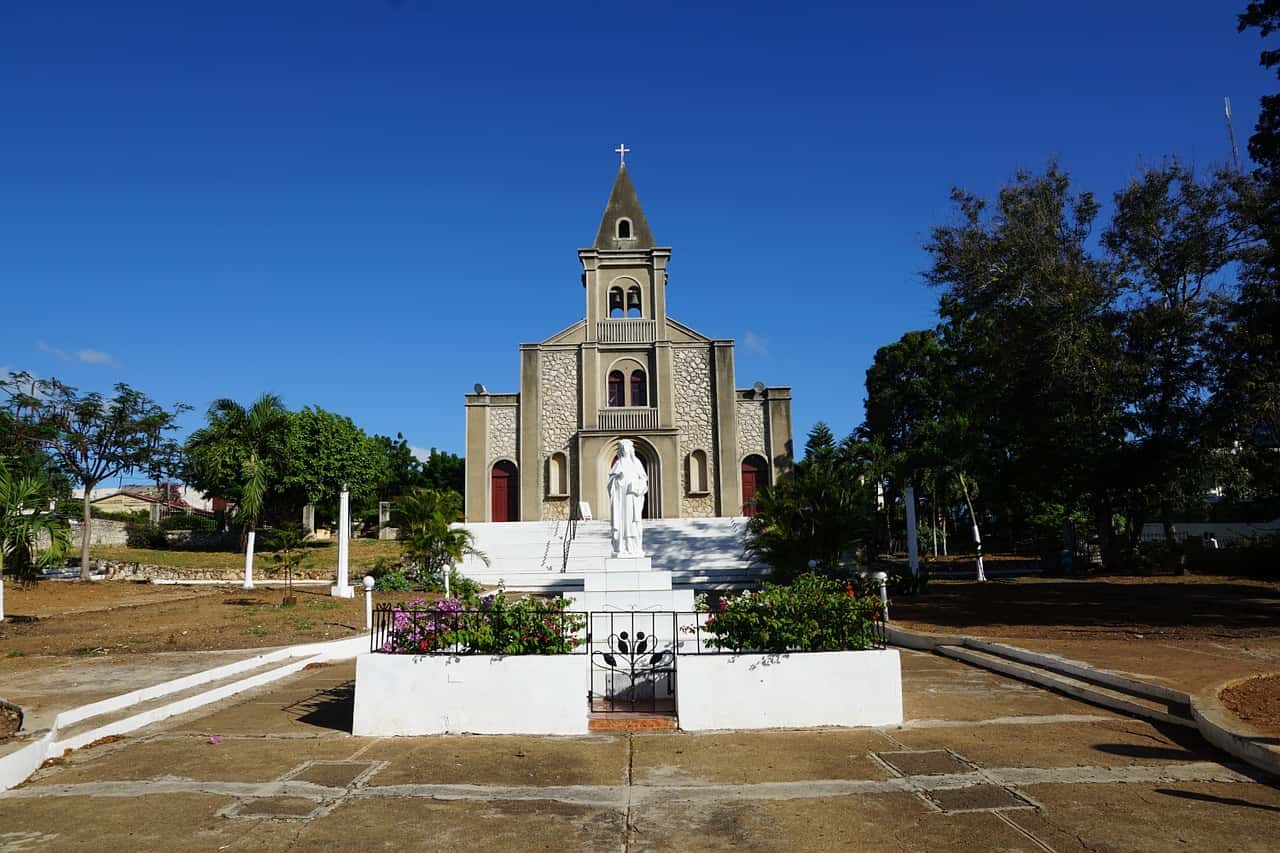 The 16th-century town of La Romana is located on the southeast coast of the Dominican Republic and is a beautiful place to visit. The area isn't too far away from the popular Punta Cana and is aimed towards travelers looking to self-cater.
One of the most popular attractions to La Romana is visiting the Altos de Chavón, where you can find beautiful craft shops.
Just down the road from La Romana, you have Bayahibe, a small fishing town that can take you to Isla Saona.
Cabarete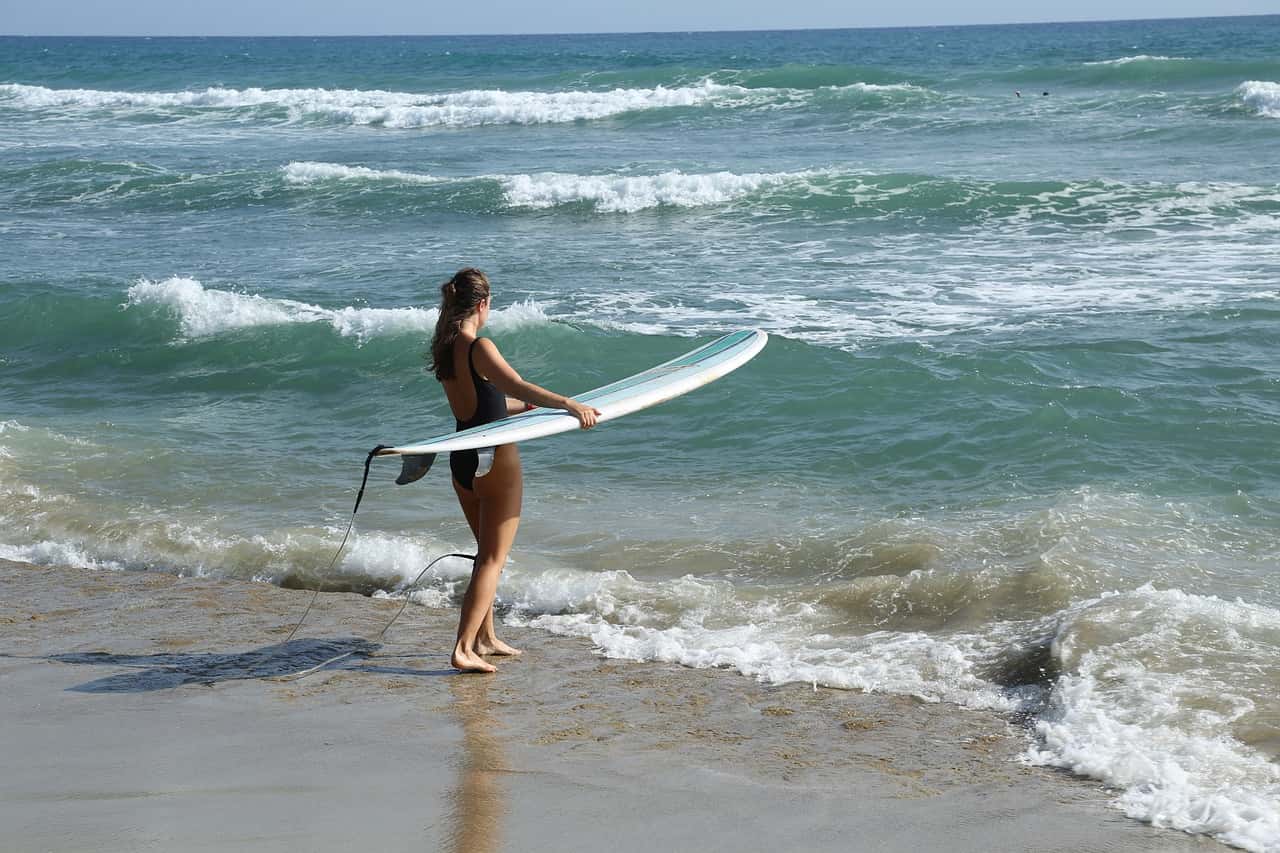 This beach town is known for its laid-back atmosphere, huge crescent-shaped beach, and perfect waters. You'll find a host of restaurants lining the beach full of fresh seafood dishes and much more; perfect meals for enjoying on the beachfront.
What makes this area different from Puerto Plata and Punta Cana is it doesn't hold all-inclusive luxury resorts. Instead, this place attracts backpackers, surfers, and people on a budget looking to spend their holidays in paradise.
It's a far cry away from the luxury of Puerto Plata and Punta Cana but still a must-see location.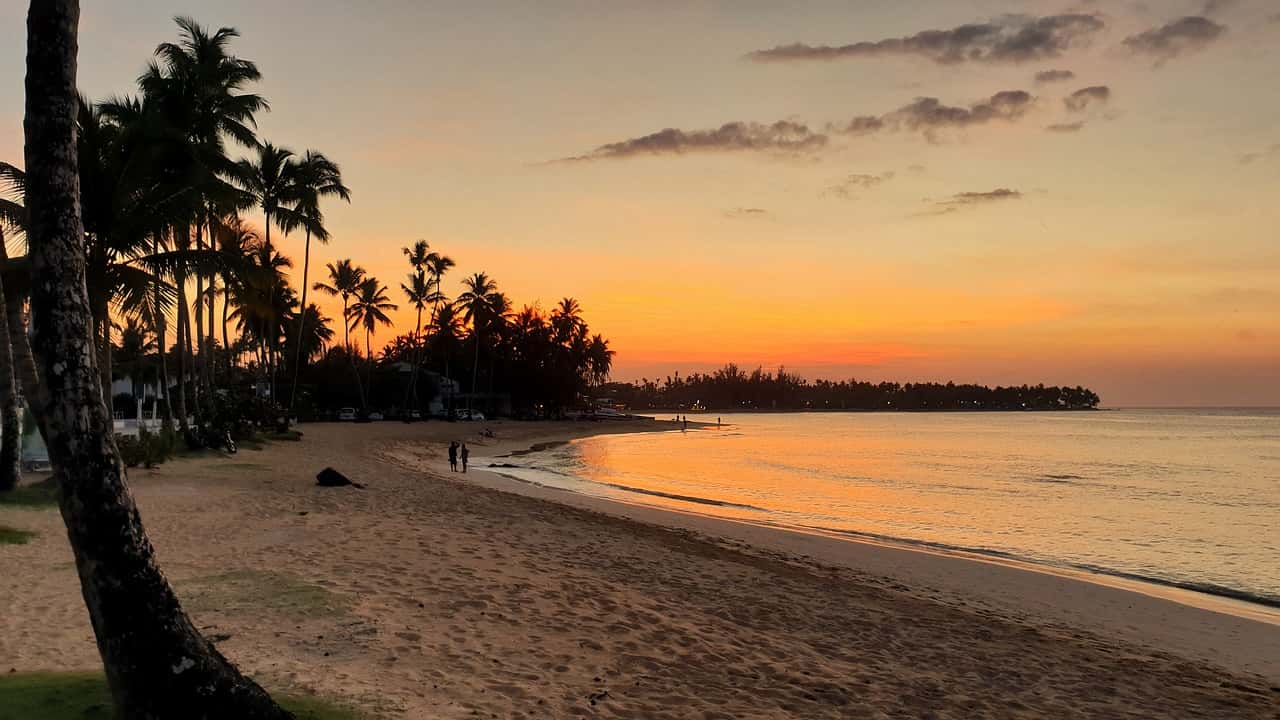 Las Terrenas is found on the north coast of the Dominican Republic and was once a small fishing village. But that all changed in 1946 when the president ordered people from Santo Domingo to settle there as farmers and fishermen.
Now it's grown into a popular tourist destination thanks to the beautiful landscapes and stunning beaches. Las Terrenas is also a great place to whale watch and spot some dolphins if you're lucky.
Is It Safe To Travel To The Dominican Republic In 2022?
The popular travel destination of the Dominican Republic is unfortunately rife with poverty, which sadly means an increase in crime.
There have been reports of muggings at gunpoint in broad daylight in residential areas. There are also reports of pickpocketing and petty theft throughout the Dominican Republic. Even at the airports, there are reports of assaults and robberies.
It's suggested to be very careful when traveling at night, due to it getting dangerous.
And as always, you don't just have to contend with the dangers of people; you also have to be careful of what mother nature chucks at you.
The sea can be dangerous, so you must pay attention to the warnings, flags, and riptides. Earthquakes and hurricanes are also common occurrences that the locals and tourists have to deal with.
Here are a few travel safety warnings for you to be aware of:
Mugging
There have been cases of muggings in the Dominican Republic and even reports of tourists being kidnapped and taken to the nearest ATM to empty their bank balances.
For this reason, you need to be careful when you're traveling around Santo Domingo, María Trinidad Sánchez, Santo Domingo Province, Santiago, and Valverde.
Make sure you have some travel insurance, if you get anything important stolen you know you're covered.
World Nomads
What's Covered?

Chick Here for more Details

Travel Accidents

Overseas Dental

Delayed Baggage

Digital Nomads

Pregnancy

Stolen Credit Cards

Stolen Passports

And Much More…
Scams
One of the most popular scams is people distracting you while you're at the cash machine so they can take your money. Another one to watch out for is taxi drivers overcharging you. If you want to avoid getting scammed by taxis, renting a car is always a great option:
Discover Car Hire
Why Choose Them?

Book Your Car Now

Located At Most Airports In The Country

No Hidden Fees

24/7 Customer Service

Free Cancellation

Provides Information You Can Trust

Must Be 22 Years Or Older
Female Travelers
Many people will travel to the Dominican Republic and have no issues. But it's worth noting the country isn't the safest for solo female travelers. There have been reports of women being attacked and shamed.
If you're a solo female traveler, you should take precautions by avoiding the dark and not walking down empty streets.
Transport Theft
Transportation isn't safe if you're traveling at night. Most of the robberies and pickpocketing happen on public transport, so be careful. Try not to hail taxis off the streets and instead call a reputable taxi company.
Most people also tend to stay away from motorbike taxis, they are cheaper, but you never know who you're getting a ride with or what state of mind they're in.
How Can I Avoid Getting Sick In The Dominican Republic?
There's nothing worse than getting sick while you're on your holiday, especially if it's something you've been saving up for all year.
It's a nightmare that all too many people go through, but there are some pretty nifty tricks you can use so you don't get sick. Many of them may seem like common sense, but it's still worth mentioning:
Use mosquito spray to avoid diseases like Dengue, Malaria, Zika virus, and Chikungunya.

Drink Plenty of water

Don't drink water from taps

Don't stay in the sun for too long

Don't use tap water to brush your teeth with

Wash your hands before eating

Be careful when you travel to low-income areas or try to avoid them altogether.

Be careful when eating raw foods

Bring tablets for diarrhea

Be careful around street dogs; some of them have rabies

Avoid street food

Eat fruits that can be peeled, or wash the fruit before you eat it.
Just these simple steps can help you avoid getting ill during your stay, which, let's face it, is very beneficial for you.
We should mention that there is a problem with HIV and AIDS in the country, so be careful and protect yourself.
Is The Dominican Republic Expensive?
If you're planning to travel to the Dominican Republic, you probably want to know how much it's going to cost you.
As we're sure you know, how much the holiday is going to cost really depends on how you like to travel and where you like to stay. But in this section, we're going to try and give you an idea of the overall cost.
Let's take a look at the average 7-day trip:
Solo Traveler:

$750 – $1,200+

Couple:

$1,500 – $2,500+

Family Of Four:

$2,500 – $3,500+
On average, the per-person cost is $109 for a good time, which, as you can imagine, isn't that bad. To help you get an idea of what you're going to be spending, let us break down some prices for you:
Accommodation:

$50-$200+ per night per person.

Meals:

$20-$30+ per person per day.

Travel:

$10+
You might also want to take part in some activities while you're there, in which case, you should have a look online to see what they are offering and how much it will be.
The prices above are a rough guide, and you may find things cheaper or more expensive depending on the types of traveling you like to do.
If you want to check out the flight prices so you can add them to your budget check out the table below:
Kiwi.com
Why Choose Them?

Plan Your Trip Here

Competitive Prices
Plan Your Full Trip From The Website
Provides Excellent Support
Get Price Alerts On The Move
Manage Your Bookings
Make sure you change your dollar to the Dominican peso before leaving to get the best exchange rate.
Wrapping Up!
Given its diverse landscape and privileged location between the Atlantic Ocean and the Caribbean Sea, the Dominican Republic is one of the most visited destinations in the area featuring leisure and outdoor activities for all tastes and for a very reasonable price.
Remember, learning Travel Spanish before planning your trip will not only help you get around your destinations more quickly and communicate fluently with the locals but totally enrich your travel experience to a whole new level.
Try a free private class or sign up for a 7-day free trial of our group classes to see how thousands of students dominate the Spanish language with SpanishVIP.
What to learn Spanish, fast?
Download our e-book, Easy Spanish Shortcuts, and learn your first 1,000 Spanish words in under a day!