Chile is an extremely thin slice of land that stretches the western coast of South America and the Andes Mountains.
You'll be blown away by the variety of geographic locations; you get everything from forests, National Parks, deserts, volcanoes, and much more. To make things better:
The nation is also home to the world-famous Easter Island and a small section of Antarctica.
And it's not just the beautiful landscapes and locations that bring people to Chile. In the whole of South America, it's one of the most stable and prosperous countries.
If you want to learn more about this beautiful country, make sure you stick around until the end of our Chile travel guide:
History And Culture Of Chile
It's thought that the first people to settle in Chile were migrating Native Americans called the Mapuche (meaning "People Of The Land" in Mapudungun). They established colonies there because of the fertile lands in the valley and successfully repelled the Incas from invading.
The Mapuche people lived happily until 1520 when Ferdinand Magellan was the first European to arrive in Chile. By 1540 the Spanish Conquest was in full force, and enslavement began on the Mapuche.
The conquest of Chile was led by Pedro de Valdivia, who eventually established Santiago in 1541.
During the era of the Spanish Conquest,  the Mapuche people fought back against the Spanish. That was until the Spanish abolished the enslavement of their people in 1683.
And it wasn't until 1808 that people began to strive for their independence. The motion was primarily sparked when Napoleon's brother took the Spanish throne.
By 1810, Chile proclaimed itself an autonomous republic, but Spain wasn't happy about this and tried to reassert its rule on the people.
The warfare continued for the next 7-years, that was until Bernardo O'Higgins led an army across the Andes to defeat the remaining Chilean royalists. In 1818 he proclaimed independence for the county.
Although Chileans had won the War of Independence, it didn't do anything to alter the divided levels of the class produced by the Colonial structure. Unfortunately for the natives, this meant wealthy landowners were in power throughout the 19th century.
Chile started to solidify its borders by building the Archipelago of Chile. This suppressed the Mapuche independence in the south.
During the War of the Pacific, Chile gained control of more land from Bolivia and Peru and secured more nitrate deposits.
In 1891 a civil war divided the country. They built a Parliamentary democracy that was run by the financial elite, which destroyed the economy.
As the powerful working class and a middle class emerged, they were able to bring in a reformist president in the 1920s.
During 1924, General Luis Altamirano led a couple that created political instability and chaos, leading to ten different governments by 1932.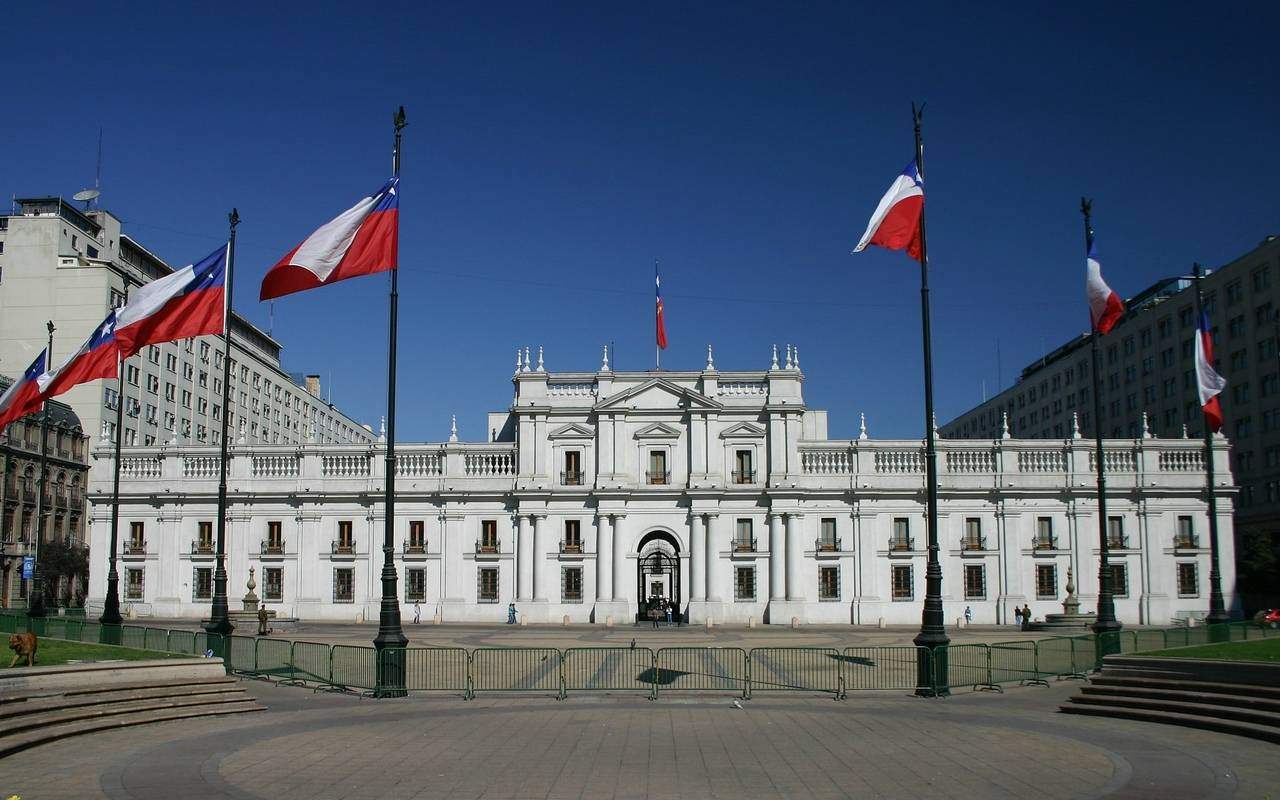 It wasn't until Ibáñez del Campo was voted into power with a government coalition where things started to return to normality.
By the 1970s, the socialist Senator Salvador Allende had taken power, but this led to the depression of 1972. To try and steady the economy, Allende initiated joint public and private-public work to provide employment.
He also introduced price freezes, wage increases, tax reforms, nationalized banking, and mining.
But this was all very short-lived. The Nixon Administration in the US did not like his socialist agenda, so he sent secret operatives to destabilize the government.
Due to the pressure of the US government and restricted access to international trade, it crippled the economy with inflation by 1973.
Fast forward to today, and things are far more stable. And although they had a bumpy start, they now proudly boast the highest per capita living standard in Latin America.
So, what about the culture?
The colorful culture of Chile is a blend of European and indigenous traditions. You'll find that the people are very happy and, in the most, extremely friendly.
They also take pride in traditional handicrafts, which are used in everyday life and festivals. You'll also notice the people have kept the Catholic religion, which colonial Spain introduced.
Currently, the country is at peace, making it a very safe and friendly place. But, it's known for being a little bit sensitive about being a smaller nation, next to big neighbors.
If you want to take pictures of government buildings, the army, and navy boats, you should ask for permission first.
The Best Cities And Towns To Visit In Chile
If you're wondering where you should stay, or what cities and towns you should visit, then this action will explain everything you need to know.
So, let's take a look at some of the most popular cities in Chile:
San Pedro De Atacama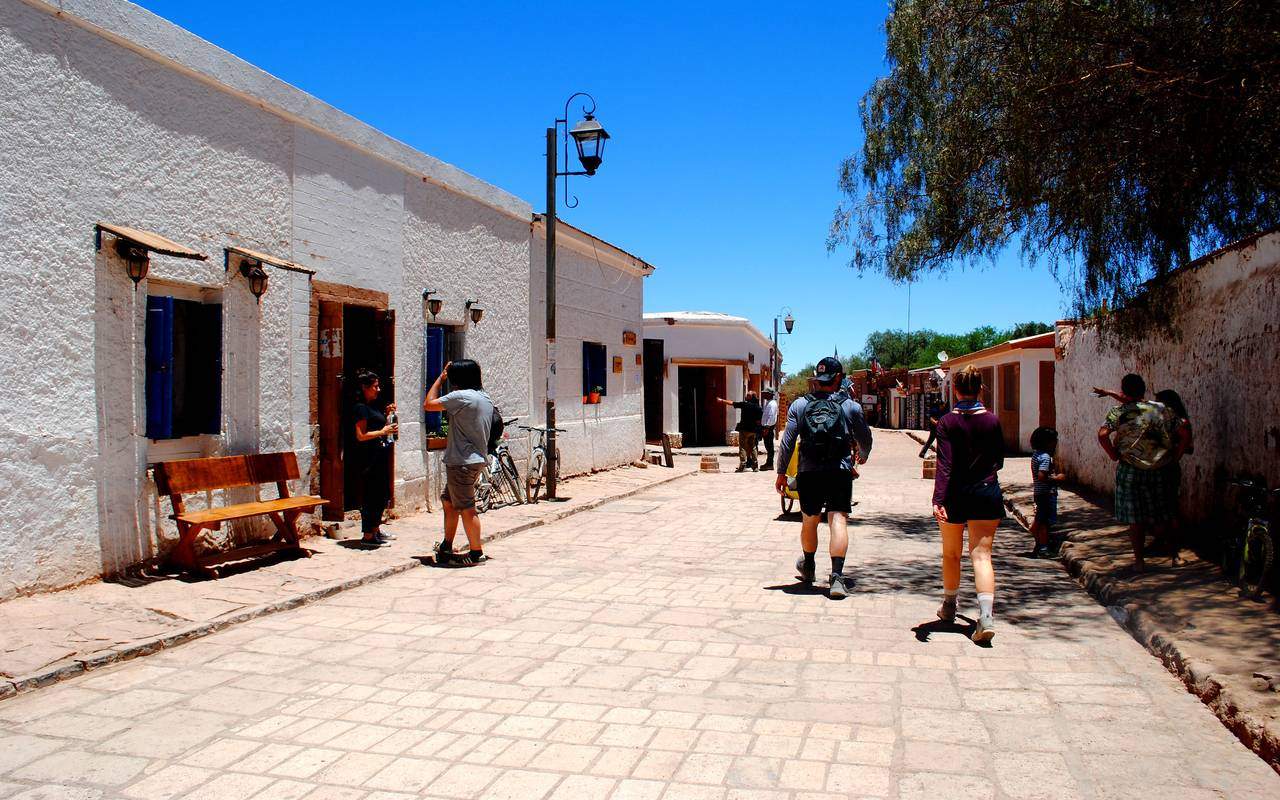 The town of San Pedro de Atacama is found in the desert oasis, which sits high in the plateau. It's a quiet little town in the northeast of Chile and is known as the driest desert in the world.
You'll find the landscape is very dusty and in the wind, you'll want some sunglasses on.
If you're looking for things to do on your journey, the area has a vast array of salt flats, geysers, volcanoes, and hot springs.
But that's not the only wonders the town has to offer. The area is full of rich history where you can learn about pre-Columbian civilizations that occupied the area before the Europeans arrived.
The town is relatively small and quite spread out, but you have access to everything you need without much traveling. You'll find some fantastic restaurants that serve incredible food and local shops with excellent handcrafted goods in the town.
Punta Arenas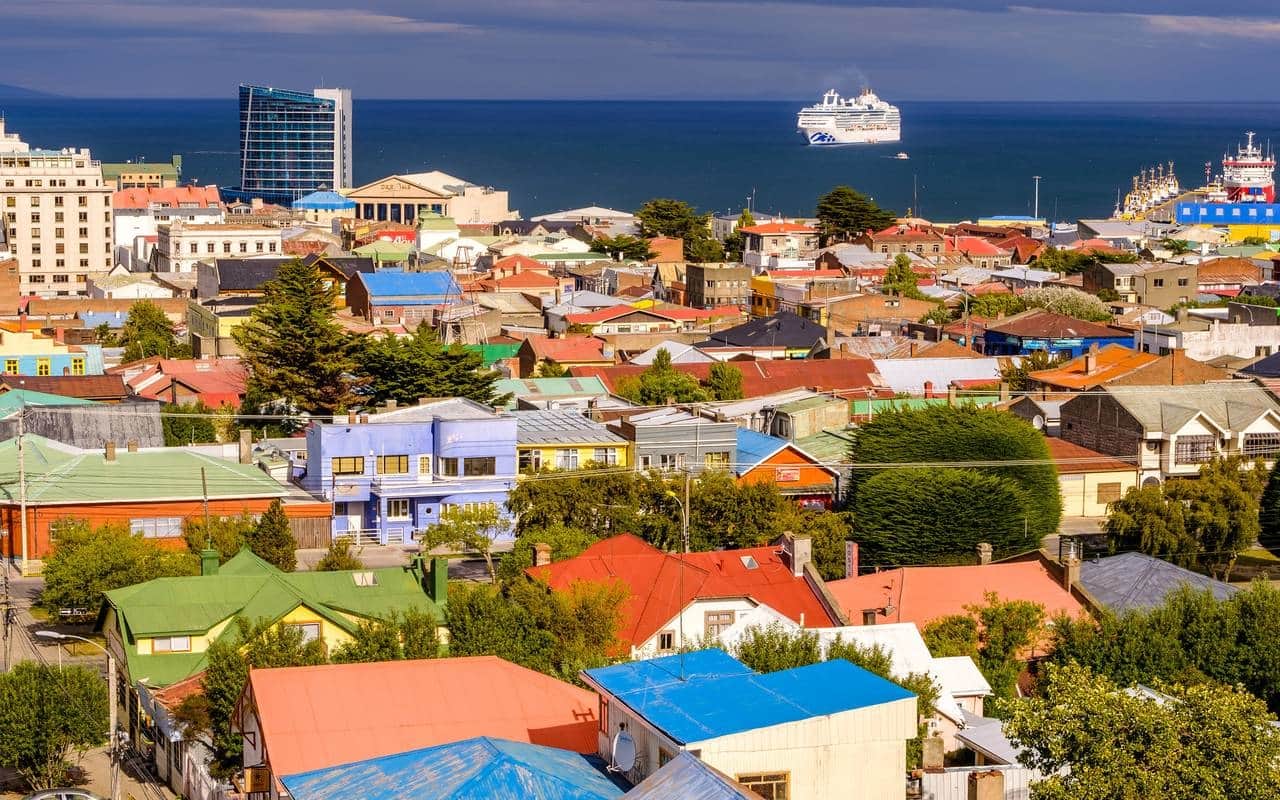 Punta Arenas is a great mix of rural wooden houses which are sandwiched between gigantic malls and buildings. The port city is located in the south of Chile and borders the Magellan Strait.
The area of Punta Arenas has become very wealthy due to the petrochemical industry, which really boosted the population.
But what can you do in the area?
The city hosts a massive amount of tourist services to offer clients. You'll also find some fantastic sights that lie just outside of the town. If you've been planning to explore the Tierra del Fuego or the Torres del Paine national park, then the city is an excellent stop-off point.
Santiago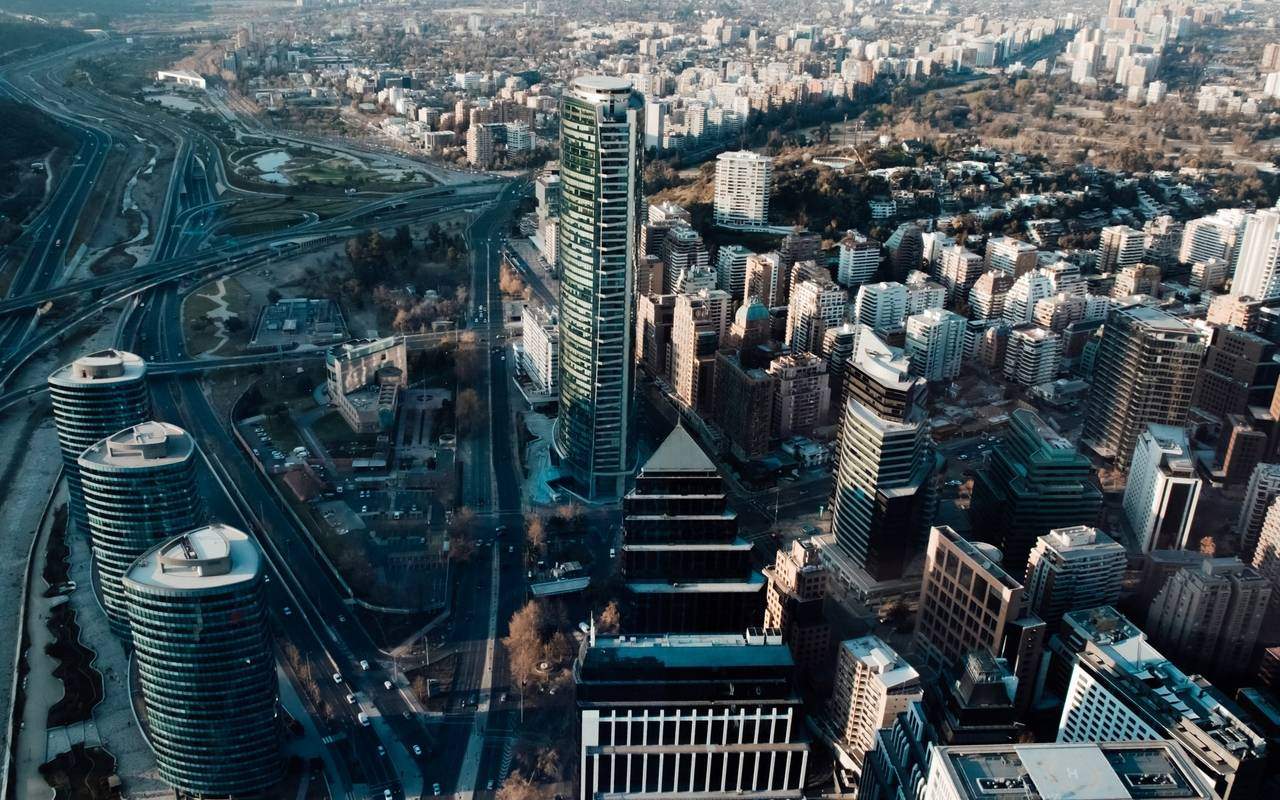 For people that want to visit the capital city of Chile, you should head down to Santiago. The city has the highest population rate, with just over seven million people.
One of the great things about this city is you're surrounded by diversity which you probably wouldn't find in any other city. The backdrop of the town is the beautiful Andes Mountains which give a lovely atmosphere.
In Chile's capital, you'll find many students that flock to some of the best global universities in the county and South America.
So, what can you do in or around the city?
The city is very well located, you can do anything from hiking mountains to driving to beaches. You can also take free tours around the city which will introduce you to the history and architecture.
You can also chill out in the Santiago Metropolitan Park if you want to enjoy some peace while you're in the city.
You also have some of the best nightlife and restaurants in the area, so you have plenty of options.
Puerto Montt
Puerto Montt is known for its scenic surroundings and is considered as a major commercial and transit hub in the Los Lagos region. Having thrived thanks to the salmon farming industry, most parts of the city have an attractive working-class flavor.
One of the major selling points for many foreign visitors is that the city is nearly untouched by tourists but still has plenty of beautiful locations to visit in and around the area.
Puerto Montt has a stunning backdrop of snow-capped mountains on the horizon and is known for being the gateway to the Chilean Andes mountains and the Patagonian fjords.
While taking a trek around the city, you'll be welcomed to the stunning 19th-century neoclassical cathedral built entirely from wood. This beautiful church gives you beautiful views over the Plaza de Armas square, where you can watch locals go about their day.
Just outside the city, following the coastal highway on the shores of the Reloncaví Sound, you have plenty more sites to visit, like the Caleta de Angelmó market where you can check out local produce and handmade crafts. Take a trip a little further away, and you'll find the active volcanoes, like Calbuco and Osorno.
Viña Del Mar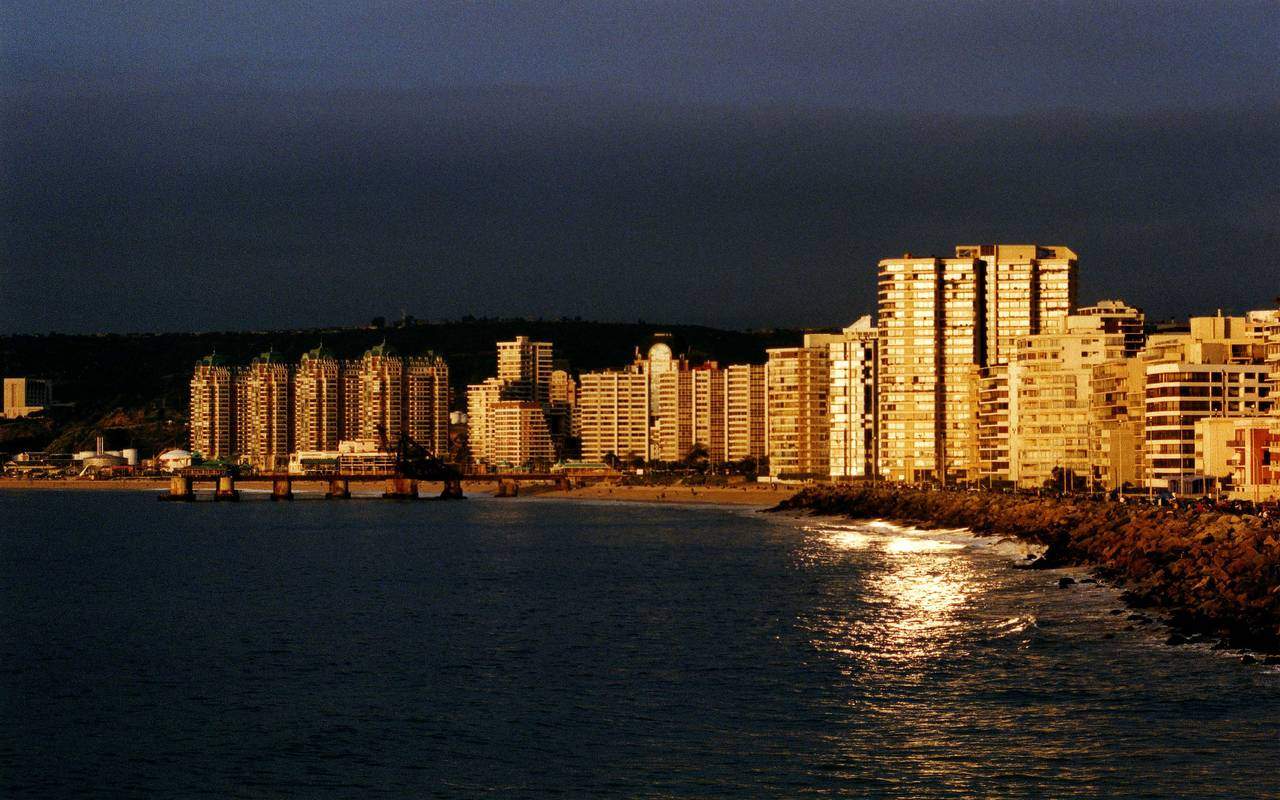 If you're looking for a place to relax with some fellow expats, then Vina Del Mar is an excellent place to visit. While walking around the city, you'll see hundreds of expats from all over the world living in the coastal town.
To the north of the city, you'll find the city Valparaiso. The strange thing is, these cities are so close together that they feel like one place. And what makes it more curious is they both use the same public transport links.
One of the main activities in the area is relaxing on the beach. Every day you'll see hundreds of people lying on the beach or taking part in water sports.
You'll also notice that the city has a very laid-back vibe, which is probably why so many people want to retire there.
Puerto Varas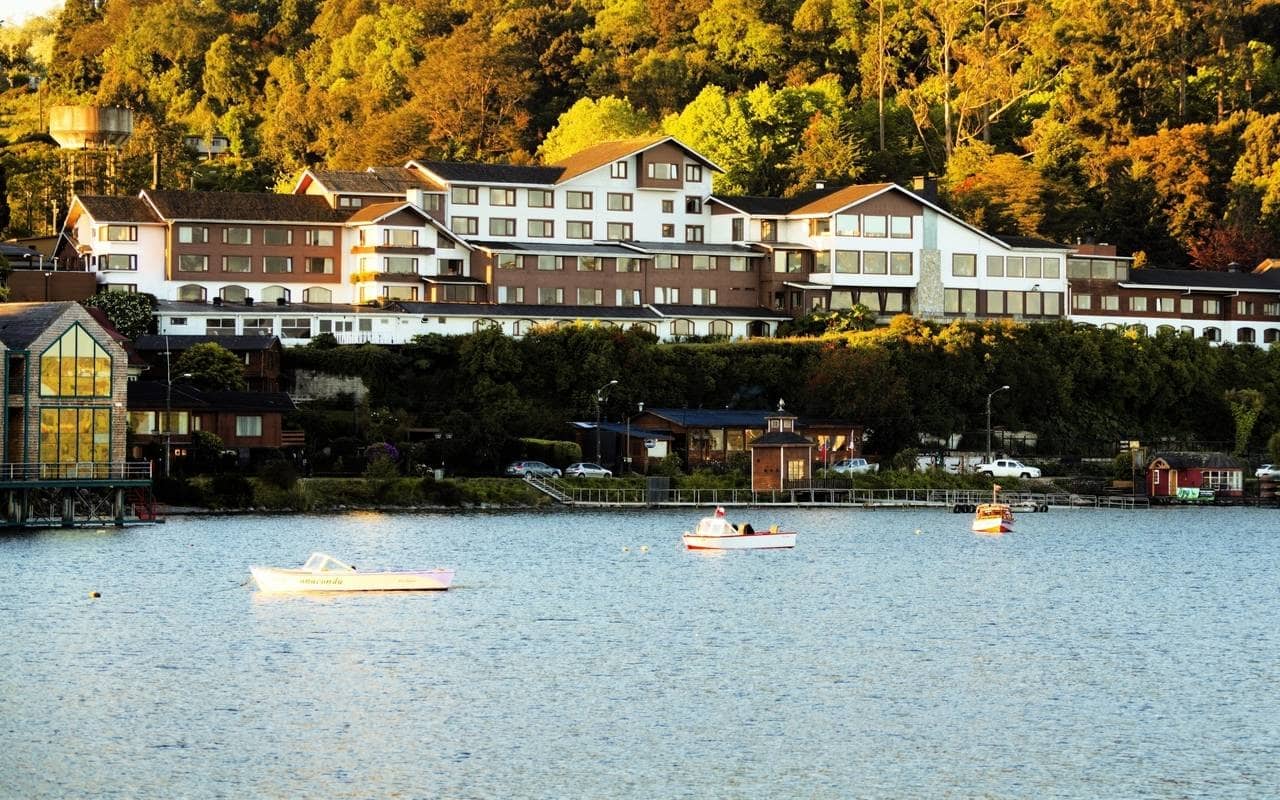 If you're looking for travel destinations of extreme beauty, then Puerto Varas is an excellent place to visit. Also located in the Los Lagos region You'll find the stunning backdrop and a sparkling lake in the background, which makes this a truly magical place.
The town has German heritage and colonial architecture that gives this city a very different feeling. You can really see and feel the mixture of German and Chilean influence that intoxicates the town.
In the area, you'll find a great range of activities to take part in, including outdoor adventures, rivers, and remote national parks.
Chile Travel Guide: Top Tourist Attractions
So you know some of the best cities and towns in Chile, but we haven't really spoken about things you can do or see in the country.
In this section, we're going to talk you through some of the top tourist attractions Chile has to offer:
Torres Del Paine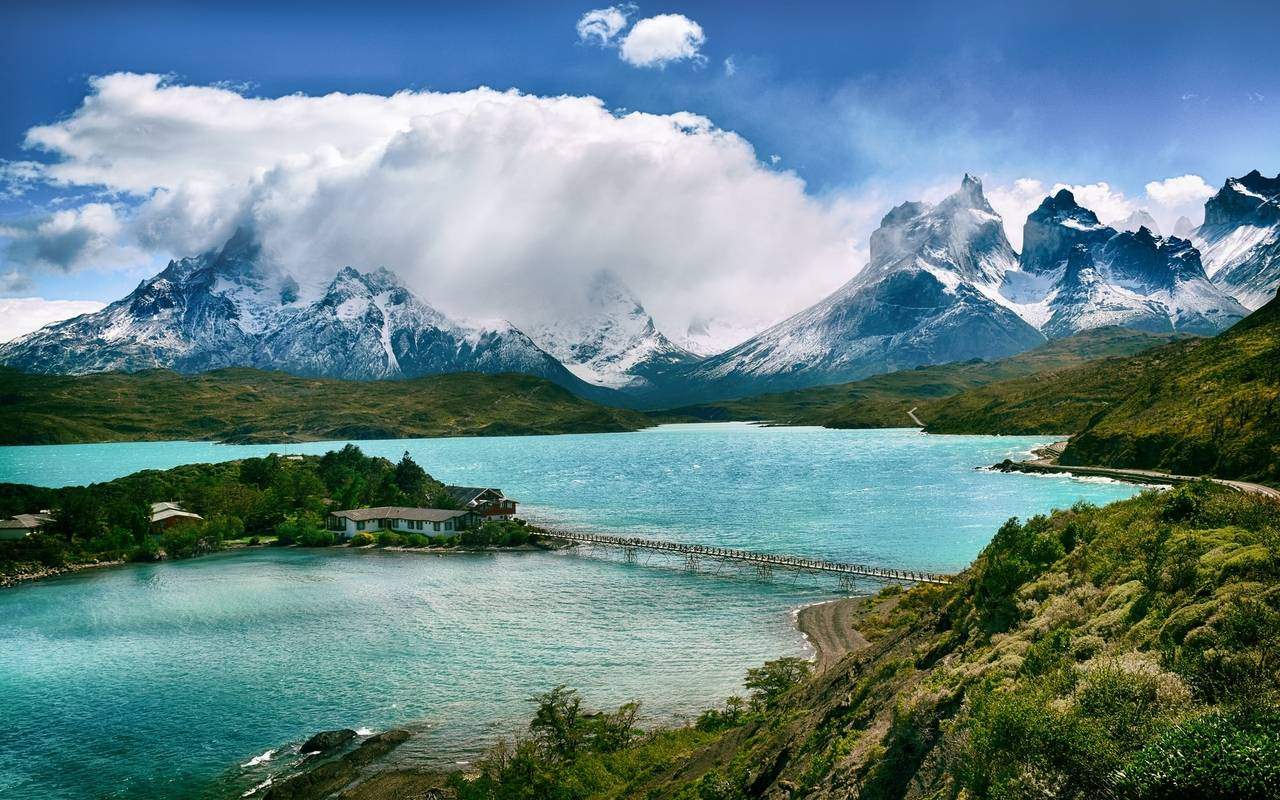 We will start this section off with one of the most important and spectacular natural travel locations in Chile. Torres Del Paine National Park is located 100 km north of the city of Puerto Natales in southern Patagonia.
What makes Torres del Paine so stunningly beautiful is the mountains which are surrounded by glaciers, lakes, and rivers.
The most noticeable feature of the area is the 2,850-meter-tall granite peaks called the Panie Massif, which genuinely dominates the landscape.
No hiker in their right mind will fly to Chile without taking a walk to the Torres Del Paine. If you plan on taking a walk around the national parks, it's recommended to take a guide with you, and in some cases, it's mandatory.
Easter Island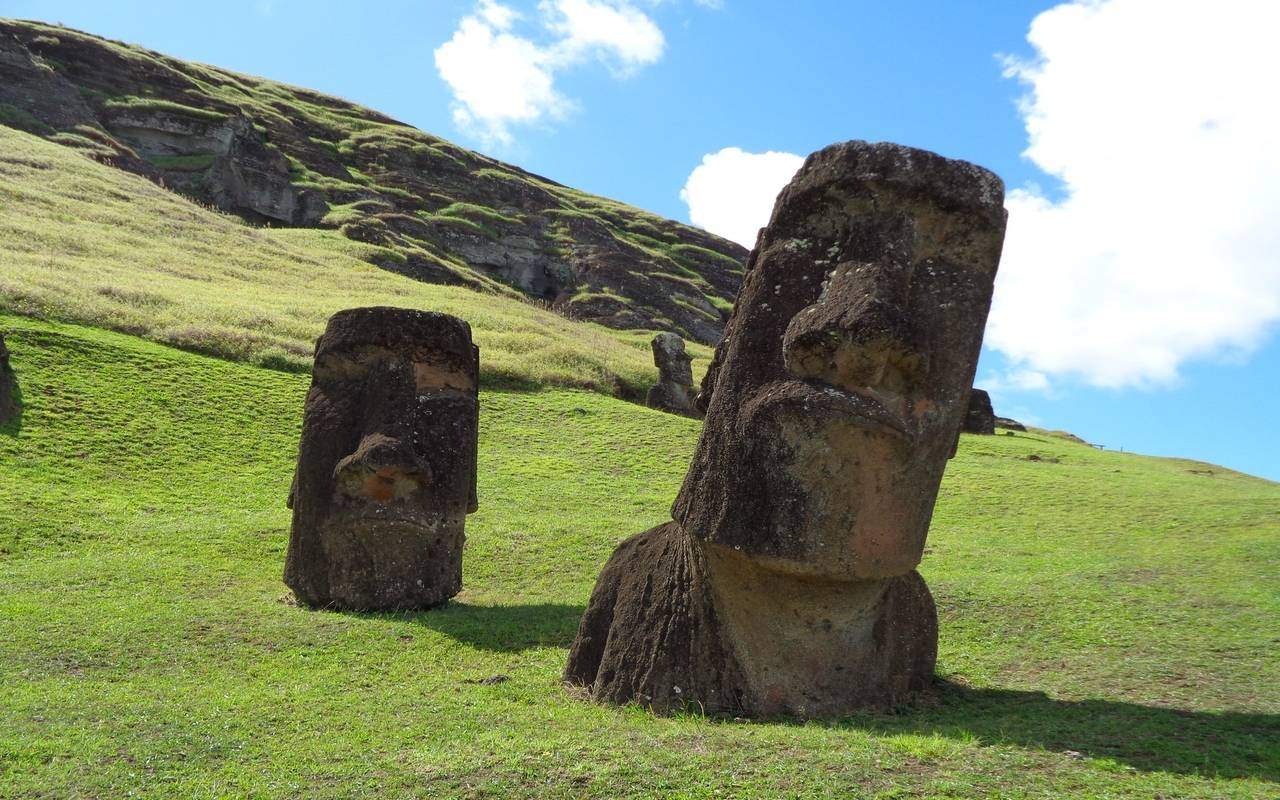 If you've been planning to travel to Chile, you've probably heard of the UNESCO World Heritage Site called Easter Island. It's located in the southeastern Pacific Ocean. And although Easter Island is located thousands of miles from Chile and is closer to Tahiti, Easter Island is officially a territory of Chile.
What makes Easter Island so famous is the 88 extant monumental statues, which are called moai. They were created by the early Rapa Nui people centuries ago and are thought to be protectors of Easter Island.
The moai usually overshadow the other tourist attractions Easter Island has to offer. You can also find fantastic diving, surfing, and two volcanic craters to explore.
Valle De La Luna And The Atacama Desert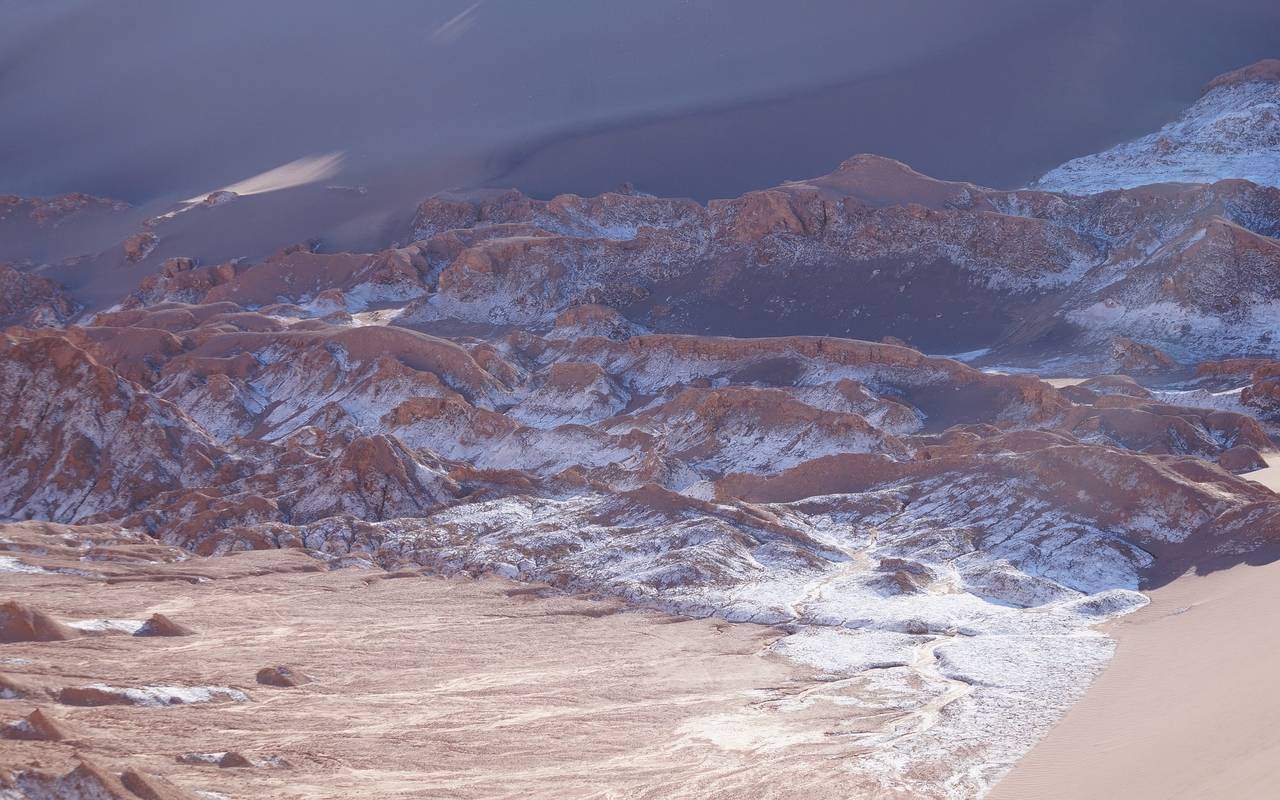 You can find Valle de la Luna or "Moon Valley" 13 km west of San Pedro de Atacama, which is in the north end of Chile. Many people come to visit this rugged landscape of the Atacama desert because it resembles the surface of the moon.
Although the area is extremely remote and dusty, it has breathtaking landscapes which have sustained life for centuries.
And it's not just the desert people go for; you can also find many caverns which contain evidence of early man and some of the oldest mummies in the world.
Salar de Atacama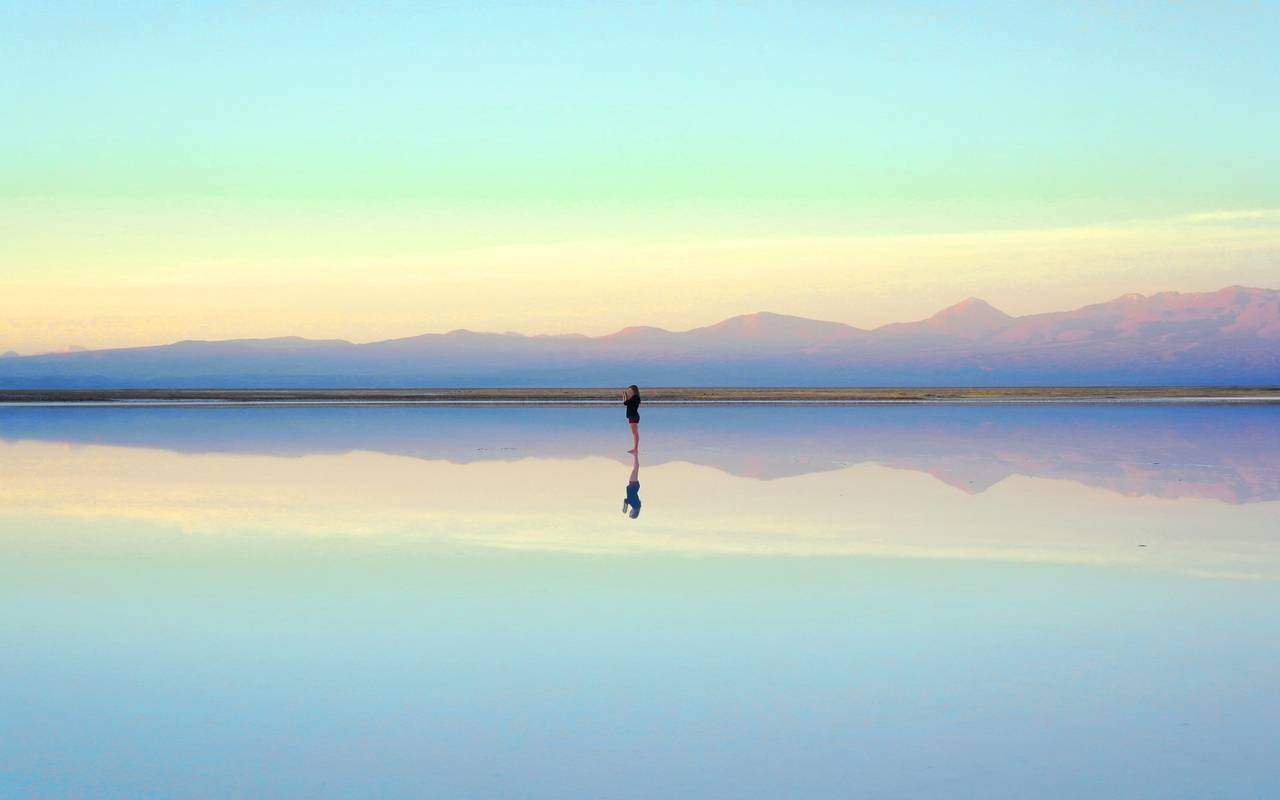 Salar de Atacama is the largest salt flat found in Chile. It's located 55 km south of San Pedro de Atacama and is surrounded by beautiful mountains with no drainage outlets.
Although you don't get the same mirrored effect the salt flats in Bolivia provide, it's still a location well worth checking out.
The Chilean Lake District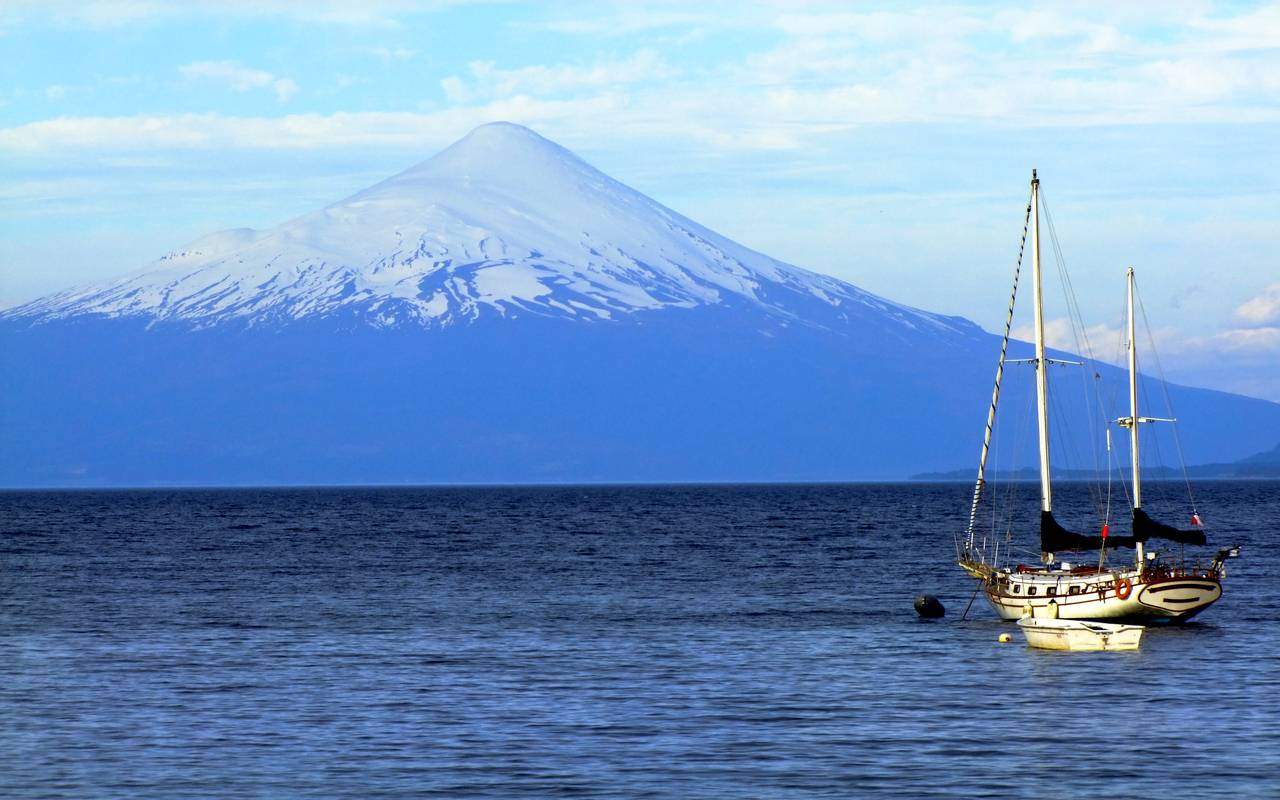 The area stretches more than 330 km and resembles the alpine region of Europe, making this a go-to place to visit.
The location is full of stunningly beautiful landscapes and boasts rich farmlands at the base of snow-capped volcanoes, thick forests, and deep lakes.
Funnily enough, it's not just the landscapes that resemble Europe. After the Mapuche people were forced to relocate, farmers from Switzerland, Austria, and Germany brought their own culture.
And you can see it while you're walking around the area.
If you're looking for adventure, the Chilean Lake Districts, then you have ample amounts of hiking, biking, white water rafting, kayaking, horseback riding, and skiing.
Lauca National Park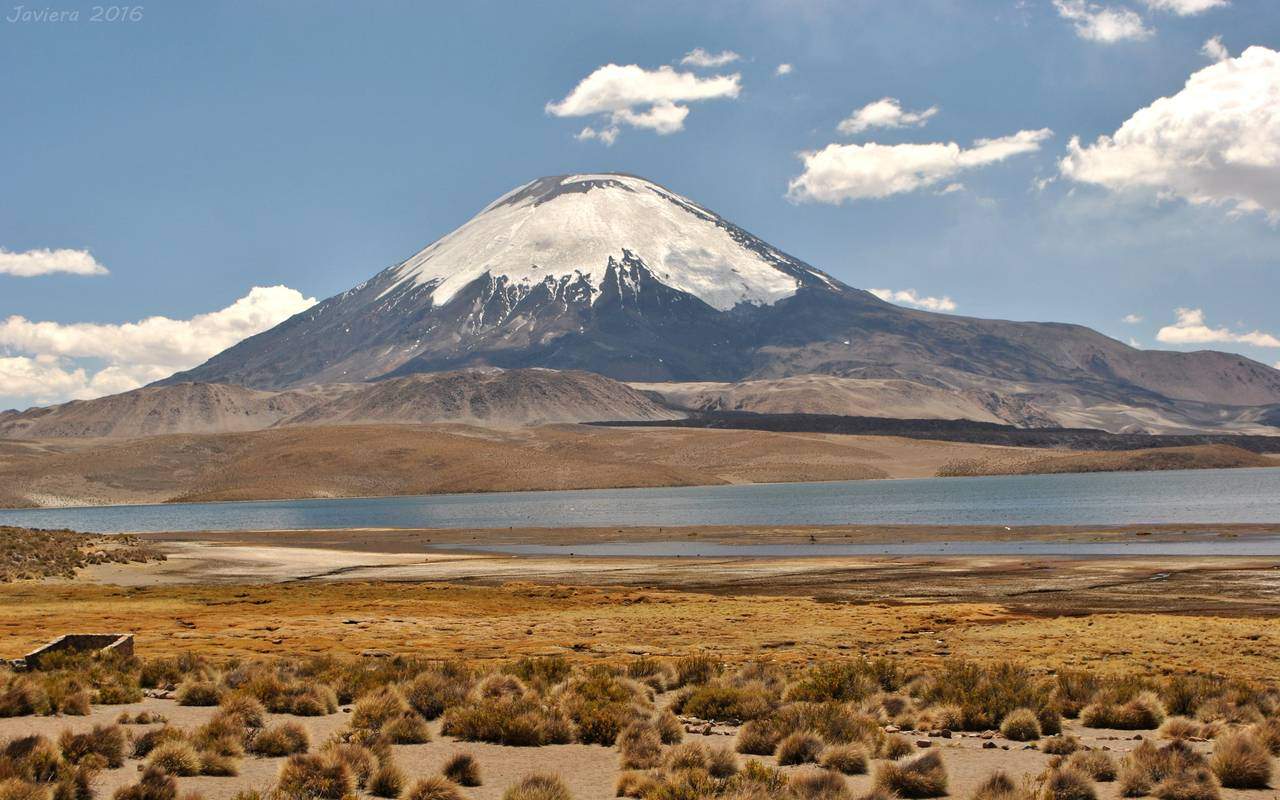 The national park is located in the north of Chile, about 140 km east of the city of Arica. The Lauca National Park spans an area of 1,300 square km and features colossal mountain ranges and volcanoes.
Not only does the National Park feature plenty of hikes, pristine lakes, and plenty more stunning scenery locations. But you'll also find several archaeological sites that mark early evidence of European settlers.
And if you're a lover of bird-watching, you'll find around 140 species, including crested ducks, Chilean flamingos, and the Andean condor.
Los Pingüinos Natural Monument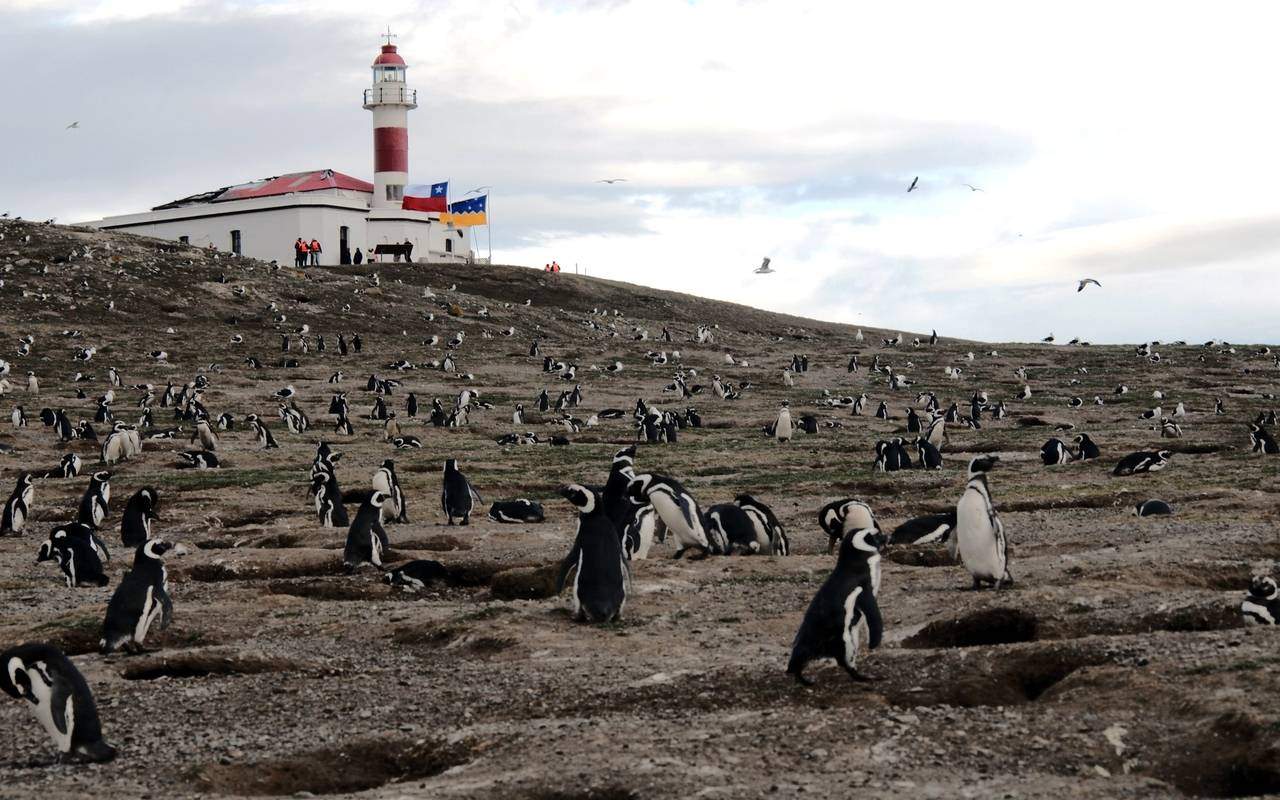 If you're looking for more National Parks, then taking a trip to Los Pingüinos Natural Monument is one of the best places you can go. You find the Nation Park around 35 km northeast of Punta Arenas.
The area is home to the largest colonies of Magellanic penguins and consists of 60,000 breeding pairs, which is astonishing. You can only access the island via boat, and this is why you need to pay for a guided tour.
While you're on tour, you'll also find large colonies of sea lions and seals, which is very impressive to see.
Valle Nevado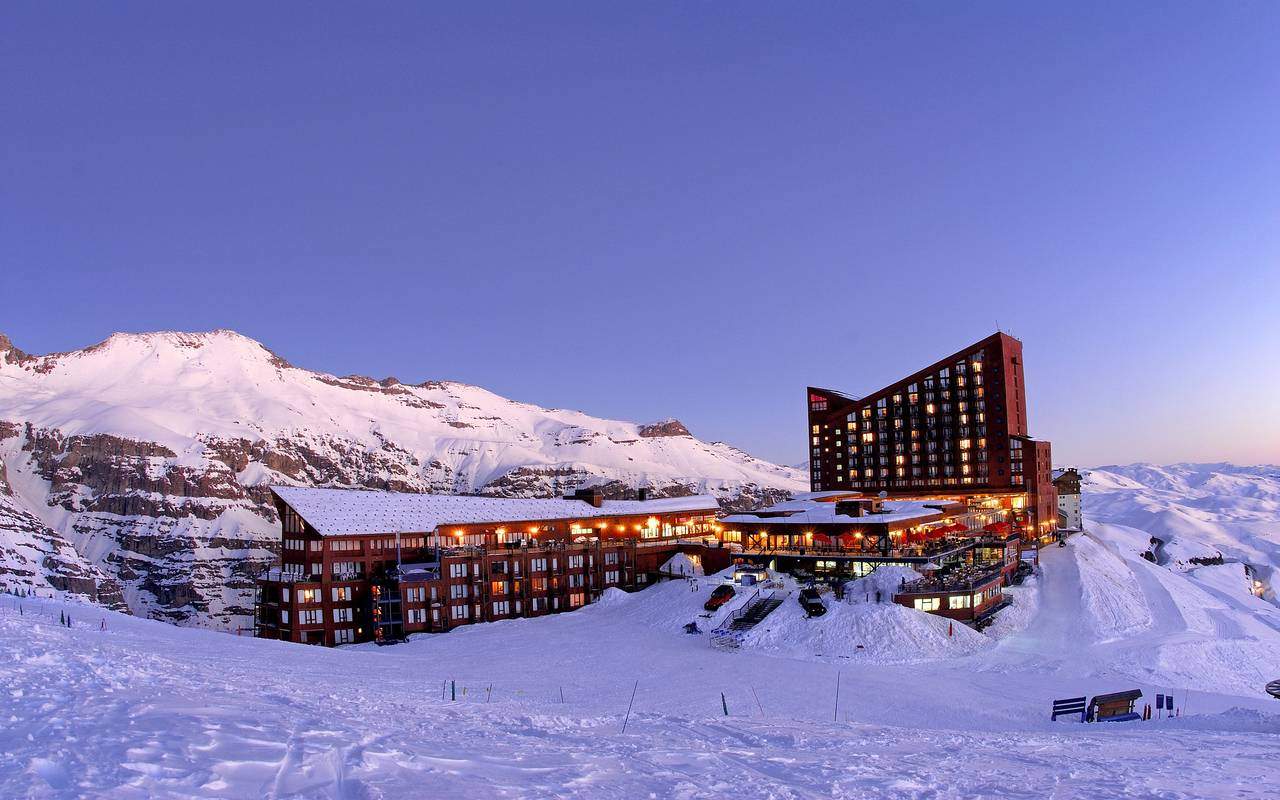 If you fancy taking a trip to a Chilean ski resort, you should visit the once best-kept secret among skiers. Now it's become one of the most popular locations in the whole of South America to take a ski trip.
The ski resort was first established in 1988, and since then, it has considerably grown in size.
It boasts some of the clearest skis with fantastic snow, which is down to the high altitude (around 3,000-meters). You can ski the section 112 days a year, and it has 37 trails for you to explore.
How Much Money Do You Need Per Day In Chile
Chile isn't the cheapest country in South America by a long shot, which can make your stay pretty costly. You can probably put this down to previous inflation levels and the higher standard of living.
But as with any journey, you can make it as cheap or as luxurious as you want, it all depends on how you like to travel. Some people don't mind sharing dorms in hostels, while others prefer to stay in luxury villas.
In this section, I'm going to try and break down the costs to get a rough idea of how you need to budget your trip.
Let's take a look at what one week looks like for the average traveler:
$600-$750 for a solo traveler
$1,200-$2,000 for a couple
$3,000-$4,000 for a family of four
For each week you stay in the country, you can pretty much double that. Backpackers will find the stay a lot cheaper, mainly because they look for the most affordable food and accommodation they can find.
Let's break down the average costs per day:
Accommodation: $13-$115 per night (Depends on where you stay, hostels are the cheapest).
Meals: Around $23 per day but could be less if you eat street food
Drink: $2+ per day depending on if you drink alcohol
Travel: Around $14 per day
Entertainment: $5+ depending on what entertainment you want to take part in
One thing we don't mention in the expenses is the cost of the flight because it varies so much between airlines and where you're traveling from. If you want to know more about flight costs, you can check it out by clicking the link below:
Kiwi.com
Why Choose Them?

Plan Your Trip Here

Competitive Prices
Plan Your Full Trip From The Website
Provides Excellent Support
Get Price Alerts On The Move
Manage Your Bookings
Hopefully, this helps you understand how to budget your trip to Chile. As we mentioned, it's not the cheapest county, but you can make it work if you're on a budget.
Just check out the following section:
How To Keep Things Cheap In Chile
If you have a tight budget and want to keep costs low, we have you covered. In this section, I'm going to reveal plenty of ways you can save money and expenses while you're traveling in Chile.
One way to save money is to rent a car while you're traveling. It reduces the cost of taxis and public transport, not to mention you'll feel safer.
But, that's just one way you can save a little bit of cash on your journey, so let's take a look at a few other options you have:
Take A Free Walking Tour
One of the best ways to explore the city on a budget is by taking advantage of Tours 4 Tips or Free Tour Santiago. They'll teach you all about the history and architecture the city has to offer, for a small donation at the end of the tour.
Couchsurf
It's not for everyone, we understand, but the people who use it can make some extreme savings on accommodation. One thing to mention is that there's not the most extensive community online, but you should be able to find something.
Buy Wine From Supermarkets
There are plenty of extraordinary vineyards in Chile, but surprisingly, the wine from supermarkets can be a lot cheaper. You can pick up a pretty nice bottle for 4,000-5,000 CLP ($4-$5).
Eat From Local Fish Markets
If you're visiting a coastal town/city, you'll find some excellent fish markets. You might feel like they look cheap, but the food is extremely affordable and delicious.
Take A Bus
Taking a bus is a brilliant way to save some cash; taxis can get expensive, as can internal flights. You can take a night bus to most places, and sometimes they even have flatbeds to lie on.
Get Fruit And Veggies From La Vega Market
You find the market in Santiago, and it sells everything and anything you need at a great price.
Shop Around
Chile isn't the place where you can haggle and get the price down. The vendors will stick to their guns, so shop around and see what you can find elsewhere.
Travel During Low Season
If you travel in the high season, the weather might be slightly better, but the cost of the trip will be a lot more. For example, entry into some of the famous parks can almost double the price.
If you follow these simple tips, you should be able to save yourself a pretty penny on your journeys.
Is It Safe For Tourists In Chile?
Chile is a beautiful country to travel around, and when you compare it to other Latin American countries, it's relatively safe.
That being said, there's a chance of crime throughout the cities, such as pickpocketing and mugging. But no matter where you go in the world, you can quickly run into problems.
It's not just crime that you need to be aware of though; nature can also be pretty dangerous in Chile. Earthquakes, snow-capped volcanoes, and heavy rain are all things you need to watch out for.
Here are five things we suggest you look out for when traveling to Chile:
Petty Crime
As with any popular tourist destination, there's a problem with petty thieves operating within the crowds of people. The most common forms of theft are bag snatching and pickpocketing; the main areas are shops, restaurants, public transportation, and shopping malls.
If you go out to city centers, you should keep a close eye on your belongings and what's going on around you.
Where's a list of areas you should be extra vigilant:
Santiago
Las Condes
Providencia
Vitacura
Cerro San Cristobal
Cerro Santa Lucia
Chile's Lake District
Cerro Manquehue
One last thing to mention is you're planning on going on a night out, there are a few things you need to avoid if you don't want to become a victim.
Drinks Being Spiked
Chile has an excellent nightlife scene with some great bars and nightclubs for tourists to go and enjoy. If you plan to go drinking, it's essential to understand that reports of drinks being spiked are on the rise.
The main nightlife spots in Santiago are Suecia and Bellavista; victims have come forward about being given a spiked drinks.
People had spiked their drinks with drugs which made them more susceptible to robbery, assault, and in some cases, much worse.
If you want to stay safe on a night out, you should stick to the classic club rules. Don't flash your cash around, don't accept a drink from a stranger, keep an eye on your drinks, and don't drink beverages that aren't yours.
Mugging And Other Crimes
One good thing about Chile is that violent muggings are sporadic. But as with any country in the world, you have horrible people. In the same areas we mentioned above, there have been reports of daylight muggings.
Most of the time, these muggings will be carried out by a group of armed men who will make threats of violence to get what they want. If this does happen to you, don't resist, your phone and wallet aren't worth your life.
To avoid anything bad happening to you, stay off the beaten tracks at night, and try to travel in groups.
Be Aware Of Scams
Again, all countries have their scams, so it's something to be mindful of. Things like phony tour operators are spreading like wildfire. Make sure you always book with a reputable tour operator found on Tripadvisor or something similar.
Another thing to watch out for is taxi scams at the airport. The taxi driver will come up and tell you it's canceled and try to get you in their taxi. Don't do it; they'll either overcharge you or take you somewhere you don't want to go.
Begging scammers are also prevalent, and it's probably something you've seen back at home. People will pretend to be very poor and ask you for money; sometimes, they use their kids to pull on your heartstrings.
You also get the university scam. Someone will come up to you and say the school fees are unaffordable and they're having a tough time. They'll then read you a poem they pretended to write for you. After they read it, they'll ask for some money to help them out.
If you stay vigilant and don't be too naive, you shouldn't have any problems when you run into these scams.
Protests
It's pretty common in Latin American countries for protests and demonstrations to occur, and it's no different in Chile. If they are not happy about something, they're more than happy to take to the streets.
The problem is:
The protests can be violent very quickly, which can present a tourist in a dangerous situation they weren't prepared for.
Before you leave, check out the news to find out what the political climate is like and become aware of any civil unrest that might be stirring in the pot.
If you get there and see large crowds gathering in the streets, it's probably a good idea to stay away. Try to escape yo quiet location or get back to your hotel if you think things are going to get violent.
Luggage Theft
The last thing we want to talk about is luggage theft. It's becoming a growing problem in Chile, especially in the Atacama Desert and San Pedro. Other areas to be vigilant are Villarrica and Puncon, which are located in the Lake District.
Ideally, you want to keep an eye on your luggage as much as possible; make sure you never leave your bags unattended.
If you're traveling on public transport, keep your backpacks in front of you and your suitcases as close to you as possible. You should also try to avoid using overhead storage.
Before you travel, you should make sure you take out some travel insurance…
World Nomads
Why Choose Them?

Click Here for More Details

Located At Most Airports In The Country
Travel Accidents
Overseas Dental
Delayed Baggage
Digital Nomads
Pregnancy
Stolen Credit Cards
Stolen Passports
And Much More…
… At least if your luggage, passports, or anything else gets stolen on your journey, you know you're covered.
What's The Best Way To Travel Around Chile?
If you're planning to really travel around Chile, you're probably wondering what the best ways are to move around the country.
When it comes down to it, you have three options, in our opinion:
Car
Plane
Bus
But let's take a closer look at these options so you can decide which option or combination is best for you.
Using A Car
Most of Chile is very well connected between major cities and towns, but problems arise when you want to get to tourist attractions out of the town. And while you can use tourist companies to get there, you might enjoy the freedom of getting there yourself.
If this sounds like you, then renting a car in Chile might be your best option:
Discover Car Hire
Why Choose Them?

Book Your Car Now

Located At Most Airports In The Country
No Hidden Fees
24/7 Customer Service
Free Cancellation
Provides Information You Can Trust
Must Be 22 Years Or Older
To rent a car in Chile, you must be at least 21 and have a credit card to leave a blank voucher for a deposit.
You can use your national driving license, but many people have noted it was easier traveling with an international driving license. If the police stop you, they feel far more comfortable dealing with a driving license they are familiar with.
When you're driving, you'll have to be very aware of what other drivers are doing. Most traffic regulations are rarely enforced, which can make the roads reasonably dangerous.
Speeding is enforced, so you have to watch out for speed traps while you're driving. If you're in an urban area, the speed limit is 50 km per hour, and on highways, it's 100km per hour.
Traveling By Plane
If you're looking for the quickest way of moving around Chile, then using domestic flights is your best option. Here's the thing:
If you want to get from Arica to Punta Arenas, you're in for a 5000 Km journey by car, which is unimaginable for many people.
This makes flying far more convenient for people on a tight schedule. There are several flight options, and you can get to any major city in the country via air.
Using Buses
If you've got a bit more time and need to work on a budget, you have the option of using buses to get yourself across the country. The cities and towns are very well connected, and you can get pretty much anywhere you need to go.
The long-distance buses provide excellent service, mainly thanks to the extra legroom they provide.
Depending on the provider and price you pay will depend on the comfort you can expect while you're on your trip. Some will only provide extra legroom, while others have reclining seats that bend almost horizontally.
All long-distance buses have toilet facilities on the bus, so they don't stop regularly. They also provide activities to keep you entertained on your journey, like videos, music, bingo games, and more.
You should always try and book your bus tickets well in advance, so you get to choose your seats. If this isn't possible, you can book the tickets up to 2 hours beforehand, but it's not suggested.
What Is the Best Month To Visit Chile?
It really depends on which region you're planning to visit, each area has its own weather system, so you need to do some research.
In this section, I'm going to try and break it down to give you an idea of how it all works:
December To January
During these months, the temperature and daylight hours are at their peak in Patagonia. The problem is, so are the prices and the crowds. If you travel these months, make sure you book well in advance.
December To March
If you head to Northern Altiplano, you'll find the hottest weather, but unfortunately, you'll also get the most rain. Luckily it isn't too much of a problem, most of the rain is in the afternoon to enjoy the sunlight during the morning.
September To April
If you plan to hike in the central regions of Chile, this is the best time to go. You have the best weather conditions for fantastic hiking locations.
October To May
During these months, it's the best time to go and explore the southern region of Patagonia.
June To September
Although you can explore northern Chile all year round, you have the best chance of spotting big cats during these months.
Above is a brief guide of what you can expect, and as with any county, weather conditions can change quickly.
This is especially true when you're visiting southern Chile. Fierce winds can pick up quickly, which can make the mountains extremely dangerous.
Wrapping Up!
Don't get fooled by Chile's thin geography compared to other countries in South America. It has certainly plenty of stunningly beautiful locations to visit, and tons of outdoor activities for the adventurous such as hiking, biking, rafting, kayaking, and skiing.
But remember, learning Spanish before planning your trip not only will help you get around your destinations more easily and help you communicate fluently with the locals but totally enrich your travel Spanish experience.
Try a free private class or sign up for a 7-day free trial of our group classes to see how thousands of students are dominating the Spanish language with SpanishVIP.
Want to learn Spanish, fast?
Download our e-book, Easy Spanish Shortcuts, and learn your first 1,000 Spanish words in under a day!