Uruguay is sandwiched between two of the biggest countries in South America; Brazil and Argentina.
And because of that, people often overlook Uruguay, which makes it a bit of an underdog when it comes to travel destinations.
But although the country is thought to be an underdog, it's starting to get the recognition it deserves. 
You see:
Out of all the countries in South America, Uruguay is known for having a lower crime rate and a very progressive culture, which makes it feel very safe.
Europeans visiting the country find it feels very familiar when looking over the landscape. The rolling hills full of cows and sheep is the spitting image of Wales (just with more sun), and the stunning beach towns feel like you've just landed in Greece.
If you want to learn more about this beautiful country, don't go anywhere. In this Uruguay travel guide, we're going to explain where to go, what to see, and so much more…
History And Culture 
Unfortunately, there isn't much known about the early inhabitants of Uruguay before the Europeans invaded the country.
It's thought that the only inhabitants of Uruguay were the Charrua people. They were a semi-nomadic tribe that sustained themselves through hunting and gathering.
Due to the resources not being permanent, the tribe would have to move around constantly. It all came down to rain, drought, and other environmental challenges.  
Other than that, much of their pre-Spanish history is a complete mystery.
In fact, the only knowledge of the tribe is from the first Spanish contact. 
You have chroniclers like Jesuit Pedro Lozano, who accused the Charruan people of killing the explorer Juan Diaz de Solis in 1515 when he tried to sail Rio de la Plata.
This is a fantastic revelation as it shows the Churruan people were not going to sit by and let people invade their country. 
Luckily for the local tribe, the Spanish heavily put off the invasion due to a lack of natural resources, the main reason being gold.
This was until the turn of the 17th century. The country became contested as people thought for the mouth of Río de la Plata.
You had the Portuguese who were trying to expand their regional influence past Brazil while the British were fighting and attacking areas of Spanish interest.
In 1726, the Spanish established the capital city Montevideo and continued to battle with the Portuguese for control of the region. The town was a massive win for the Spanish as it acted as an important port and harbor. If you want to learn more about how Spanish spread to the Americas, check out our guide on the history of the Spanish language.
The Spanish remained in control, but the rule was challenged when cries for a revolution broke out in 1811.
Funnily enough, this was around the same time many South American countries embraced the idea of republicanism and were seeking independence from the Spanish crown. 
And Uruguay was no exception!
The revolution was led by Jose Gervasio Artigas, who is now known as the father of Uruguayan independence. And in 1811, the local forces managed to free the country from Spain, and the Liga Federal was created.
Unfortunately, this was all very short-lived. The wary Portuguese government of Brazil invaded the state and took it for themselves in 1821.
There were another seven years of war, which included the Cisplatine War until a treaty was formed. In 1828, the Treaty of Montevideo was formed, which created what we know as modern-day Uruguay.
Over the next ten years, the political scene was heavily divided between the liberal Partido Colorados (reds) and the conservative Partido Blancos (whites) parties.
Both of the parties were supported by factions in Argentina. But, the Colorados were supported by the French, which led to the downfall of the Blancos president Manuel Oribe, who was a close ally of the Argentinean leader. 
This led to a civil war breaking out, which lasted 13 years.
In 1843, forces from Argentina invaded the country on behalf of Oribe, but they were unable to capture Montevideo.
Fighting continued for quite some time, and there was plenty of political tension. But in the 20th-century, stability was introduced to the country, which spiked a substantial economic and social upturn.
During the 20th century, European immigration soared, mainly from Italy. And this continued the economy to prosper due to the export and raising of livestock.
Unfortunately, more civil unrest sparked a state of emergency that was declared by president Jorge Pacheco in 1968. This led to years of army-backed dictatorship.
By the end of the autocratic rule (1985), the country had the largest number of political prisoners per capita anywhere in the world.
So, how has the history of the country shaped the culture we see today?
Uruguay Travel Guide: Best Cities To Visit
If you're looking for some great places to stay while you're in Uruguay, then this section is for you. We're going to be giving you some of the greatest cities Uruguay has to offer:
Colonia Del Sacramento
The city of Colonia del Sacramento was founded in the 17th century and is now a UNESCO World Heritage Site.
For a long time, Colonia del Sacramento was used as a smuggling port and exchanged hands between the Portuguese and the Spanish.
The main selling point of Colonia del Sacramento is the old historic center. You also have plenty of museums along with a lighthouse with beautiful views of the city.
Punta Del Este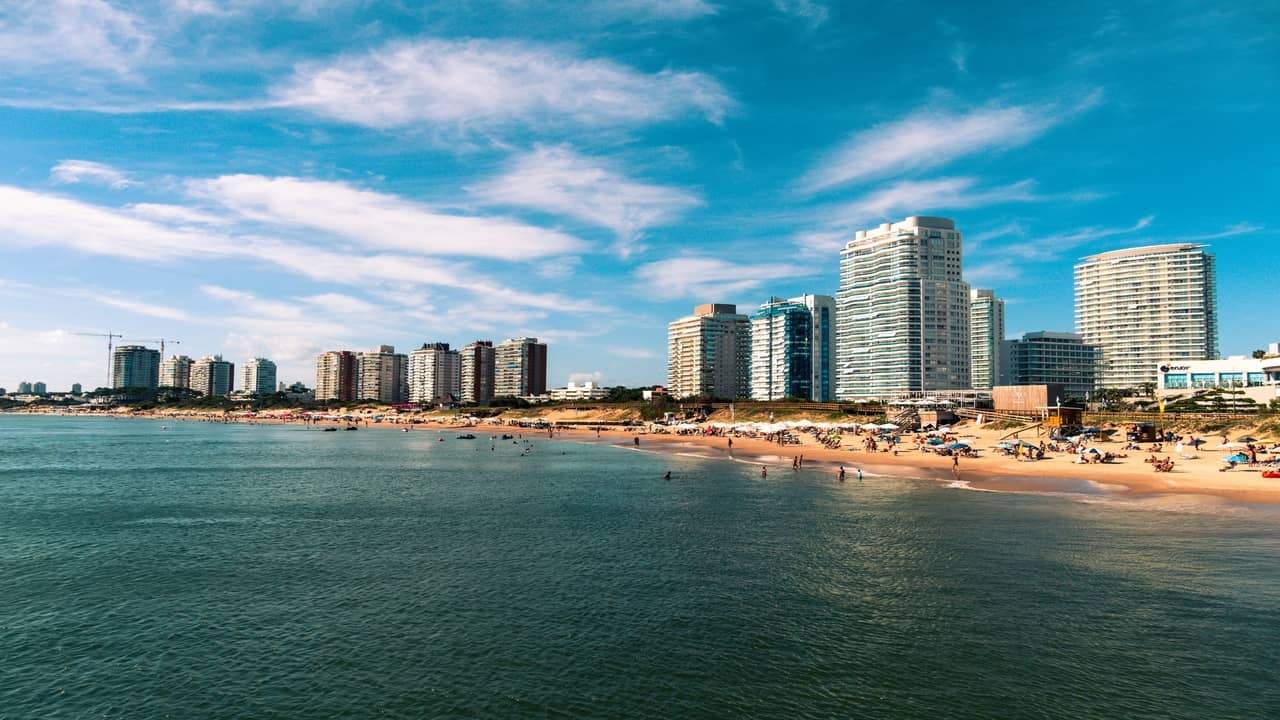 The city of Punta del Este is known for being Monaco in South America. In the beach resort town, you'll find yachts, high-rise buildings, casinos, and trendy bars. 
Punta del Este is a seaside resort in the Maldonado Department of southeastern Uruguay. If you're looking for golden sands and a jet-set location, Punta del Este should be high on your list.
You'll find stunning bars, clubs, and restaurants along the beach line of Punta del Este, making it a fun but quite expensive place to visit. 
Watching the sun going down in Punta del Este is a divine experience, and the watersports provided are fantastic. You also have plenty of museums in Punta del Este to check out, if that's something you enjoy doing, to make it better, most of them are free.
Punta Del Diablo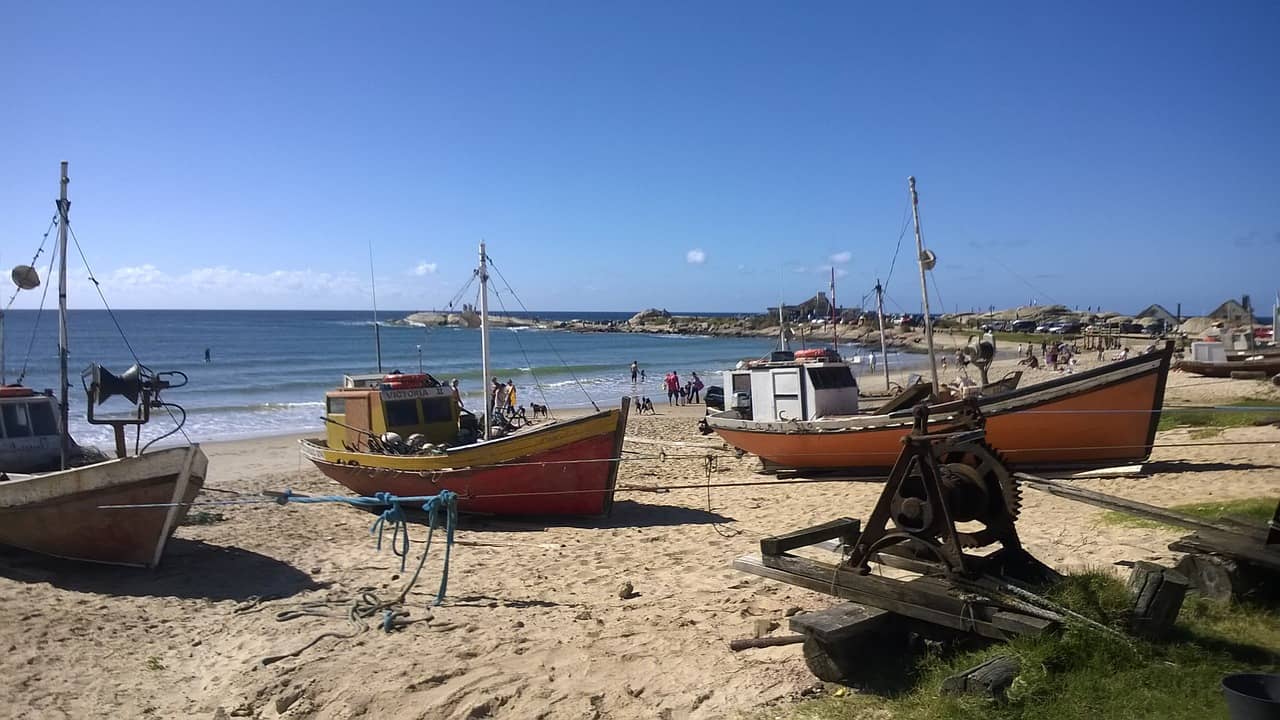 It's one of the most popular destinations for the locals to visit if they want to bask on the white sand beaches. The city has been slowly developing, but still, it has a picturesque and charming fishing village.
Here, you'll find a very laid-back way of life, making it very relaxing and perfect for chilling on the beaches.
You'll also find some great outdoor activities where you can try your hand at surfing, dune boarding, or horseback riding.
Another reason people come to visit is for the nature reserves of Santa Teresa and Cerro Verde.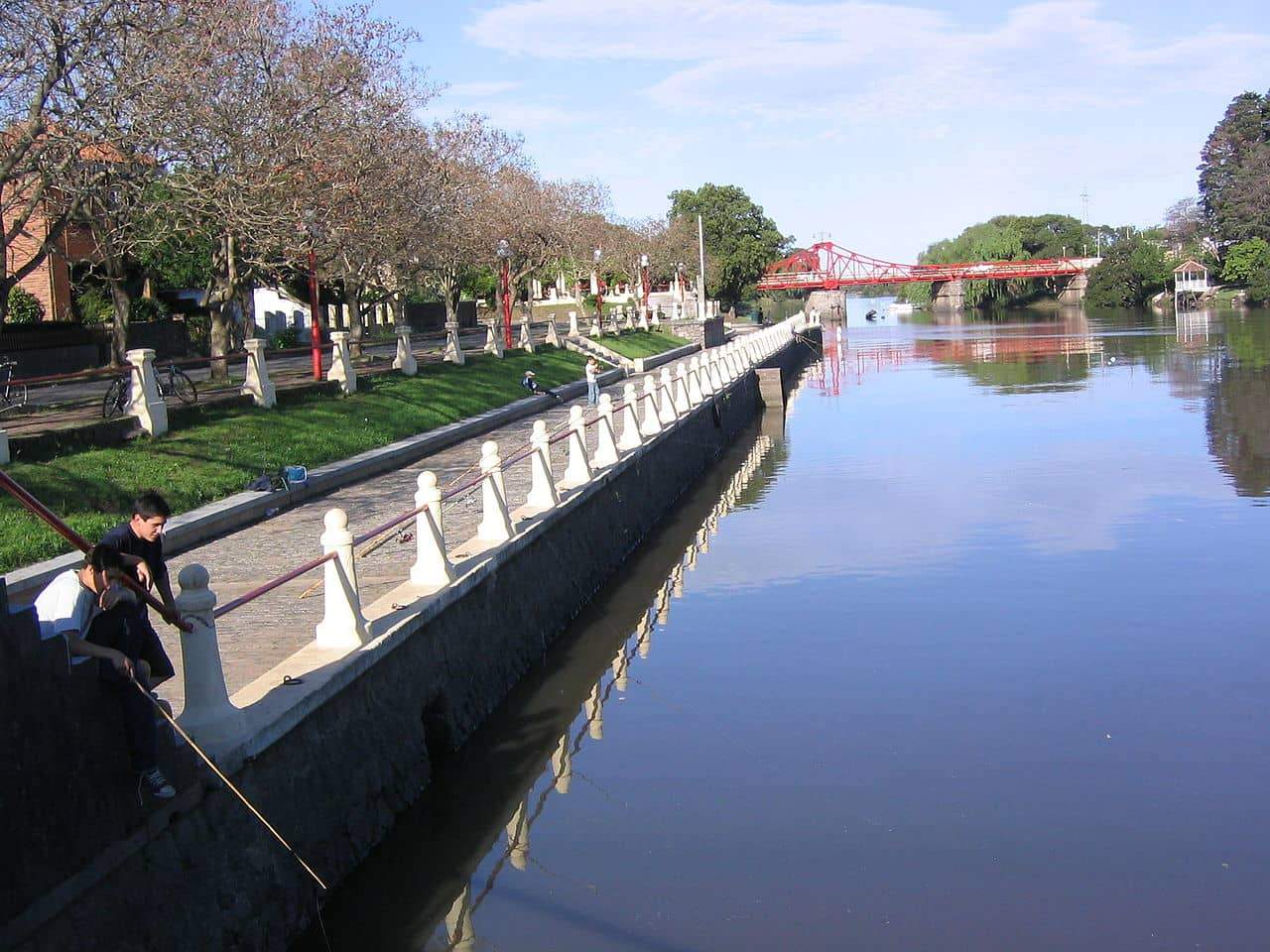 You'll find the cobblestoned city along Rio de la Plata and Rio Uruguay. The charming town has become a trendy tourist destination thanks to the lovely old buildings.
You can take strolls down the waterfront and magical boat trips. Exploring the surrounding area by boat is a lovely experience,
You can also check out some of the water activities the area has to offer. You can experience fishing, sailing, and much more.
Montevideo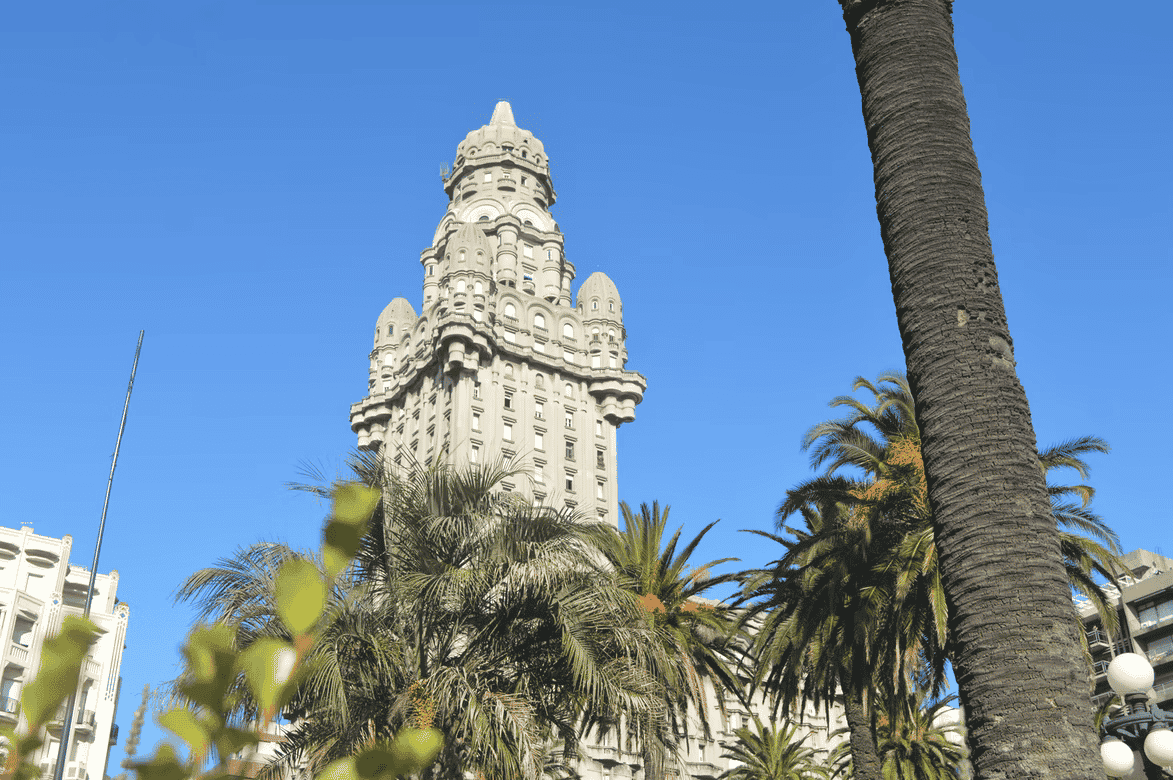 Montevideo is the capital city of Uruguay, and one of the most popular places to visit thanks to its location. It's only a boat ride away from Buenos Aires, making it very easy to visit other countries.
It's also South America's most gay-friendly city and is home to many gay bars and clubs.
From the area, you are only a small drive away from many popular fishing villages and major towns.
You can also take domestic flights to pretty much any area of the country, which just adds to the popularity.
If you want to take a trip out of the city you can find a national park that will suit all your needs for the day.
Top Tourist Attractions To Visit In Uruguay
So, you know where to stay, but what should you go and see while you're on holiday? In this section, I want to cover some of the best tourist attractions Uruguay has to offer.
Mercado Del Puerto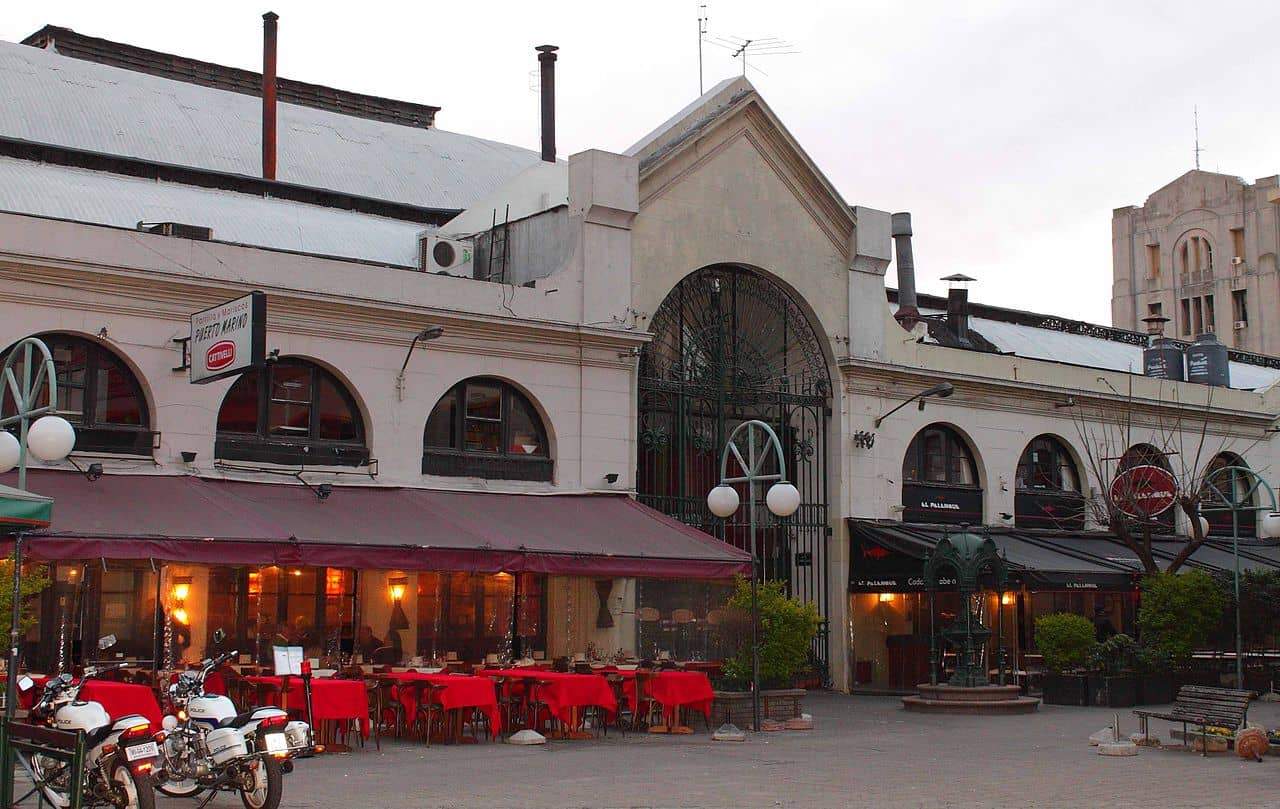 The Mercado del Puerto or Port Market isn't so much of a market anymore; instead, it's a prominent place full of restaurants and shops. During the weekend, the streets are full of local vendors selling artisan goods and much more.
This is an excellent place to visit if you want to delve into the Uruguayan citizens' culture, try some typical food, listen to music, or watch street performers. 
Laguna De Castillos
The lake is a great place to go swimming and fishing and is a refreshing change to relaxing in saltwater.
You can also take boat trips to the Ombú mount, which is a place where you can see massive shrub-like trees with hollow insides. 
Precious Stone Mines In Artigas
To the north of the county, you'll find amethyst stones are in abundance. From here, you can take tours around the caves, where you'll see incredible displays of precious raw stones. 
And with the help of special tools and a tour guide, you can even have a go at collecting your own.
Take A Trip To One Of The Many Hot Springs
One of the oldest hot springs in the country is Arapey. The waters are 39°C and are known for their therapeutic properties. The area is extremely popular and has plenty of green space and stunning holiday homes.
Another popular area is the Dayman hot springs, which is located next to the river Daymán. The waters are a lot warmer here and can reach 46°C. It's a bit more developed in this area and has seven pools, food areas, tennis courts, and mini-golf.
Sea Lions In Cabo Polonio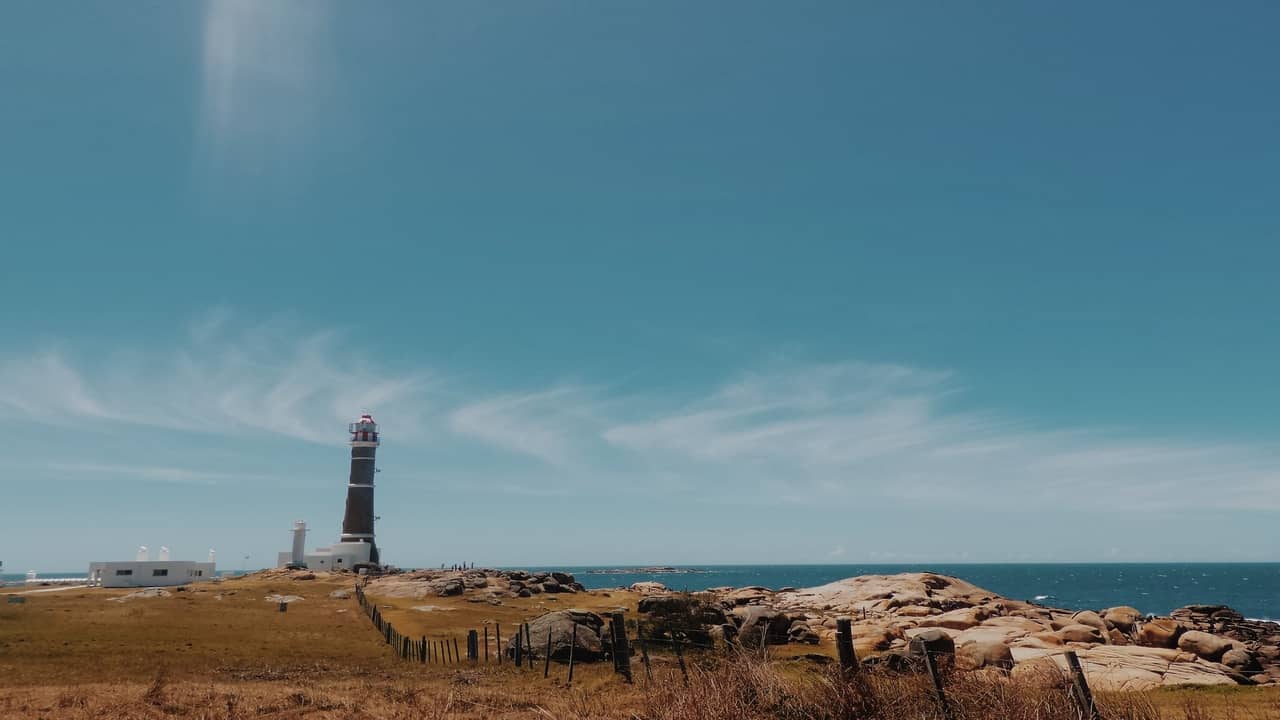 If you're looking to get off the beaten track, then it doesn't get much better than Cabo Polonio. You'll find no electricity, no running water, and no wifi, which is what many people come here for.
The small rustic village has less than 100 people living there and small cabins and houses.
The only building connected to the power grid is the light louse, which is truly amazing to look at. 
 Tip… 

The only way to get to the village is with a 4×4 or hiking several km from the highway across sand dunes.
But once you're there, you'll find one of the largest lullabies of sea lions in South America and the Atlantic Ocean.
Is Uruguay Safe For Tourists?
If you want the simple answer, yes, Uruguay is a very safe country to visit, especially when you compare it to some of its South American neighbors.
And it's not just in terms of crime. The people of Uruguay are very friendly and more than happy to help people out.
 FUN FACT…

To put things in perspective, Uruguay ranks 35 out of 163 countries when it comes to peace and safety. And when you compare it to the 11 South American countries, it ranks number one for the most peaceful countries.
But, even though there is a lot of peace, tourists usually get caught out by petty crime.
So, you might be wondering why we're saying it's safe for tourists. When you compare how many tourists become victims of crime, with the number of people who travel there… it's really not that bad.  
The place with the most crime also happens to be the most visited part of the country. And that's Montevideo.
The city holds ⅓ of the country's population, and when you hit the inner city, petty crime can become a problem.
The most common type of crime is distraction theft, so it's not violent, which is always a bonus.
Another great thing is, even if you're traveling alone, you'll still feel very safe when you're traveling around the country.
If you want some tips for staying safe in Uruguay, keep reading:
How To Keep Your Money Safe
No one likes losing out on money, which is why I want to share a few tips with you, so you don't lose out:
Make Sure You Understand The Currency 
The official currency in Uruguay is the Uruguayan peso, but they also accept the US dollar. And unfortunately, this can make it difficult for tourists.
While walking around the shops, you can find things priced in either pesos or dollars, so you should know what it looks like:
10 U.S. dollars will look like this:

US$10, or U$S10  

And 10 pesos looks like this:

$10
Knowing the difference can definitely save some money if someone tries to take advantage of an unexpecting tourist.
Don't Flash Your Cash
As with most places in the world, some people like to take advantage of a situation. And when you're counting your cash on the street or on public transport, a thief's eyes light up.
Here are some tips to stay safe:
Never tell people how much cash you have with you.

If you get money from the ATM, make sure you pay attention and put your money in your wallet/purse before you move.

Count and organize your money before you leave home.
Pay Attention When You Pay For Stuff
If you want to avoid being overcharged or shortchanged, you need to pay attention to what's happening when you're paying.
Basically, double-check the prices before you pay, and count how much they give you in return if you're paying cash.
Violent Crime
There isn't much violent crime in the country, but when there is, it's usually found along Brazil's border due to smuggling. There are also a few neighborhoods in Montevideo known for organized crime.
Street Theft 
Most of the street theft in Uruguay is snatch and grabs or distraction theft. So as long as you pay attention, you shouldn't have any problems.
Here are a few tips to get you going:
Pay Attention –

If you need to check your phone or make a phone call, make sure it's somewhere you can pay attention to the people around you.

Be Cautious Overly Helpful People –

Most people in Uruguay are helpful and will help with directions. But the people that get too friendly, too quickly, they probably want to make some money off you.

Keep Valuable Safe

– Make sure you keep your phone and any other valuables in your sight.
World Nomads
What's Covered?

Click here For More Details

Travel Accidents

Overseas Dental

Delayed Baggage

Digital Nomads

Pregnancy

Stolen Credit Cards

Stolen Passports

And Much More…
Areas To Avoid
The biggest areas to watch in Uruguay are around the Brazilian border and specific neighborhoods in Montevideo.
The northern part of the city and the west Port of Montevideo have the highest crime rates.
If you need to go through these areas, make sure you drive or ask a trusted local about how safe it is.   
Is Uruguay Expensive To Visit?
Uruguay isn't the cheapest country in South America, but it has something to suit every budget, and let's face it.
What more could you ask for?
On average, people spend around $58 per day when they take a trip to Uruguay. To help you budget your trip, let me explain how that breaks down per week:
$172-$407+ for a solo traveler

$344-$1,000+ for a couple

$750-$2,000+ for a family of four
As you can see, the prices really aren't that bad. But I want to take this break down a step further by breaking down your daily experiences:
Accommodation:

$15-$115+ per night (Depends on where you stay, hostels are the cheapest).

Meals:

Around $17+ 

Drink:

$2+ per day depending on if you drink alcohol.

Travel:

Around $16-$29 per day, depending on how much you travel.

Entertainment:

$11+ depending on what entertainment you want to take part in.
As always, these are just rough estimates and can be a lot higher if you plan to travel in luxury. You can check out some accommodation prices here.
Kiwi.com
Why Choose Them?

Plan Your Trip Here

Competitive Prices
Plan Your Full Trip From The Website
Provides Excellent Support
Get Price Alerts On The Move
Manage Your Bookings
What Do I Need To Know About Traveling To Uruguay?
If you're new to traveling and feel like it's a daunting experience, don't worry; we're here to help. We want to make sure you're prepared for anything this beautiful country can chuck at you, so here's a list of things you need to know:
Amazing Diversity 
In the whole of Latin America, Uruguay is by far one of the most diverse countries. It was the first Latin American country that allowed women to vote.
And it was also the first country to legalize same-sex marriage. In 1934 they decriminalized same-sex sexual activity. And in 2003, they passed anti-discrimination laws.
What this means is that people of all sexual preferences, genders, and identities can feel welcome in Uruguay.
Throughout Montevideo, you'll find several gay bars and clubs, along with many festivals that celebrate gay culture. Making it the most gay-friendly city in all of Latin America.
Plenty Of Street Markets
Throughout the country, you'll find many street markets, but the biggest ones are in Montevideo. You'll find anything from food, clothes, cheese, jewelry, wooden games, and much more in the street markets.
Surf Towns Are Ghost Towns In Off-Season
If you head out to Uruguay, it's almost impossible to go there without meeting a surfer or two. If you're planning on visiting one of the surf towns, it's essential you know how dead they are in the off-season. 
During April and November, popular areas such as La Pedrera and Punta del Diablo go completely desolate. 
And for some people, they may find this the best time to go. They can catch all the waves they want without getting disturbed. 
The problem comes when you want to go to bars and restaurants; most of them don't open up until early December.
Buenos Aires Is A Ferry Ride Away
From the cobblestones of Colonia del Sacramento's UNESCO World Heritage site, you can get to Buenos Aires on the Buquebus ferry. It only takes about an hour to get to Buenos Aires from there.
You can also depart from Montevideo or Punta del Este, but these journeys take a lot longer. No matter which option you take, you know it's effortless to get to Argentina. 
 Tip… 

If you want to take a day trip to Buenos Aires, the cheapest, and easiest way to get there is by using the ferry.
Language Barrier 
As an English speaker, you may be happy to know that many locals speak at least a little bit of English. The conversation won't be fluid, but you'll be able to get by.
It's still helpful to know some Spanish phrases, but it's also nice to know you'll be able to get by if you get stuck.
The Uruguayans are very patient and polite when it comes to speaking with foreigners, making it a very welcoming country.
If You're Stuck, Ask A Local
Most people in Uruguay just want to help, so if you're ever stuck, it never hurts to ask a local for help.
They will assist you however they can, whether that's walking you to your destination or giving you advice on how to get there.
Make sure you ask for recommendations on where to eat or which bars to visit; you never know, you might find a hidden gem.
The Water Is Cold
The sandy beaches are beautiful, but the water is freezing due to the beaches lying on the southern Atlantic Ocean. 
The other beaches are located on the Rio de la Plata, which is famous for being one of the wildest rivers in the world. 
If you're spending the day on the beach surfing, then you need a wetsuit for the day.
Free Activities
One of the great things about Uruguay is they offer plenty of free activities for you to check out. If you want an example, public museums are free by law, which means you can visit most museums without spending a penny.
There's also plenty of markets you can check out; you'll also find comparsas playing the drums around the markets.
When Should I Go To Uruguay?
If you're planning a trip, you're likely going to want to visit when the weather is at its best. So, in this section, we're going to break it down for you:
January To February 
If you're looking for the warmest and driest time to visit Uruguay, then these are the months for you. 
March 
It's the quietest month for the beaches. The tourists have usually left, and the restaurants have started to close.
April To May 
The sea is usually the warmest during these months, making it great for people who want to take on some watersports.
June To September 
Usually, in the colder months in Uruguay, not many people come to visit. But it's also a great time for whale watching.
October 
Spring has arrived, and you'll start to see people returning to the beach and the restaurants starting to open again.
November 
It's a great time to visit. The weather is warm, and the beaches are quiet.
December 
The beaches are packed with visiting Brazilians and Argentinians, which drives the prices of the hotels up.
Discover Car Hire
Why Choose Them?

Book Your Car Now

Located At Most Airports In The Country

No Hidden Fees

24/7 Customer Service

Free Cancellation

Provides Information You Can Trust

Must Be 22 Years Or Older
Wrapping Up!
Uruguay is one of the safest, most politically stable, and culturally sophisticated countries in the Hispanic world. It offers visitors the opportunity to experience a diverse range of activities to explore and appreciate their laid-back way of life.
But remember, learning travel Spanish before planning your trip not only will help you get around your destinations more easily and communicate fluently with the locals but totally enrich your travel experience to a whole new level.
Try a free private class or sign up for a 7-day free trial of our group classes to see how thousands of students are dominating the Spanish language with SpanishVIP.
What to learn Spanish, fast?
Download our e-book, Easy Spanish Shortcuts, and learn your first 1,000 Spanish words in under a day!