The development of new competitive markets and growth opportunities for foreign investment in Spanish-speaking countries has made knowing Spanish an indispensable requirement for standing out in the business field.
In this global world, no business, regardless of its scale, limits its reach to local markets and organizations anymore, thanks to the focus on digital interconnectivity that has brought the COVID-19 pandemic.
To conduct business successfully, effective communication is key. With almost 500 million speakers around the globe, recent reports show that Spanish has become the second most spoken language in the world just after Chinese Mandarin, proving the relevant role it has played in cultural and economic development.
And it's with that in mind that companies value the prospect of having people with multilingual skills among their ranks that can help foster stronger relations with clients, service providers, and other businesses, ensuring prosperity and growth.
What is business Spanish?
Bear in mind that the business field conveys in itself its own formal practices, specialized terminology, and technical vocabulary that allow the proper understanding between two or more parties in order to conduct successful trading with each other.
For that reason, we regard business Spanish as a technical specialty in this language study. But in language, no matter your area of expertise, context is important to effectively communicate ideas, and to do so you can't limit yourself to technical vocabulary alone.
It's recommended to learn Spanish comprehensively so you can have a solid notion of how ideas are constructed using phrases, vocabulary, grammar, and the preparation you need to handle real-life scenarios in the field.
Business Spanish is used in professional contexts, avoiding colloquialisms and giving special emphasis to the proper use of specialized jargon, showing confidence and expertise in formal communication.
How useful is it to learn Business Spanish?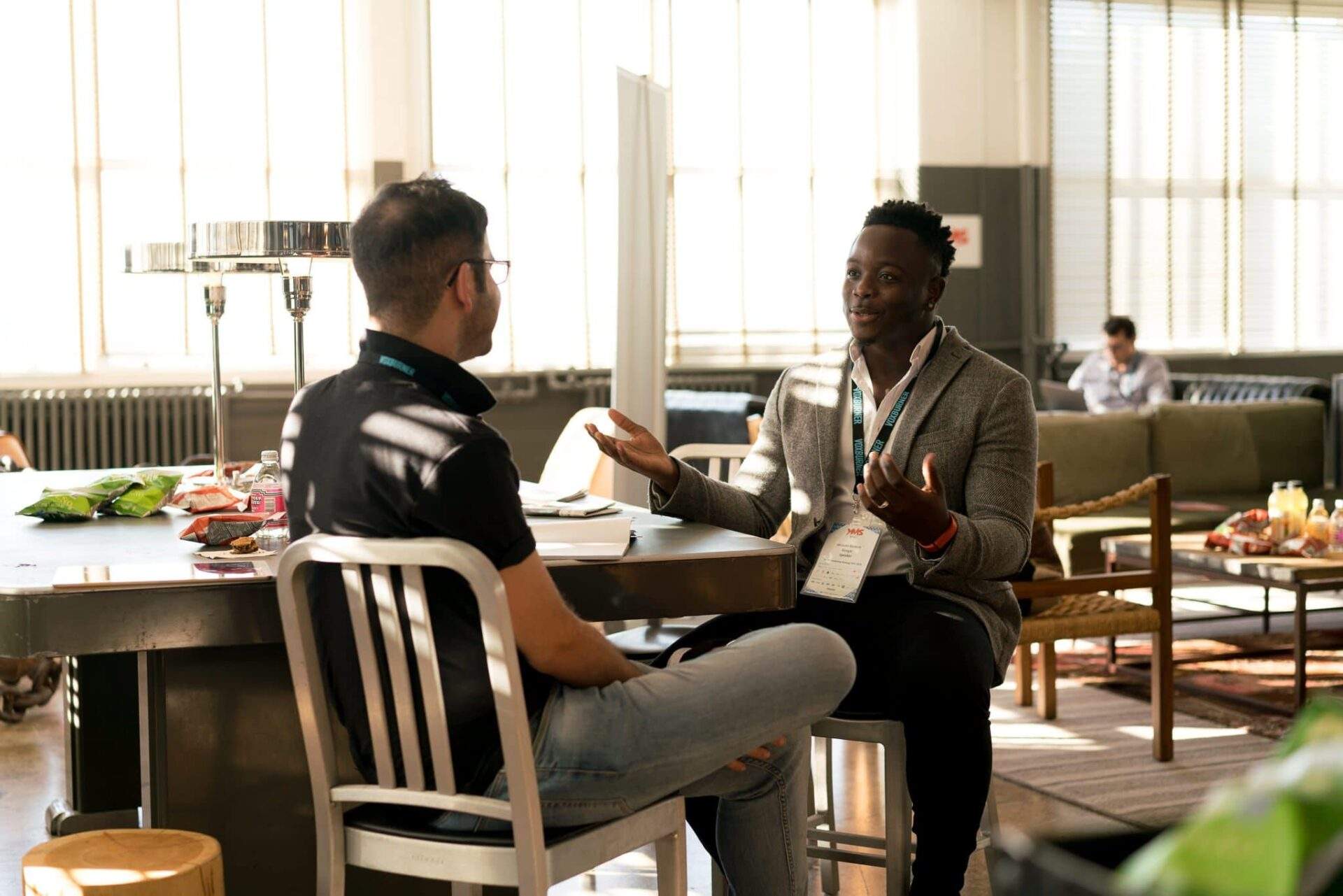 Challenging times like we're living in today bring novel ways to accomplish goals, to work, and do things better. In the digital era, intercultural and virtual teams are a trend for startups and big corporations alike.
We all agree that having multilingual language skills can open new opportunities for professional career growth, but have we thought of the impact on our experience in the working environment?
Employees with knowledge of Spanish for business would improve team productivity by communicating effectively, minimizing stress, and promoting optimal performance.
Customer service employees with Spanish-speaking skills can help the company reduce the dependency on interpreters, resulting in more valuable negotiations.
Employees that can communicate with consumers in their native language will be able to create relationships, trust, and client loyalty far more effectively. And in a global market, great business trades rely on that.
 DID YOU KNOW..?

One of the most common reasons people stop learning a foreign language is the lack of motivation. With our Online Spanish Conversation Group Classes you can find impulse, experiences, cooperation, and fellowship to help you master the language.
Is Spanish a business language? Its global reach proves it is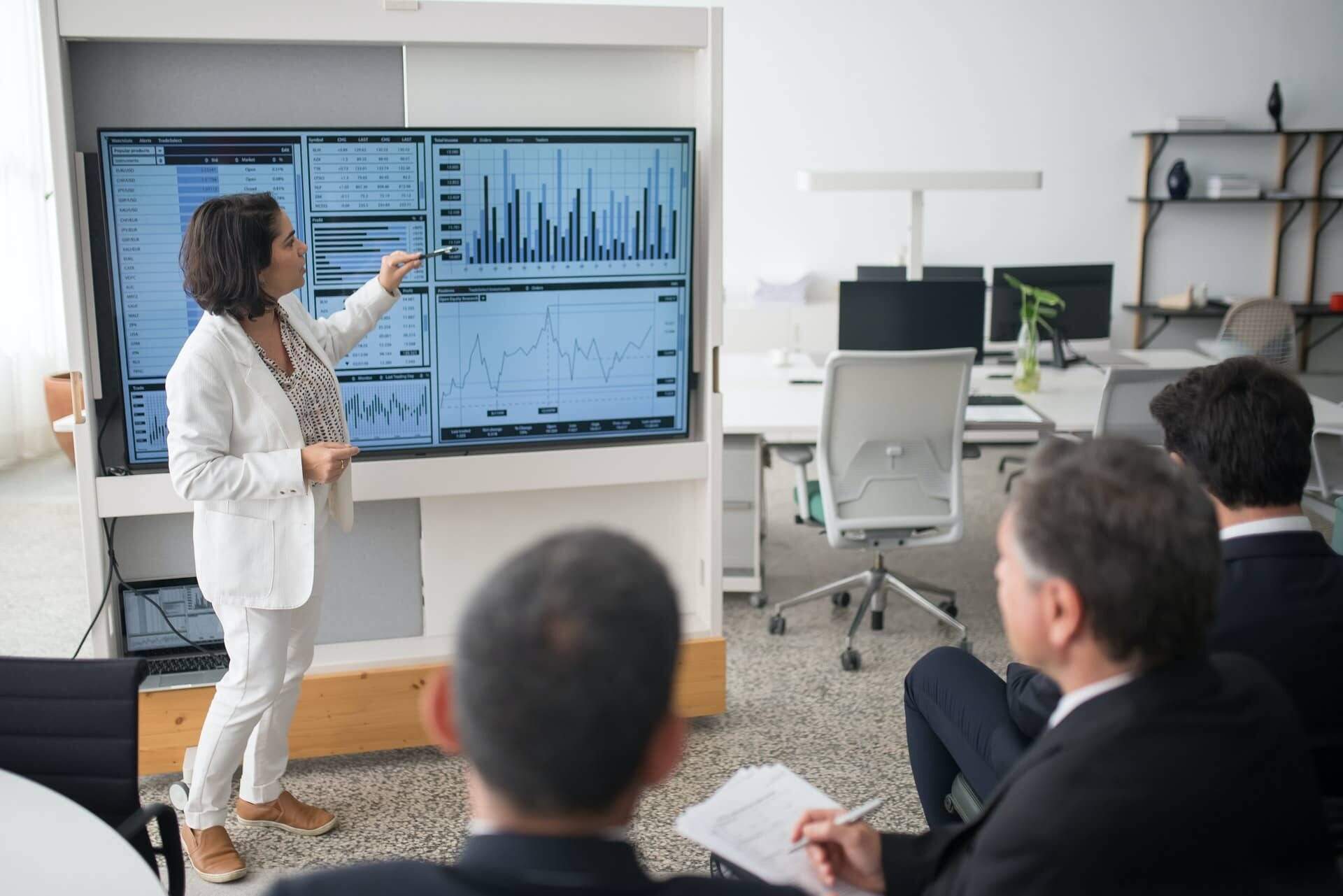 Beyond the number of speakers worldwide, Spanish maintains a status of relevance as it is also considered an official language in several international organizations such as the UN, Mercosur, OAS, European Union, WTO, among others, making the language fundamental for any political, economic integration, tourism or any other trade agreements at a worldwide scale.
Attractive incentives for foreign companies, an abundance of natural resources and competent human talent makes Latin America a prospective market for investment.
The Spanish-speaking world has a worldwide outlook, a top education system, a culturally diverse population and a booming entrepreneurship since the last decade. Any company aiming to expand to new markets should find the region as an unquestionable spot for business opportunities.
Basic business Spanish vocabulary to get started with
The following are some basic words and expressions that you might frequently hear in the business Spanish vocabulary. Let's dive into them:
| | |
| --- | --- |
| Spanish | English |
| Economía | Economy |
| Contrato Laboral | Labor Contract |
| Contrato Fijo o Indefinido | Fixed or Indefinite Contract |
| Contrato Parcial | Partial Contract |
| Empresa | Company |
| Los Negocios | The Business |
| Mercado | Market |
| Clientes | Clients |
| Consumidores | Consumers |
| Oferta y  Demanda | Supply & Demand |
| Bienes y Servicios | Goods & Services |
| Industria | Industry |
| Promociones | Promotions |
| El Precio | Price |
| Publicidad | Advertising |
| Ventas | Sales |
| Compras | Purchasing |
| Exportaciones | Exports |
| Importaciones | Imports |
| Aduana | Customs |
| Riesgo | Risk |
| Costos | Costs |
| Ganancias | Profit |
| Comercial | Commercial |
| Comercio | Trade |
Basic Business Spanish Vocabulary: industry positions and departments
Each position mentioned in the following list are of key importance in Spanish business management vocabulary:
| | |
| --- | --- |
| Spanish | English |
| Presidente | President |
| Accionista | Shareholder |
| Junta Directiva | Board Of Directors |
| Equipo | Team |
| Vicepresidente | Vice President |
| Gerente General | General Manager |
| Director General | Managing Director |
| Contratistas | Contractors |
| Ejecutivos | Executives |
| Publicistas | Advertisers |
| Vendedores | Sellers |
| Empleados | Employees |
|  Departamento De Administración | Administration Department |
| Departamento De Finanzas | Finance Department |
| Departamento De Marketing | Marketing Department |
| Departamento De Ventas | Sales Department |
| Asociados | Associates |
| Recursos Humanos | Human Resources |
15 Essential Spanish Phrases Most Used in a Business Meeting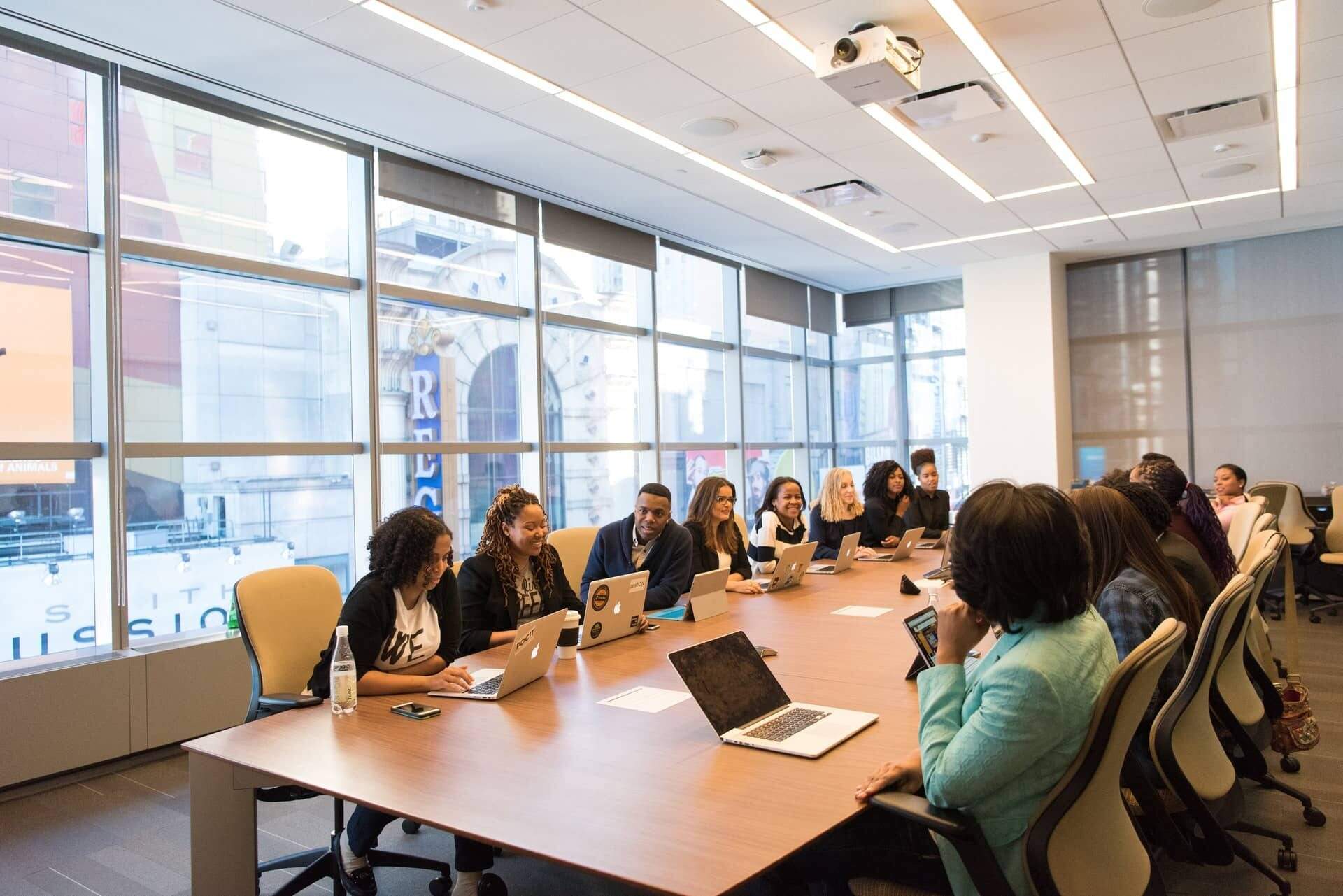 Regardless of the type of meeting or the topic being discussed, a few expressions can be very helpful. We have listed some of the Spanish phrases most often said in a business meeting.
Spanish
English
Es momento de dar inicio a la reunión de negocios
It's time to start the business meeting
Presten atención a los siguientes puntos
Pay attention to the following points
Nos reuniremos en la sala de conferencias
We will meet in the conference room
Ya está todo arreglado para comenzar a discutir los términos
It's all set to start discussing the terms
Es momento de presentar el proyecto
It's time to present the project
No estoy de acuerdo con lo que propone
I do not agree with what you are proposing
¿Cuándo es la firma del contrato?
When is the signing of the contract?
Estamos muy complacidos que esta reunión se lleve a cabo
We are very pleased that this meeting is taking place
Quedo atento a su respuesta
I look forward to your response
¿Puedes enviar la información por correo electrónico, por favor?
Could you send the information by email, please?
¿Cuál es su proyección de ventas para este año?
What is your sales projection for this year?
¿En que basa sus estimaciones de productividad
para este proyecto?
On what do you base your productivity estimates for this project?
¿En qué plazo cree que tendremos un retorno de la inversión?
How soon do you think we will have a return on investment?
¿Cuáles son sus estimaciones a futuro?
What are your estimates for the future?
Es un placer hacer negocios con su firma
It is a pleasure to do business with your firm.
Effective ways to learn business Spanish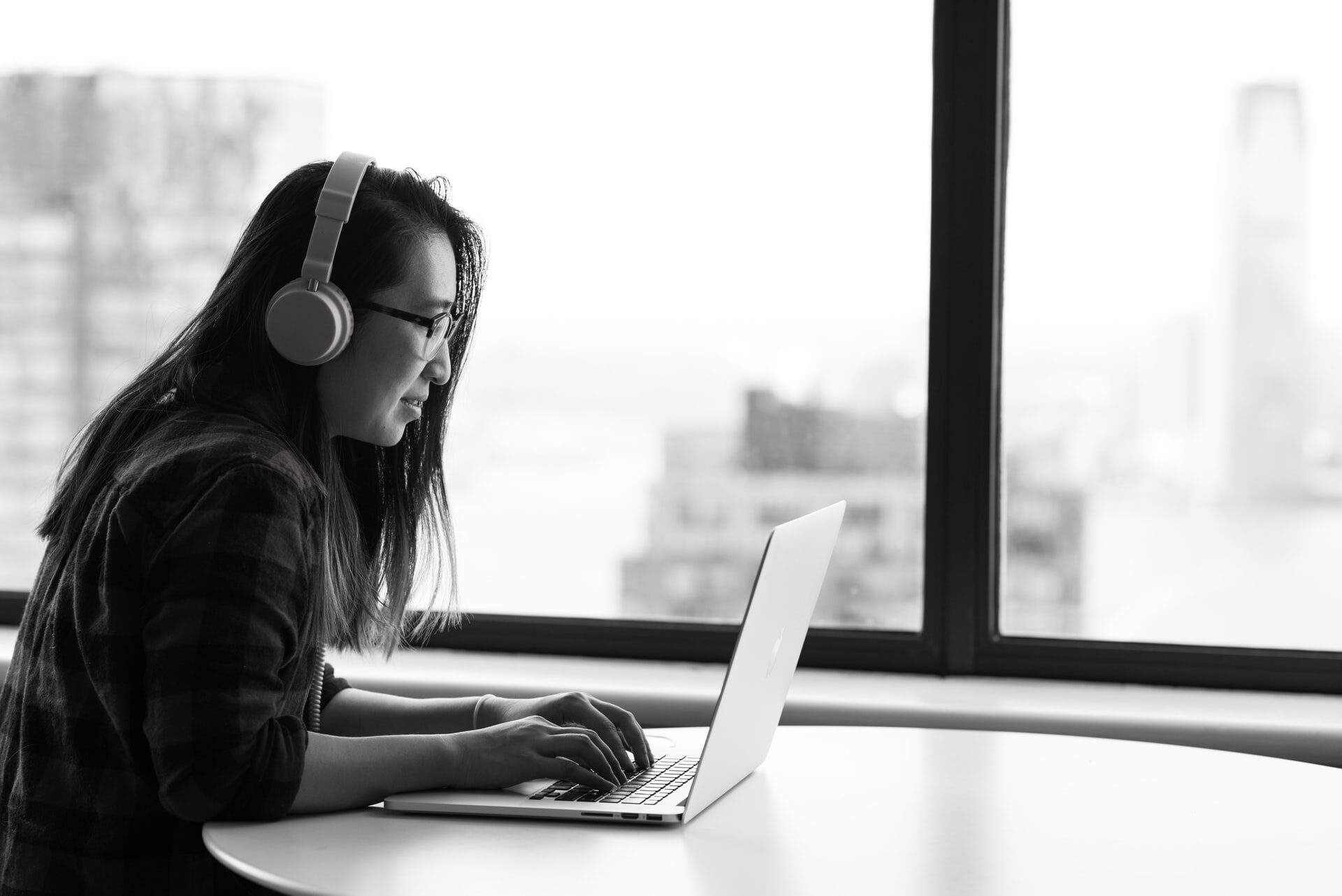 The importance of learning Spanish has become increasingly necessary for use in either personal or professional settings.
Spanish is a fascinating language, and mastering it will give you another perspective; you will have a better competitive position and the opportunity to get to know fascinating places, people, and cultures.
The courses offered by SpanishVIP are taught by a highly qualified and dedicated team of native teachers who provide a wide variety of methods to improve fluency and interactive skills in a Spanish-speaking environment.
If you're ready to take your practice to the next level, our team can support you. Try a free class or sign up for a free 7-day trial of our group classes to see why thousands of students trust SpanishVIP!
Want to learn Spanish, fast?
Download our e-book, Easy Spanish Shortcuts, and learn your first 1,000 Spanish words in under a day!