Mexico is a place of extreme beauty where you can still see old traditions blended with modern ideas and locations. The country is the third biggest country in Latin America and has 31 states under one federal district.
Crazy, right?
Mexico has so much to offer its visitors, but unfortunately, it also has a terrible reputation for being the kidnap capital and cartel-controlled city.
But, if you look past that, you'll find the country has so much more than crime.
Throughout the country, you can find towns full of indigenous people and some contemporary-looking villages.
Regardless of the area, Mexicans are proud of their history and culture. And this shows when you look at their traditional dresses, dances, songs and performances.
One thing that can't be disputed is Mexico is known for its street food, pristine beaches of Playa del Carmen, and stunning resorts, which far outweighs the bad stereotype.
In our Mexico travel guide we want to show you what the country has to offer, how to make the best of your trip, and help you digest some of their History.
If you've been planning to book your flight, don't go anywhere until you've read this article:
Kiwi.com
Why Choose Them?

Plan Your Trip Here

Competitive Prices
Plan Your Full Trip From The Website
Provides Excellent Support
Get Price Alerts On The Move
Manage Your Bookings
History And Culture
Mexico has some of the most remarkable History in Latin America. The country was said to be inhabited for about 23,000 years, according to archaeological evidence.
Around 7,000 years ago, tribes decided to settle in Mexico due to the high quantity of available food sources, which helped shape Mexican cuisine as we see it today.
One of the earliest organized tribes in Mexico was the Olmecs, who were based around the Gulf Coast. The culture of this tribe began spreading around the country, with many trying to embrace their advanced way of living… including the famous Mayans.
Around 300 BCE, the Mayan settlements began to pop up around the northern Yucatan Peninsula on the Riviera Maya, part of which is now in Guatemala.
As the Mayans evolved their civilization, they introduced the Ahua (King) concept with a hierarchy of designated elites.
During this period, the kingdom's population went into the millions, which is when the construction of impressive complexes began, the most noticeable one being Teotihuacan.
The empire dominated the region for many years until it eventually fell in the 8th century. It's unsure how exactly the empire fell, but two possible causes float around:
The Toltecs sacked the Teotihuacan and became the next civilization to control the area.
The power-hungry leaders led to their own demise.
The new leaders were named Tula and started to build a new capital about 50 miles away from where Mexico city now stands.
The Tula reign lasted quite a long time but wasn't very significant to the history of the land. They eventually fell in the 11th century.
After a century of tribal disputes and struggles, the vicious Aztecs came to stake their claim. The nomads made their way across the deserts of Rio Grande and began construction of the world's biggest city at the time, Tenochtitlan.
The Aztecs were very religious people and often made blood offerings to please their Gods. In other words, they made human sacrifices to appease the Gods, which led to endless wars between tribes.
It wasn't until 1519 when the Spanish conquistadors arrived at the Aztec Kingdom of Tenochtitlan, where around 1.5 million people lived. Although Columbus had been up and down the coast, it took 27 years before the Spanish first explored the kingdom.
Hernan Cortes and 550 men made their way to Tabasco on 11 ships and started to make their way inland.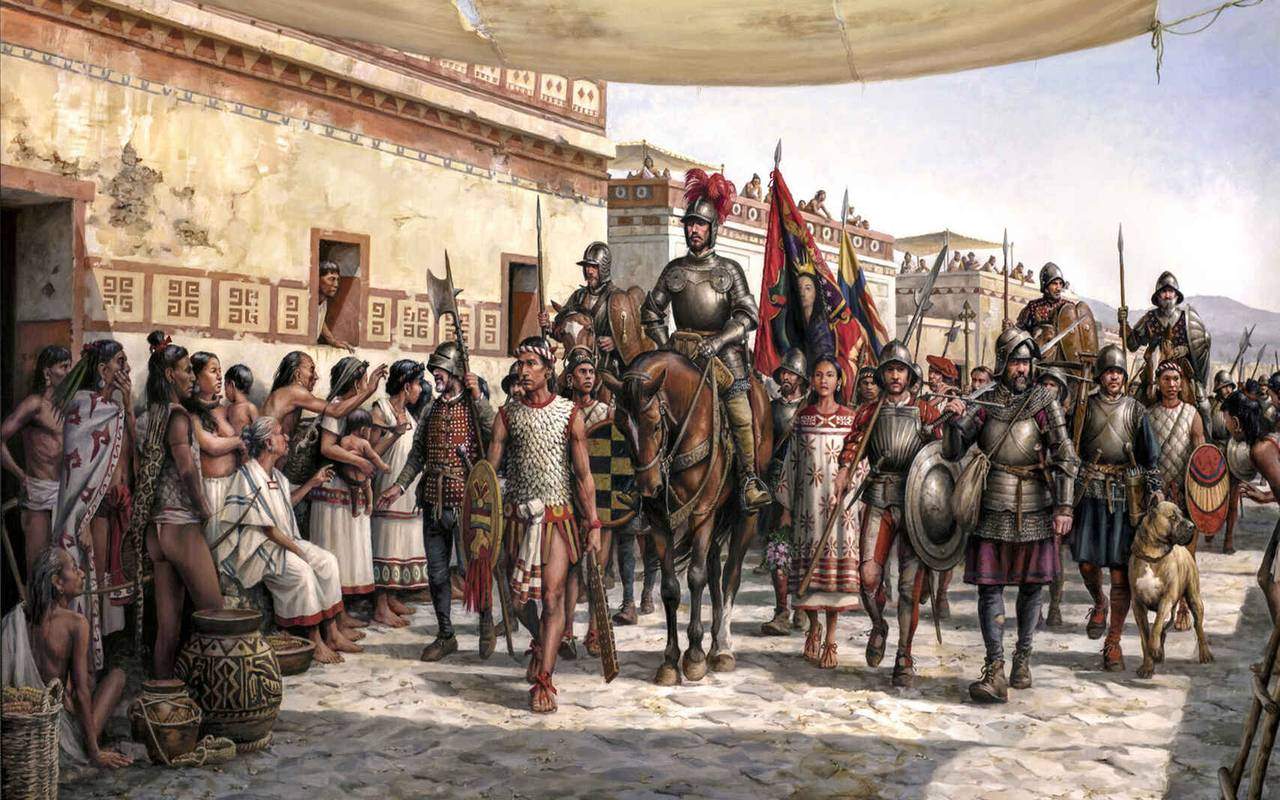 By the time the Aztec king came to fight, the conquistadors had already amassed 6,000 indigenous allies. King Moctezuma was eventually captured.
After a year, full-scale riots broke out between the locals and the invader, which ended in the king's death.
Fast forward to the 19th century, and the end of the Spanish reign was apparent to see. They had suffered a defeat to the French, and the upper class of Mexico was unhappy with the tax rises imposed on them… this sparked the rebellion.
In 1810, over 80,000 independent rebels defeated the Spanish loyalists, but they couldn't completely take over the city. It was another decade of fighting before Mexico got its independence.
This was a big moment for Central America, as the leader of Guatemala asked for all countries to be given their independence.
So, what culture do you see in Mexico today?
One of the most important aspects of Mexican culture is that literature has thrived in this diverse region since the pre-Columbian era.
Music is also at the center of Mexican culture, with a wide range of genres throughout Mexico. Throughout the country, you'll find world-famous Mariachi bands and top DJs performing at venues.
Mexico is also known for its high-quality cinema productions stretching back to the WWII era.
You'll find a very religious presence throughout the country, with 89% of the population being Roman Catholic.
Top Cities and States: Mexico Travel Tips
You're ready to head to Mexico; which cities should you plan to travel to? Some locations are highly visited, like Cancun and Cabo.
While they offer stunning views and excellent hotels/resorts, they are usually the first cities travelers head to when first visiting. Here is the guide to traveling in Mexico for cities and states.
Below you'll find the top places to visit and historical landmarks in each area:
Mexico City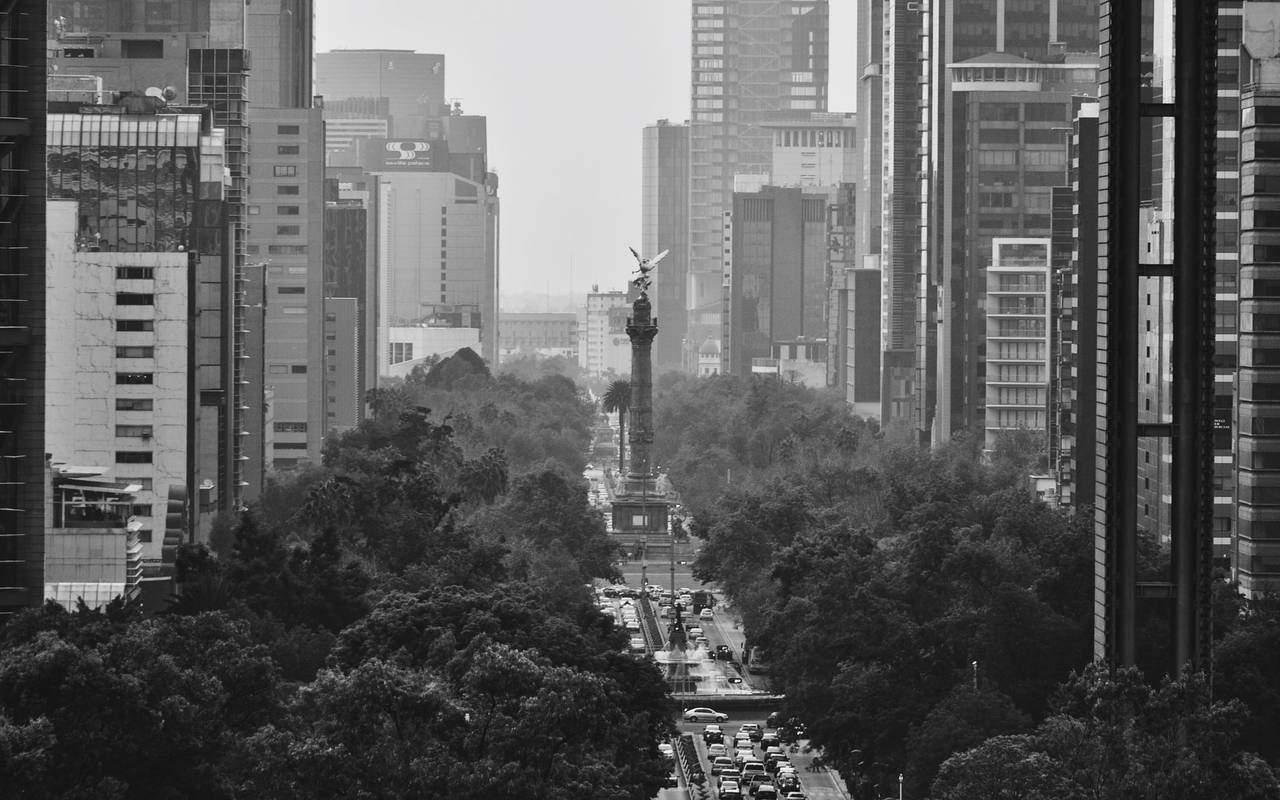 Mexico City boasts many historical landmarks that you can visit. Not surprisingly, different groups of people have occupied this city in Mexico since 100 AD; it started with the Toltecs, Aztecs, and other indigenous tribes.
Spain took over in 1510 and continued to reign over Mexico city until a war for independence, which ran from 1810-1821. Now, the city has an intriguing history and proud locals.
Here are a few of the top places to visit in and around Mexico City and tours you can book:
El Angel
This landmark is also known as Monumento a la Independencia or Monument to Independence in English. It was built in 1910 and celebrated the day Mexico broke free from Spain 100 years prior.
Spot the lions at the base of the historical landmark, who look over the critical Mexican figures buried underneath the monument. You'll find this detailed structure featuring an angel on top (hence the name) on Paseo de la Reforma.
 Tip…

There is a long, winding staircase inside this monument. It's free to the public. Grab your travel partner and climb to the top for a spectacular view of Mexico City.
Templo Mayor
This spot is both a museum and a historical landmark. Templo Mayor translates to "Main Temple." This temple was previously built and used by Aztecs. It's a historical site where you can peek back in time to when the Aztecs ruled Mexico City.
 Tip…

Ensure to stop in the museum to learn more about the Aztecs, their influence on Mexico City, and information on the temple.
Oaxaca State
Oaxaca is known for its gorgeous beaches, detailed architecture, scenes of mountains, and pleasant weather. Oaxaca houses 16 different tribes.
Even when Oaxaca was first established, 16 different groups of people inhabited the state. In the early days, each of these groups spoke a foreign language and had different customs.
Now, Oaxaca is known for its abundance of produce grown every year and the local decorative objects created by indigenous people. If you've never had a mole (a marinade, not the animal) before – this is a great state to give it a try. Each area of the state creates a different version of mole – there are seven areas in total.
Below are some historical landmarks to check out while staying here:
Museo Textil De Oaxaca
The Museo Textil De Oaxaca (Textile Museum of Oaxaca) is a Unesco World Heritage Site in Oaxaca. This museum is located inside a restored mansion and bases its exhibits around the textiles from Oaxaca.
Workshops and conferences are held regularly here to offer knowledge and information about the history of Oaxacan Textiles. Expect to see thousands of different textiles from multiple collections.
Tip…

Enjoy a tour here to enjoy the history of Oaxacan Textiles and to understand the process of making them.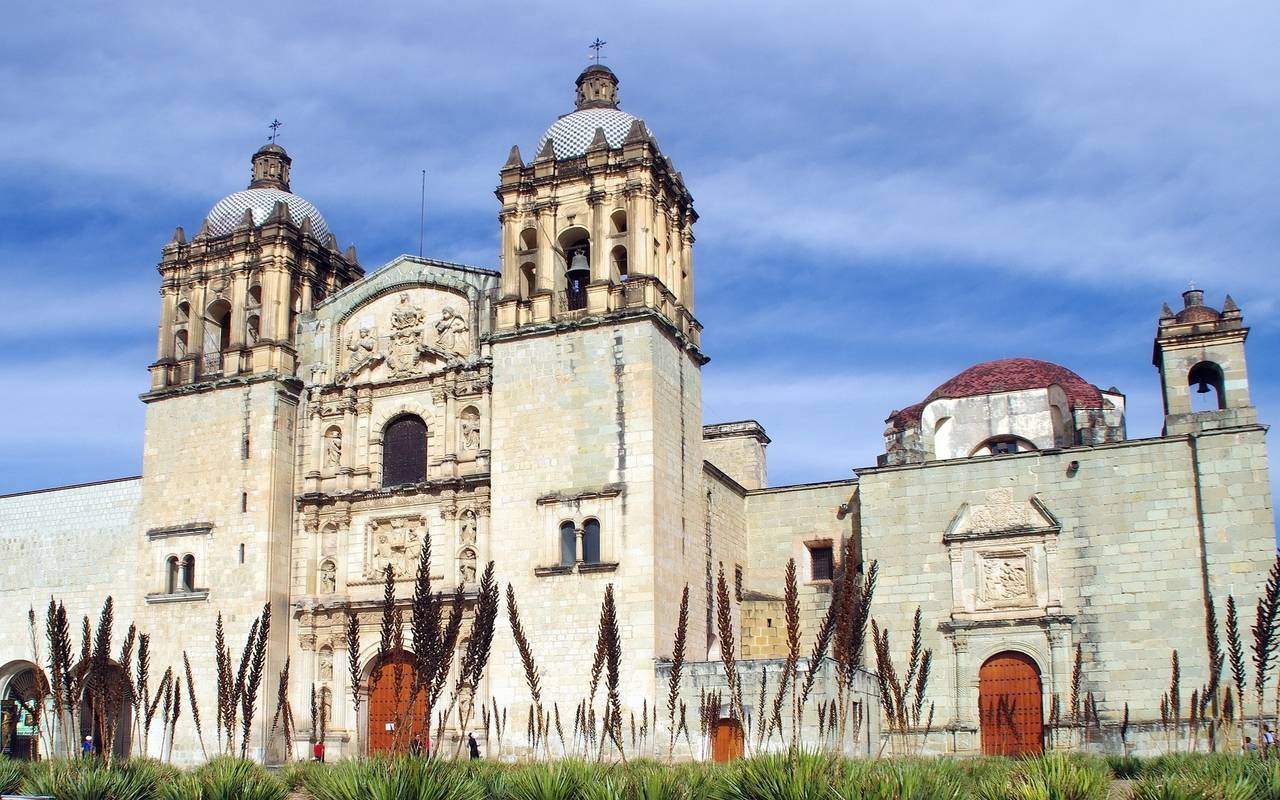 The Catedral Metropolitana is a stunning cathedral in Oaxaca. The outside appears as a majestic castle-like structure with carvings and two giant bell towers.
The inside of the cathedral boasts exquisite details, including chandeliers hanging from the ceiling. The architecture and design are enough of a reason to visit this spot.
The Catedral Metropolitana holds multiple altars that are visited daily by long lines of people. You can find altars such as the Altar of Forgiveness and the Altar of the Kings here. The inside of the cathedral is open for exploration by visitors.
Tip…

Take a tour through the crypt -guides will provide information as you walk through here. You'll need to offer a donation before heading into the Catedral Metropolitana.
Guadalajara
Guadalajara changed its location on four separate occasions before settling into its final spot, it now lies within driving distance of the pacific coast. The idea of a university was initially brought up in 1700, though it was not until the late 1700s when the first university was built in Guadalajara.
Now, Guadalajara is known for its array of universities. You can find 20 different universities here. Learn more about this city by visiting the local historic landmarks below.
The Regional Museum of Guadalajara
The Regional Museum of Guadalajara was named a historic landmark in 1943. This sprawling museum that covers an entire block in the city also has an enticing and strange history.
The building, initially built by a church in the early 1700s, was taken over as a safe place/prison for enemies during wartime, then served as the state library—all before becoming a historic landmark.
This museum offers exhibits that display the culture and cultural items of nearby states in Mexico. These items include jewelry, pottery, and even carriages that were used previously.
This all-encompassing museum shows what daily life was like for people ranging from the early days of this country to more recent history (the 1900s).
 Tip…

Visit on a Sunday as admission is free on this day.
Rotonda de los Jaliscienses Ilustres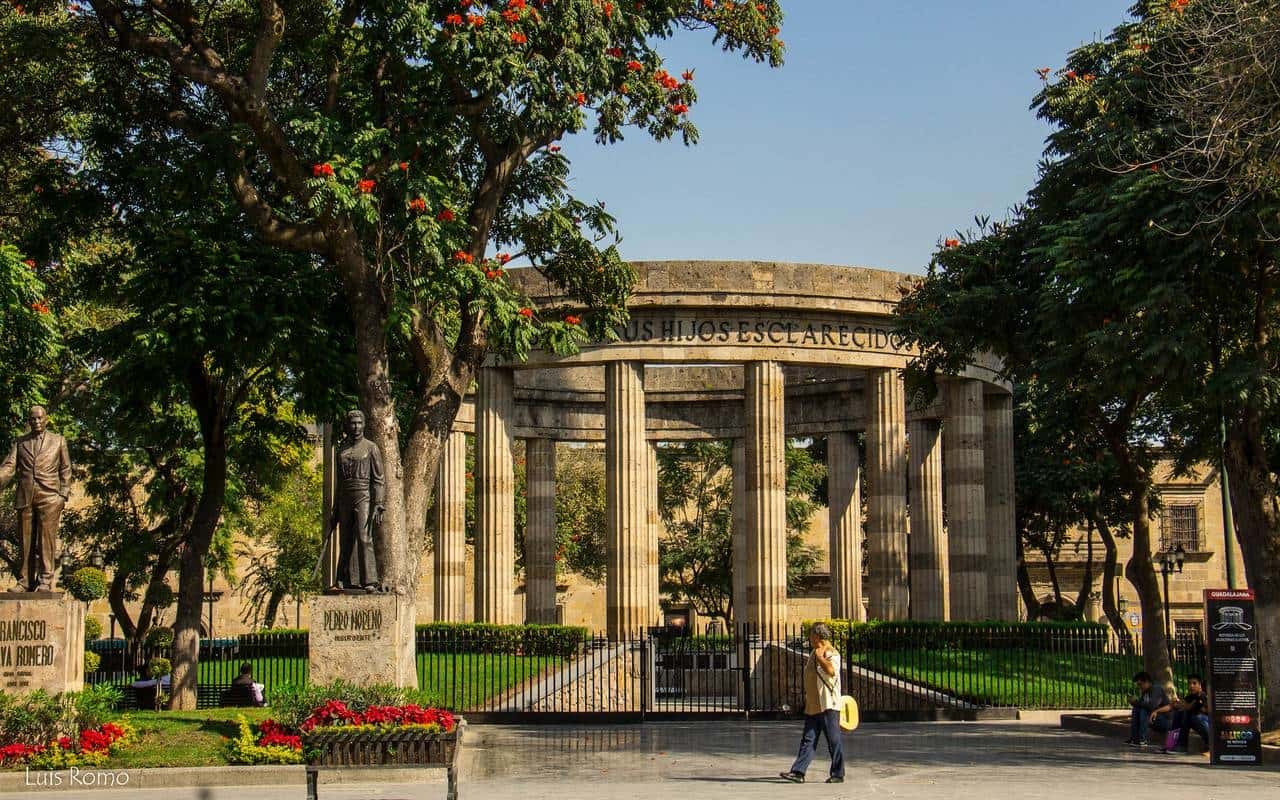 Rotonda de los Jaliscienses Ilustres (Rotunda of the Illustrious People of Jalisco) is located in the center of Guadalajara. The structure features elegant columns surrounded by beautiful greenery.
This historic landmark was constructed as a thank you to the writers and people of Jalisco that assisted in advancing Guadalajara. You can find this landmark on Avenida Miguel Hidalgo.
 Tip…

This landmark is free to visit. Head here at nighttime with a group to see it lit up.
Tulum
Tulum has been rising in popularity over the last few years for visitors, mainly due to the cenotes you can find here. For those unsure of what a cenote is, it's a sinkhole filled with water. You can swim in many underground cenotes.
Tulum is known for its hidden cenotes and its amazing archeology site built by the Mayans. The local downtown area of Tulum is a great town to stroll through; it has a charm to it and is an excellent way to get to know the area.
Tulum Archaeological Zone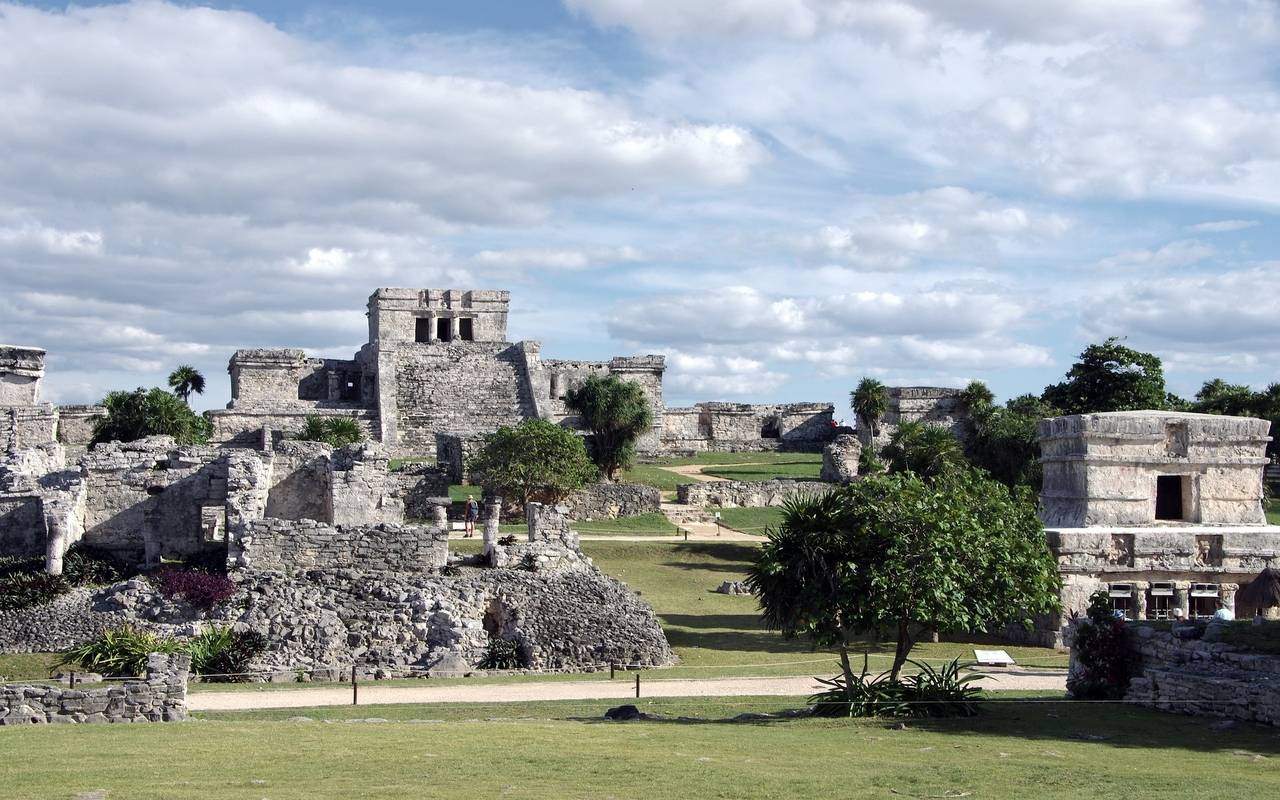 This is a must-see while visiting Tulum. The archaeological site was previously a large Mayan city that prospered due to trading items. Its location is next to the water allowed trade items to come both from land and from ships.
Sixty temples have been updated/restored. You can walk through the whole zone and imagine what it looked like when it was first built.
 Tip…

Don't forget to grab some pictures here. The location by the water offers stunning views.
Other Spots You Should Visit In Mexico
While these are not historical landmarks, they are other noteworthy spots you should visit. Here is a quick travel guide for Mexico attractions to check out:
Gran Cenote
Gran Cenote is one of the most beautiful locations in Tulum, Quintana Roo. In the Mayan world, the Cenote was significant to the people; they felt it was a connection with the spiritual world.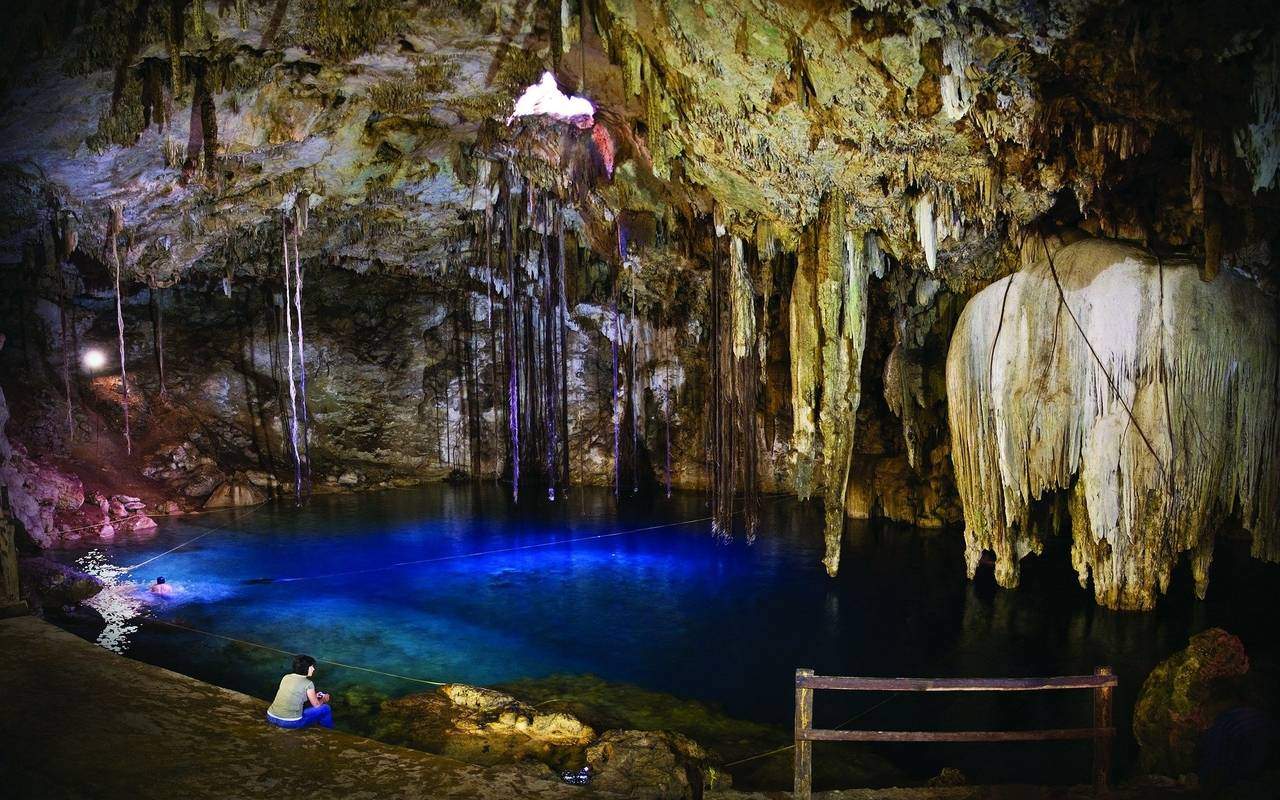 The Gran Cenote is located in the Mayan jungle, which is the selling point for many. But when you add the crystal clear waters and photo opportunities it holds, then you have a tourist location suitable for everyone.
The location is about 5 km from Tulum, but most people visit from Playa del Carmen, which adds a bit to the journey.
Las Pozas
This is a sculpture park created by Edward James situated in the middle of a rainforest and sits 2,000 feet above sea level. You can find this outdoor art in the town of Xilitla and include more than 80 acres of natural waterfalls and pools.
Las Coloradas
If you've ever been to the salt flats in Utah, this location will look familiar to you. Though instead of salt flats, you'll find pink salt lakes. It's located in the Yucatan peninsula, separating the Gulf of Mexico from the Lagoon Ria Lagartos.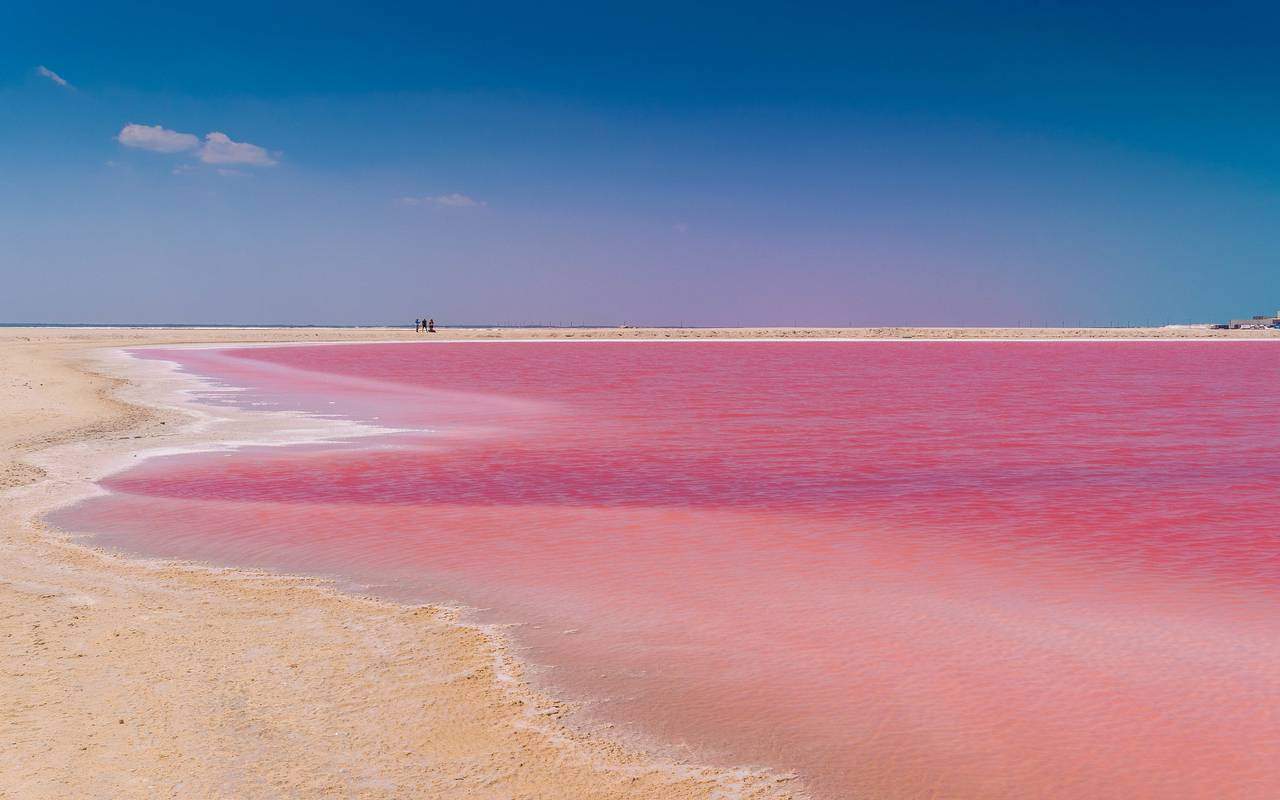 It's worth mentioning that the phenomenon cannot be seen all year round. The best times to go are during the month's May, June, and sometimes July, so make sure you plan your trip to Mexico accordingly.
Mina El Eden
This 16th-century mine is located in Zacatecas. Spend the day looking through the museum, riding on a mine-cart, or taking a tour.
While looking through the museum, you'll be able to look at the collection of rocks and minerals from several parts of the world.
Throughout the tour, you'll be able to marvel at silver in its natural state, native gold, and many other rocks, some of which glow in the dark.
Museo Nacional De Antropologia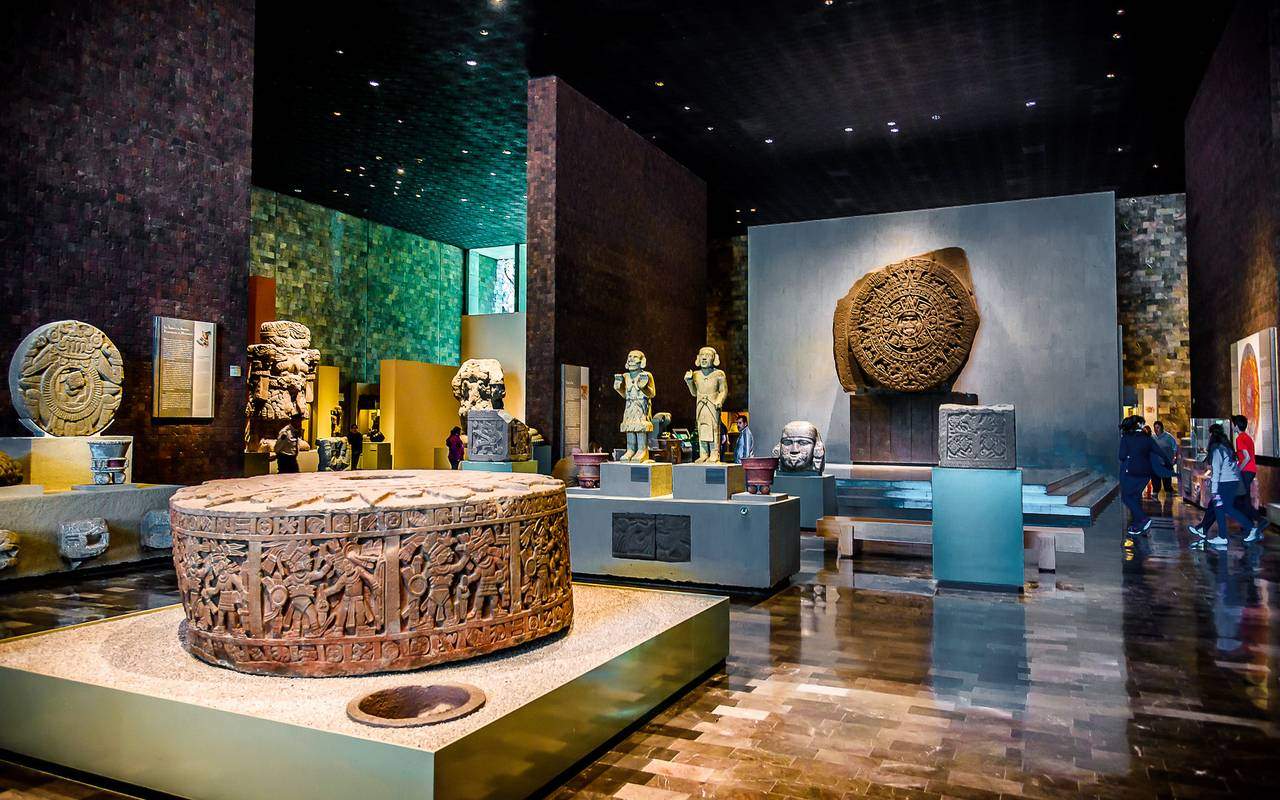 The National Museum of Anthropology is housed in Mexico City. You'll find everything from sculptures, textiles, clothing, toys, and the whole country's history here in this two-level museum. Make sure to take enough time to explore this museum fully – it's pretty large.
Playa Del Carmen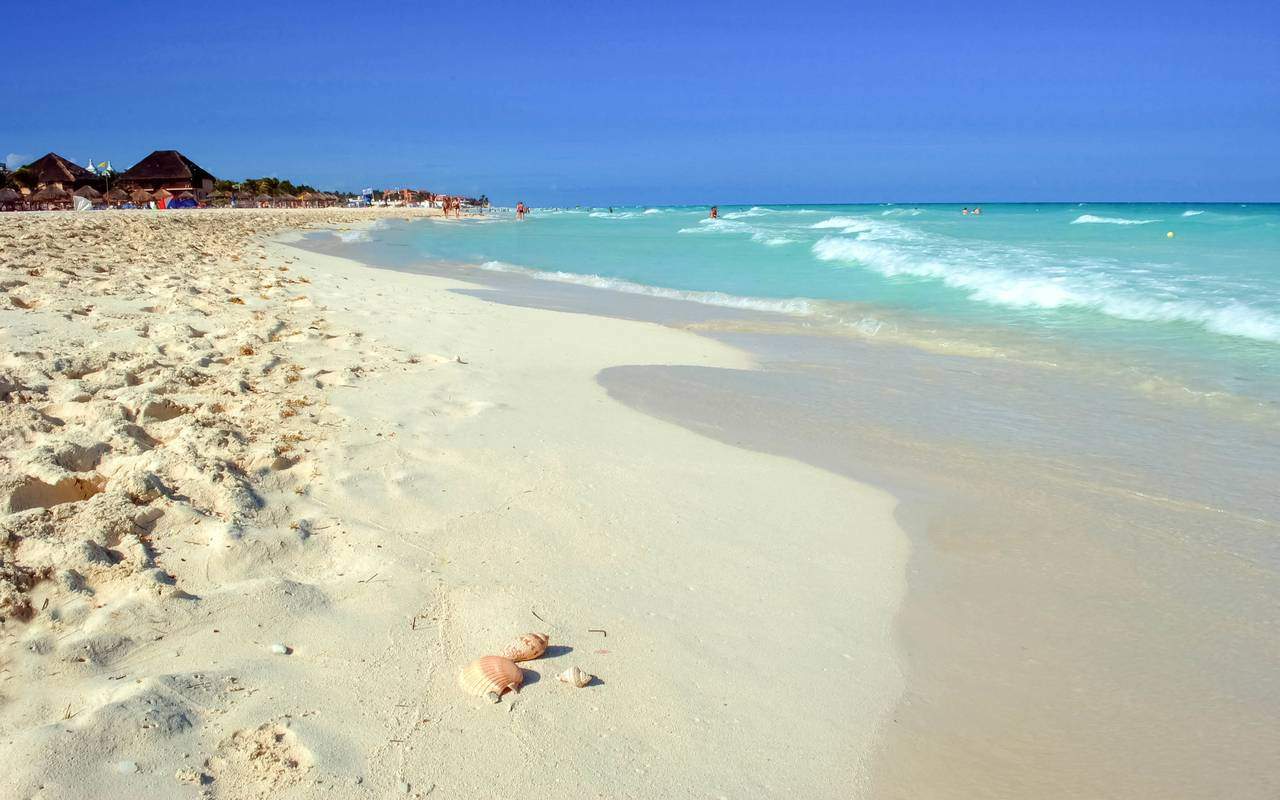 Although Playa del Carmen is a town in Mexico, it's made itself more of an attraction due to the luxury resorts and pristine beaches.
It lies along the Yucatan Peninsula/Riviera Maya Strip of the Caribbean coast. The town is best known for its palm-lined beaches and coral reefs.
Playa del Carmen is an excellent place for people who want to relax and explore Mexico's Caribbean coast.
Why Should You Visit Mexico?
Tourists visiting this country and its proud people get a look into the culture, traditions, celebrations, and history that make this country what it is today.
The country has preserved its past exquisitely through food, dance, song, and holidays.
Here are four examples of what to expect when you travel here and why you should ultimately stay in this incredible country:
Array Of Food
Tacos are not the only types of street food that are served here. There are burritos, incredible pescado (fish) dishes and sweetbreads that can be purchased each morning.
It is common in this country's culture to eat every part of the animal during meals. You'll find dishes that include cow stomach (pozole), tacos made from cow tongue (lengua), and even brain/eyes.
The mentality of not leaving any food to waste accounts for these types of food being consumed here. This is mainly due to an imbalance of wealth throughout the country. Those with fewer resources in the past made sure to finish all animal parts to avoid wasting good sources of nutrients.
Rich History
The Mayans were one of the first indigenous groups that lived in the country. They were touted as one of the most intelligent groups of people, and many ruins of their civilization can still be seen today. Following the Mayans, other groups included Toltecs, Chichen Itza, and the Aztecs.
These groups of people helped develop the current culture of the country.
In 1521, Spain began conquering the Aztec people. Fifty years later, Spain had power over most of the Aztecs. Mexico was under the control of different countries until finally revolting and winning its power back in 1934.
Although the country has previously had issues with its economy, it continues to be boosted by tourists visiting and spending money on local goods.
Cultural Activities
The culture of this country is unlike any other you will experience. Brightly colored costumes donned for festivals and holidays descend directly from their Mayan and Aztec predecessors.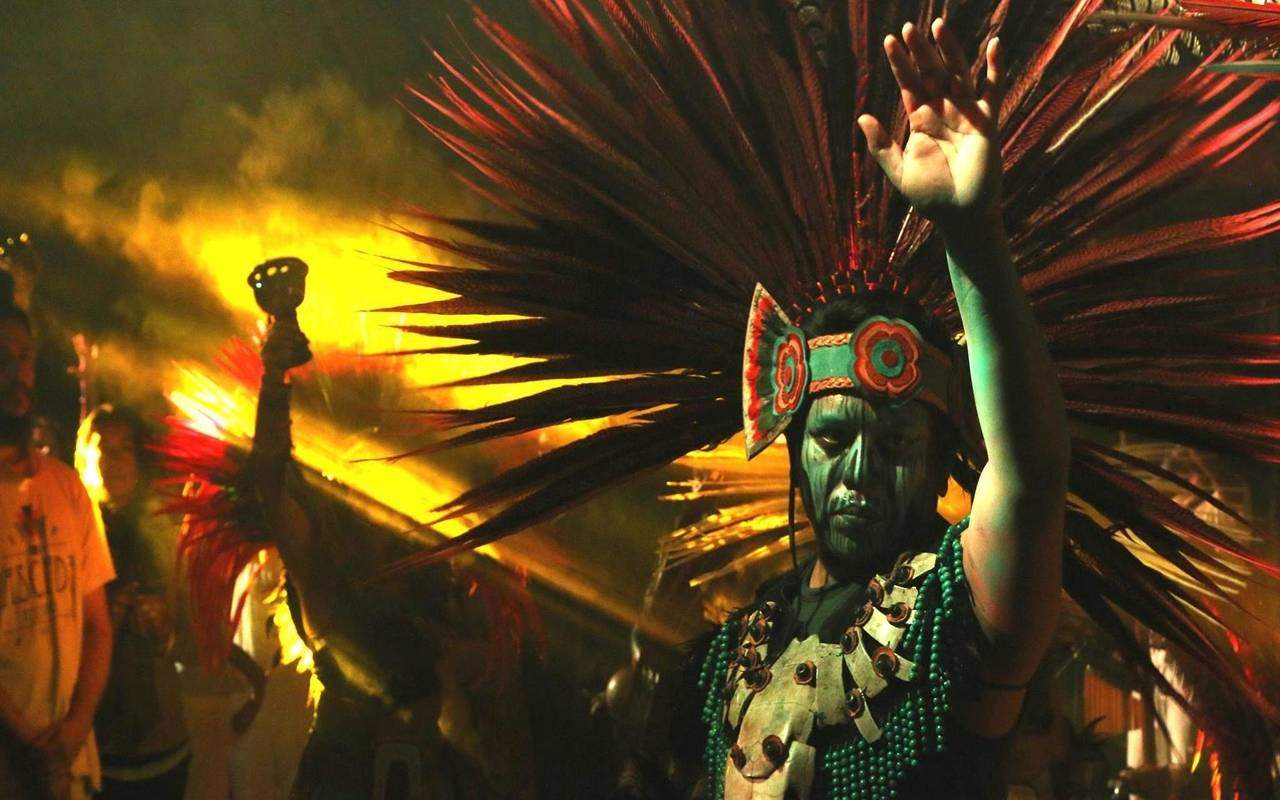 Mariachi music is another example of the diversity of the culture in Mexico. Usually, five members will perform in each Mariachi band – all wearing traditional charro suits.
Each celebration that occurs throughout the country uses different colors, outfits, and decorations to explain the stories of their ancestors.
The cultural events are unforgettable and allow you to travel back in time briefly to when each holiday began – through dances and performances.
Test Your Spanish
This country is an excellent spot for you to practice your Spanish speaking. It boasts the largest population of Spanish speakers in the nation. At the same time, tutoring and learning by lesson are, of course, helpful and great ways to learn.
Immersing yourself in the culture and communicating with the locals in their native tongue provides an entirely different experience.
It allows you to associate words and meanings with images, experiences, sights, sounds and smells. Thus, reinforcing the language in your mind.
What languages are spoken in Mexico?
Of course, Spanish is one of the top languages spoken in Mexico. About 95% of people living here speak this language.
While Spanish is quite widely spoken here, people use other languages to communicate throughout the country.
Many languages here have indigenous roots. Here are some of the top languages you might hear while visiting Mexico:
Nahuatl
This language is one of the country's official languages. About 1.5 million people speak Nahuatl here.
Mayan
You may be surprised to find out that the Mayan language is still spoken throughout Mexico. Close to 800,000 people speak Mayan throughout the country.
Mixteco
Mixteco speakers, in general, are found in the southern part of Mexico. Just under 500,000 people speak this language.
These are just three additional languages that are spoken throughout this country. In total, locals use 60 different indigenous languages in modern-day Mexico. Don't be surprised if you head to a different city while visiting and hear one (or a few) of these languages.
A Few Tips You Should Know Before You Travel To Mexico
Mexico is, for the most part, pretty safe. Like any country, certain spots are not as safe as others. However, if you follow our Mexico travel guide, you should be comfortable traveling around most of the country:
Explore during the daylight.
Mexico City is best explored during the daylight. This will also assist in navigation depending on the location you're in; it can get pretty dark during the evening.
Darkness can be disorienting. Plus, except for restaurants, clubs, special events, and shops – most places are closed during the nighttime.
If you do decide to head out at night – grab a friend to go with you.
Make Sure You Have Travel Insurance
Although healthcare isn't that expensive in Mexico, you don't want to get hit with a bill during your holiday. And this is why having a reputable travel insurance company is so important when you're traveling abroad.
World Nomads
Why Choose Them?

Click Here for More Details

Located At Most Airports In The Country
Travel Accidents
Overseas Dental
Delayed Baggage
Digital Nomads
Pregnancy
Stolen Credit Cards
Stolen Passports
And Much More…
Travel with a group or buddy
Travel with a buddy (or group) when possible. If you visit with someone familiar with the area, that's even better.
If you're traveling solo – find some tours to take. Not only will this assist with safety, but you'll also learn interesting facts and notes on the area.
Safe-keep your valuables
As with traveling anywhere new, ensure your money and credit cards are secured on your person. You can do this by wearing a fanny pack or other similar carrying case.
This will put your valuables right where you can see them. Avoid distractions as much as possible and check your items periodically.
Drink from water bottles
You may already know this one. In case you aren't aware, tap water is not safe to consume in Mexico. Make sure to drink bottled water. You should even use bottled water when brushing your teeth. Water and drinks at restaurants are safe to drink as well.
Mexico is a beautiful country to visit, filled with interesting and exciting things to learn about, good food, and friendly locals. Now that you've read through the Mexico country travel guide, you're prepared to head to Mexico for a fantastic trip.
If you don't know any Spanish, it can be intimidating heading here, where Spanish is the primary spoken language.
Don't fret; try out a professional language service to give you an excellent head start before traveling. You can start learning the basics before even getting to Mexico! For intermediate learners, sharpen your skills to converse with the locals and meet new people easily.
The Best Time To Visit Mexico
Head to Mexico in November. This month offers warmer weather and fewer crowds. It's at the tail end of the rainy season, so there will be some humidity and possibly rainy days during this month.
However, enjoying the areas without bumping into too many large crowds is a big bonus.
If you want to avoid the rainy season altogether, aim to visit between December and April. It is also considered wintertime during these months.
However, don't let the word winter fool you. It tends to be on the hotter side during the day, so you can still experience daytime temperatures in the 80s. The evenings can get chilly in the wintertime so bring some layers for nighttime.
Keep in mind; the weather will change based on which exact area you're going to for example the Pacific coast and the Caribbean coast are very different. Similar to weather changes in the US. Some places run hotter than others, some have more rain than others, and some are drier than others.
Check your exact travel destination before heading there to ensure you get the best time to visit.
Is Mexico Dangerous To Travel To Right Now?
If you read the American newspapers or watch the local news, it's hard not to think Mexico City and the surrounding area is a dangerous place to be.
You'll always see horrific pictures of Mexico with warnings about people getting murdered or kidnaped and held ransom… but is it really that bad?
In reality, no Mexico is not as bad as the papers make out. That's not to say some of the stories are true or that crime doesn't happen in Mexico.
But it really isn't as bad as people like to make out; in fact, in general, Mexico is a beautiful place to travel with your friends, family, or by yourself (even as a female).
The trick is to use your common sense when traveling around; here are a few top tips to keep you and your family safe while you enjoy the country:
1. Be careful with your cash
Don't take all your money out with you, but make sure you always have enough to get home. If you need to take money out using a cash machine during the day and preferably in a shopping mall, it's a lot safer.
2. Keep your valuable hidden
Keep jewelry to a minimum, so you don't make yourself a target for petty crime.
3. Use public transport during the day, and private at night
This will help you keep off streets you don't know. Google maps don't know which roads are dangerous and which are safe. Many people can get themselves in trouble when they blindly follow the map.
If you don't fancy using public transport, then a great way of traveling around Mexico is in a rental car:
Discover Car Hire
Why Choose Them?

Book Your Car Now

Located At Most Airports In The Country
No Hidden Fees
24/7 Customer Service
Free Cancellation
Provides Information You Can Trust
Must Be 22 Years Or Older
4. Avoid walking around or going out at night
Although many places in Mexico are very safe, they become very different at night. It's probably best to avoid being out on the street when the sun goes in.
5. Make Sure You Stay In Good Locations
Booking the right locations is vital if you want to stay safe in Mexico. And this is why we use VRBO to book our stays, they only deal with the best locations in Mexico.
What Areas Should I Avoid In Mexico?
Mexico is a prominent place, but there are some parts of the country you should avoid, even as a local. Here are a few sites we recommend you avoid at all costs:
Iztapalapa
This southern Mexico City neighborhood has some of the highest rates of disenfranchisement in the capital, which is worrying considering it's bigger than some cities. It's also one of the districts with the highest incidences of rape and violence against women. So it's probably a place you'd want to avoid.
Ciudad Juárez
It's located in Mexico City on the Rio Grande, which is south of El Paso. Although there is plenty to see there, the crime rates have been increasing over the last year.
It's probably best to avoid this place for now or at least be very careful what you're doing.
Coatzacoalcos
It's one of the major port cities in the northern part of Mexico, and it's getting pretty shady. The area has miles of beautiful beaches that span for miles, but it's no place for tourists.
People who have been there had reported feeling unsafe; even the locals don't feel safe anymore. Crime rates have got so bad; the government has had to introduce a military presence to keep people safe.
Culiacán
It's located in the northwestern region of Mexico and is the largest city and capital of Sinaloa. The city is known for its involvement with the cartel. Things got so bad there, that the cartels overtook the city from the military and wreaked havoc.
Wrapping Up!
With so many options Mexico has to offer for your enjoyment, learning Spanish before planning your trip not only will help you get around your destinations more easily and communicate fluently with the locals but totally enrich your travel Spanish experience.
Try a free private class or sign up for a 7-day free trial of our group classes to see how thousands of students are dominating the Spanish language with SpanishVIP.
Want to learn Spanish, fast?
Download our e-book, Easy Spanish Shortcuts, and learn your first 1,000 Spanish words in under a day!